Recap: Heart And Hustle Showcase
Posted
5 years 10 months ago

Rayah Craig of Scottsdale, Ariz., followed up a strong club season for the Cal Storm with a terrific showing at the Heart and Hustle Showcase. *Photo by Chris Hansen.
PHOENIX, Ariz. -- The Heart & Hustle Showcase presented by West Coast Girl's Hoops saw some of the best prospects from the Southwestern part of the United States make their way to Mountain Pointe High School for two days of skill development and competition. There was a good mix of upperclassmen with heavy college interest and underclass prospects looking to shine, the mixture of age, ability, and talent level made for an exciting weekend of basketball.
Jayda Adams (Santa Ana, Calif.), Mater Dei – 2017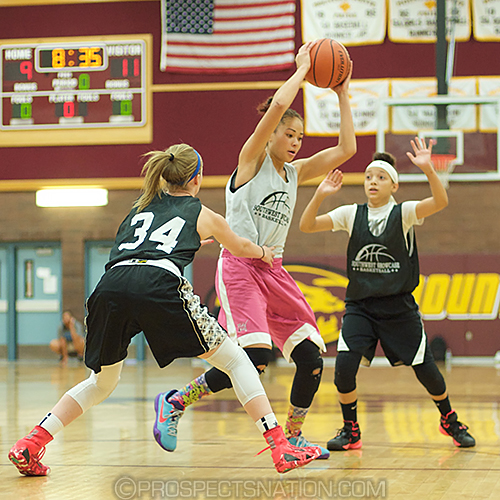 Adams set the tone for the weekend with her consistent perimeter shooting and willingness to bring energy to every part of camp. As a recent member of the USA U16 national team, there was an impressive level of poise that Adams brought to camp, raising the level of competition from the outset. On thing that the 5-foot-10 member of the class of 2017 made sure to show is that she has the ability to put the ball in the basket. She shot a high percentage from the three-point line but made a high volume of them as well. Adams isn't just a spot shooter on the perimeter either, she can play in the pick-and-roll and make sound decisions based on how the defense is guarding her, whether she needs to make a jumper off the bounce or make a play with the pass, she is comfortable doing so. Before this weekend started, Adams had already emerged as one of the premier guards in the class of 2017 and this weekend we saw nothing but continued growth.
Rayah Craig (Scottsdale, Ariz.), Desert Mountain – 2018
Being elusive and hard to guard off the bounce is the first thing that comes to mind when talking about this class 2018 guard. Craig is a 5-9 combo guard with smooth handle and a clean pull-up jumper. She has a natural long and lean basketball frame and is capable of being a scorer or a play creator for others. A lot of Craig's growth moving forward will be physical. Getting stronger and developing her frame to be able to take a bump and still finish plays. She is a talented prospect with a bright future ahead.
Jenise Strover (Laveen, Ariz.), Mountain Pointe – 2017
When this class of 2017 post plays with energy and effort, she has the ability leave an impression on the game. At 6-2, Strover is an explosive athlete with the ability to go grab a rebound at its highest point or rotate from the weak side and make a highlight shot block. Offensively, Strover is aggressive and active in the post and will look to play through contact to get to the rim. She is developing a foundation of post moves and will need to continue to refine her footwork and consistency on the block, but she does enough to leave you encouraged for her future as an interior scorer. Overall, Strover is a bouncy athlete an intriguing post prospect. There will be a number of schools excited to have a player with her tools walk on campus.
Lindsey VanAllen (Gilbert, Ariz.), Mesquite – 2018
There is something about the game of this sophomore that draws you in. She plays the game at full speed with the ball in her hands and she knows how to beat defenders at the last second to find finishing angles. At 5-8 with a slender build, it is her elusiveness that allows her to impact the game. She has sidesteps, eurosteps, floaters and can pull up and knock down shots. She also is a dependable 3-point shooter and made some sweet passes in traffic as well. When she adds a little bit of strength and gets more comfortable finishing with her left she could one of the more difficult players to guard in the state.
AROUND THE RIM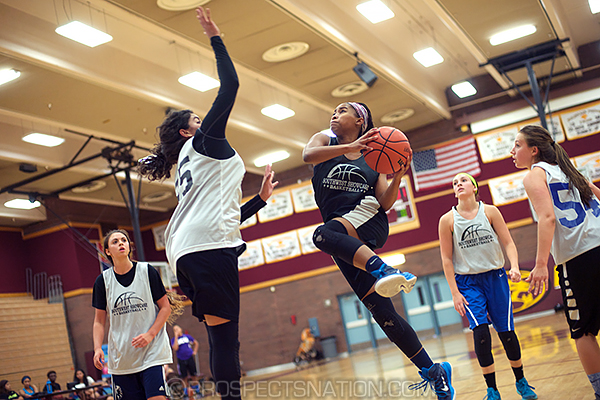 The breakout player of day two was Tatum Brimley, a senior point guard from Desert Vista High School. The shifty 5-5 point guard impressed as much for her defensive ability as she did scoring.
One kid who made noise with her ability to make shots from deep was Issabelle Spruit of Phoenix, Ariz. Spruit is a class of 2016 guard with good size and a strong perimeter-shooting stroke. When she gets going from three it's going to be a long day for defenders.
Keep the name Alexandra Zelaya in mind when the 2020 class comes around. The 6-0 forward has tremendous length, good hands and smooth pivots. Add some strength in time and she could be a problem on both ends of the court.
Shaylee Gonzalez of Gilbert, Ariz., made an impact in only one day of competition. She's smooth on the court and is a triple threat at the guard position.
Unsigned senior wing Alexa Ram of Oro Valley, Ariz., showed good touch and balance, making her a consistent scorer this weekend. She's 5-11 and uses that length well. She'll be a solid late addition to someone's 2016 recruiting class.
Cheyenne Lee is a 5-9 wing with a strong build that was an impact player defensively. She was one of the few players quickly stepping up to try and stop the red-hot Adams on Sunday.
Another uncommitted senior making noise this weekend was Ky Morgan of Avondale, Ariz. The 5-9 guard has length and a quick first step.

Keil Moore is the Director of Scouting for the JumpOffPlus.com National Scouting Report and international scouting report. He serves on the Naismith Trophy Board of Selectors and has been a member of the women's basketball community for more than eight years as a trainer and evaluator. He can be reached at keil@prospectsnation.com.

Chris Hansen is managing editor of ProspectsNation.com and serves on the McDonald's All-American and Naismith Trophy selection committees. He was the national director of scouting for ESPN HoopGurlz from 2005 until 2012 and is the director of the Check Me Out Showcase. He can be reached at chris@prospectsnation.com.