Recap: Flava Jam '14 Upperclass
Posted
8 years 4 months ago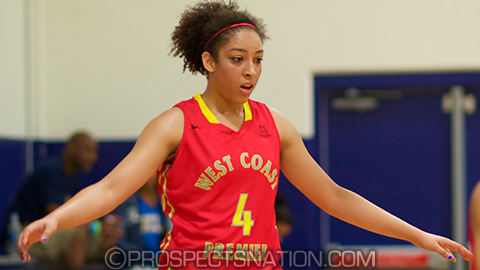 Cheyanne Wallace used the DFW Big State Flava Jam as a breakout performance and certainly got scouts attention. *Photo by Chris Hansen.
Tweet
Duncanville, Texas -- The Big State Flava Jam hosted by DFW Elite has been a terrific way to launch the July viewing period in the Southwest for years. This year's 2015 class of rising seniors didn't disappoint as we look at some of the standouts from this year's event.

Cheyanne Wallace (Woodland Hills, Calif.), - West Coast Premier Black – 2015
If you want to be good at anything in life, you have to have confidence. That is exactly how Cheyanne Wallace looked this weekend playing at the Big State Flava Jam tournament at the Bob Knight Fieldhouse; confident. The undersized inside player looks to have evolved into a four-star prospect this summer, playing her way right into the ELITE 150 Watch List. Better yet, she may have started to make a much-needed transition to the 4-position by showing her ability to knock down the mid-range jumper and convert a couple threes, making her game that much more valuable to potential colleges.
Timing is everything and her play couldn't have come at a better time with the No. 22 prospect in the ELITE 100, Kennedy Burke, away with USA Basketball. She started the semifinal game against the Cal Ballaz team on a tear, with 12 straight points to open the game. She put on a step through clinic this weekend, getting defenders to fly by going for the block or leave their feet for a foul. With her pivot series in full force she was almost impossible to guard down low. Matching her intensity was an unfinished chore for those defending her game this week, which made her a fan favorite. Running on all cylinders would be a good way to sum up Wallace's play this weekend. It would be surprising if her play doesn't spark new scholarship offers during the break.
SPOTLIGHT PLAYERS
Brooke Alexander (Frisco, Texas), United Elite Black
Alexander, a 6-1 wing player who has garnered some interest from some Big 12 and SEC schools, was a terrific complement to the inside play of DeGrate. She has the length to get her shot off even on a good close out and she stretched defenses with range well beyond the 3-point arc in multiple games. She's deceptive with the ball and made some crafty passes against good defensive pressure. She's not a threat to break anyone down on an isolation at the next level but her ball skill using fakes and jabs coupled with NBA range makes her an intriguing wing prospect.
Mariah Forde (Ramah, N.M.), - New Mexico Select Green – 2015
Ford was a new face this weekend that showed her ability to impact out on the court. The 5-11 guard in the class of 2015 was scoring the basketball with confidence from beyond the arc and in the midrange. Her persistent and progressive play is what really stood out about her when she was competing. Pursuing rebounds and getting out and finding ways to score for her team were her biggest impact. Beyond her toughness, she also showed good basketball IQ and strong leadership skills that any coach looks for in a player.
Erin DeGrate (Waco, Texas.), - United Elite Black – 2015
DeGrate has been targeted as one of the best, unsigned posts in the 2015 class. The 6-4 center did what she does best and scored the basketball on the block and owned the paint. She makes her presence known in a big way, making several plays around the rim with good touch and footwork. She finished around the rim better than we've seen to date.
AROUND THE RIM
♦ Arkansas Hoyas 2015 forward Shanessiea Walters of Vian, Okla., showed good versatility this week. She has a game similar to Colorado wing-forward Haley Smith. She knocked down the three and made poised plays off of cuts and penetration as well.
♦ Ariel Brown of Dallas, Texas, impressed as a perimeter player who actually rebounds the ball. Once she secures the rebound she can start the break and made good decisions with the ball. Most impressive was her recognition of traps and change of direction moves to evade the defenders and lead her Athletic Elite squad.
♦ The Cal Ballaz were down three starters this week with Asha Thomas, Asia Robertson and MaAne Moseley out of action. Helping step up and lead the team to the championship game was senior point guard Kian McNair of Vallejo, Calif., who showed her speed in the open court, darting past would-be defenders for transition buckets all tournament long. She's improved her perimeter shooting and is making more plays in the halfcourt as well. She made the most of the opportunity to have more responsibility with so many players out this event.
♦ Fellow Ballaz rising senior Jaiamoni Welch-Coleman of Berkeley, Calif., was impressive, stepping up her role at the point guard position this event. She dazzled the fans with several tight quick crossover combinations to create for herself and her teammates. Her biggest shot of the weekend was the game winner in the semifinal win over West Coast Premier Tuesday morning.
♦ Madeline Dopplick of Long Beach, Calif., proved herself this weekend that she can flat out shoot the ball when she wants to. The 5-7 guard in the class of 2015 must have felt the hoop looked like an ocean as she was just dropping rocks in it, hitting five threes in one game. Follow @MercedesPSB

Wetmore joined ProspectsNation.com in the summer of 2014 after graduating from the University of Washington with a Communications degree. She left Washington as the all-time leader in games played and also played with the softball team in the College World Series. She was the Gatorade State Player of the Year her senior year in high school capping off a career which included three state titles. She can be reached at mercedes@prospectsnation.com.
Follow @ChrisHansenPSB

Hansen is managing editor of ProspectsNation.com and a McDonald's All-American selection committee member. He was the national director of scouting for ESPN HoopGurlz from 2005 until 2012. He is the director of the Check Me Out Showcase. He can be reached at chris@prospectsnation.com.