Recap: Flava Jam '14 Underclass
Posted
8 years 1 month ago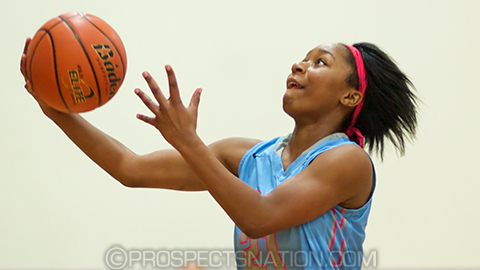 DFW T-Jack guard ArLeighshya McElroy has stepped her game up this summer and it reflects in her recruitment. *Photo by Chris Hansen.
DUNCANVILLE, Texas – The Marques Jackson Big State Flava Jam brought teams from the south and west together to kick off the evaluation period at a high level. With that we look at some of the standout performers from the event's underclassmen.

ArLeighshya McElroy (Dallas, Texas), DFW T-Jack – 2016
McElroy was arguably the most dominant player for T-Jack at the Flava Jam. She is explosive with the ball but showed poise and picked her spots. She had a great series where she jabbed, retreated to triple threat, jabbed again and got to the rim from the wing in one dribble for the finish. That patience is what we've been waiting on.
McElroy has already earned a spot in the ELITE 100 rankings, coming in at No. 37 in the class heading into July. She backed her ranking and with the additional inches, standing all of 5 feet 10 inches, she's a threat at any perimeter position. Her play has earned her offers from schools like Arkansas, Houston, Kansas, Kansas State, Missouri State, Penn State, Texas and Texas Tech.
SPOTLIGHT PLAYERS
Marie Benson (Waco, Texas), Waco Lady Panther – 2016
Benson started the game off by swatting away an attempted jump shot and taking it the other way for a transition bucket. She possesses a good frame, works to seal in the post and will kick the ball out and repost quickly if she doesn't have an angle to score. She wasn't being defended by much size but it's not fair to critique her for doing what she is supposed to do against the competition in front of her.
Bethany Franks (Norman, Okla.), Oklahoma Select Premier – 2017
Franks has a strong frame and she is deceptively athletic. She took a steal in the paint coast-to-coast and finished with a nice, under control side step to avoid the charge. She's more forward than wing in terms of position. She has a low base in the post and showed a strong right-handed drop step.
Summer Jones (Edmond, Okla.), Oklahoma Select Blue – 2016
Jones had a great tournament shooting the ball. Knocking the 3-ball down was the name of her game all week. Her midrange looked smooth off the bounce and she was getting and-ones around the rim. It was nice to see her running on all cylinders and sporting a big smile. At 5-7, she is quite the athlete and really showed that she can score at the next level.
AROUND THE RIM
♦ Chennedy Carter is big, strong and explosive on the perimeter. The T-Jack guard has all the dribble moves to be a breakdown player and the ability to power through contact and get to the rim. The physical tools are there for her to be one of the top guards in the class.
♦ Kayla Wells of Grand Prairie, Texas, is a big time athlete with huge leaping and shot blocking ability. The 6-0 rising sophomore prospect has "wells" of potential and showed that she can lead the break in transition and finish through contact around the rim.
♦ DFW T-Jack point guard Alexis Morris continues to show that size isn't all that important when it comes to being an elite lead guard. Her balance, quickness and handle are truly special.
♦ West Coast Premier point guard Barbara Sitanggan brings a calmness to the court. She's steady with the ball, gets her team into their sets and has the intangibles to make an impact on the game with out taking a high volume of shots. Follow @ChrisHansenPSB

Hansen is managing editor of ProspectsNation.com and a McDonald's All-American selection committee member. He was the national director of scouting for ESPN HoopGurlz from 2005 until 2012. He can be reached at chris@prospectsnation.com.

Wetmore joined ProspectsNation.com in the summer of 2014 after graduating from the University of Washington with a Communications degree. She left Washington as the all-time leader in games played and also played with the softball team in the College World Series. She was the Gatorade State Player of the Year her senior year in high school capping off a career which included three state titles. She can be reached at mercedes@prospectsnation.com.