Recap: Fab 5 Focus Part II
Posted
9 years 9 months ago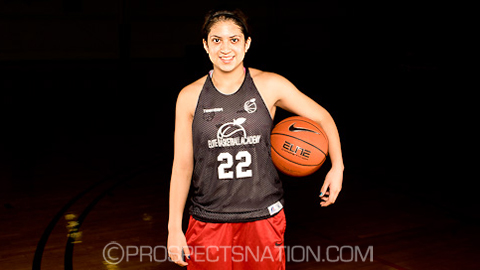 '15 point guard Faithaleen Lopez-Flores travelled 2,500 miles to the Fab Five Camp to show her skills off. *Photo by Ty Freeman.
Tweet
SUWANEE, Ga. - For eight years, the Elite Basketball Academy Fab Five Camp has served as a proving ground for some of the nation's top prospects to shine bright on a large stage. This year's edition was no different as 110 campers from as far away from Washington took center stage at the Suwanee Sports Academy.

Faithaleen Lopez-Flores (Bothell, Wash.) - Henry M. Jackson High – 2015
A 5-foot-7 point guard, Lopez-Flores brought diversity to the point guard position given her skill to make the open jump shot or set the table with her passing. She made a positive impact two weekends ago at the Check Me Out Showcase in front of ProspectsNation.com managing editor Chris Hansen. This weekend, Lopez-Flores brought a determined focus to the floor that few could match.
Time and time again we watched Lopez-Flores do a good job of making decisions on when to keep the ball or when to pitch it to an open teammate. The three-star prospect attacked every drill and skill session with a very distinct purpose of getting better. Her willingness to absorb the ball handling drills that Adrian Penland and Christian Simmons were teaching, then put them into game situations was impressive.
AROUND THE RIM
♦ Like Lopez-Flores, Joyce Harrell of Seattle, Wash., made the cross-country flight after taking part in the Check Me Out Showcase in August. A 6-1 class of 2015 power forward, Harrell continues to make strides with her offensive skill set showing consistent touch during the post breakdown sessions.
♦ Sidney Pell of Peebles, Ohio, proved that she is one of the top available class of 2014 shooters in the Buckeye State. Pell combines shooting with a consistent energy on the floor, helping to create extra possessions for her team. She could potentially play either forward position depending on matchups.
♦ Joshlyn Belcher of Suwanee, Ga., is an available class of 2014 knock down shooter as well. She made the same shots here that she did for her North Gwinnett High team as the marched to the state championship game last March.
♦ Erin Whalen of Charlotte, N.C., has quickly emerged as one of the hot names on the wing in the sophomore class. A bigger wing at 6-1, Whalen's ball skill is impressive for an underclassman, as is her shooting ability. She'll be a prospect that we expect to hear more from over the next two years.
♦ The class of 2016 is shaping up to be a class full of depth. Celeste Etter of Bellbrook, Ohio, is a capable shooting guard who had another quality showing here. She can make the open shot and create some off of the bounce as well. Follow @BrandonClayPSB
Clay is the owner of the JumpOffPlus.com International Scouting Report, PeachStateBasketball.com and ProspectsNation.com. He can be reached at brandon@prospectsnation.com.