Recap: Cy-Fair Invitational Upperclass
Posted
8 years 3 months ago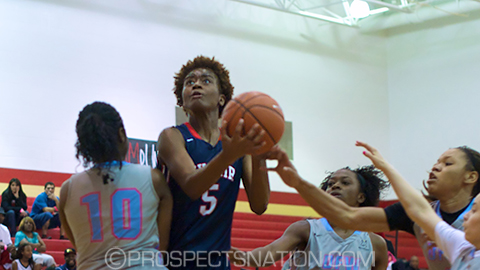 Jordan Hosey is breaking out this spring and proving she is one of the top players in Texas. *Photo by Chris Hansen.
Tweet
CYPRESS, Texas – In it's 16th year, the Cy-Fair Invitational is a staple of the early club season. With all three Nike-sponsored teams from the Lone Star State at the same event for possibly the only time this year outside of the new EYBL affiliated events, the event has top end appeal. But teams like the South Texas Hoyas and Heroes Elite are just a few of the independent teams in the region who also bring a lot to the table. With that we look at a few of the upperclass standouts from the 2014 event.

Jordan Hosey (Pearland, Texas), Cy-Fair Team Ogwumike -- 2015
Hosey has drawn the unenviable task of replacing the best player off of arguably 2013's best club team, Ariel Atkins. While the 6-foot-1 swing forward's game isn't exactly the same she brings a lot of the same things to the floor in that she can play either the three or four position effectively. She had stretches in each of Team Ogwumike's games where she controlled the tempo and impacted the game's momentum. Her face-up game is hard to guard because of her quickness and length. Hosey is showing a maturation of her game that gives Cy-Fair a real chance to do some damage early in the club season.
SPOTLIGHT PLAYERS
Kennedy Leonard (Southlake, Texas), Cy-Fair Team Ogwumike -- 2015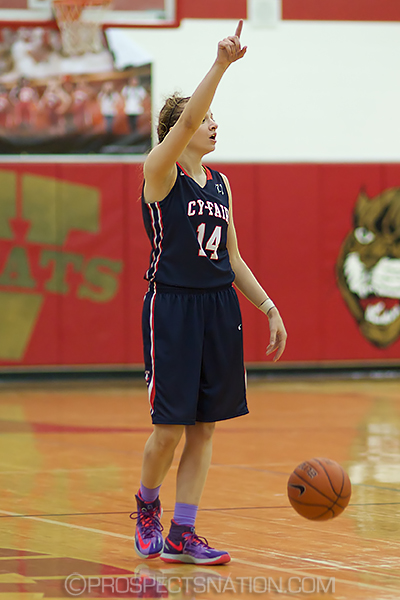 Watch List guard Kennedy Leonard.
*Photo by Chris Hansen.
There is so much emphasis on scoring in basketball that perhaps the most valuable and overlooked skill is getting teammates the ball in places to score. Leonard has really embraced the role as being the primary distributor on her Cy-Fair team that is deep with players who can put the ball in the basket. Unless coach Katie Hensle is calling out a halfcourt set requiring a ball screen you won't catch the 5-8 Colorado commit dribbling much. She passes the ball ahead in transition and keeps it moving the halfcourt like a hot potato. She's also playing more defense than we've seen in the past, utilizing her length to make passing lanes disappear and surprise the opposition with the occasional blocked shot.
Jordan Moore (Round Rock, Texas), Texas United Nike -- 2015
With half of post prospects from the 2015 class with a current rating of four stars already committed, Moore could find herself in an interesting spot this spring as teams needing a true post in the class will see her as a real option. She possesses the size at 6-4 to play the center position in any conference and her mobility allows her to run the court well for the position as well as rebound outside her area. She also is proving she can play in a two-post system being teamed this spring with the No. 1 ranked player in the 2016 class, Lauren Cox. She doesn't do anything flashy on offense but will convert the plays that will keep her on the court. If she finds the consistency she will be able to make an impact at the college level.
AROUND THE RIM
♦ Joining Leonard in the Cy-Fair backcourt is dynamic scoring guard LaShann Higgs. The explosive prospects is learning how to play with a pass first backcourt mate which will only help her get ready to reunite with Brooke McCarty at Texas in 2015.
♦ Baylor commit Alexandria Gulley and undecided prospect Tana Driver are leading a really young DFW T-Jack backcourt. Both had some moments this weekend where you could see potential. Gulley's ability to break a defender down and make a tough shot is impressive. Driver uses her diminutive size to her advantage with a lightening quick double-crossover she uses to set her teammates up.
♦ Texas United guard Brooke Alexander of Plano, Texas, is an intriguing prospect. She brings good size to the perimeter and what she lacks in speed she makes up for with crafty play. She's a bit of flare to her game, albeit understated. Follow @ChrisHansenPSB

Hansen is managing editor of ProspectsNation.com and a McDonald's All-American selection committee member. He was the national director of scouting for ESPN HoopGurlz from 2005 until 2012. He can be reached at chris@prospectsnation.com.