Recap: Cy-Fair Invitational Underclass
Posted
8 years 3 weeks ago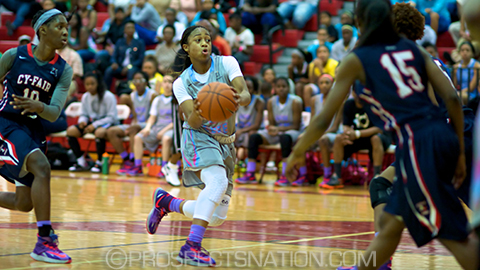 Alexis Morris proved she is one of the must-see 2017's in Texas at the Cy-Fair Invitational. *Photo by Chris Hansen.
CYPRESS, Texas – The 16th Annual Cy-Fair Invitational was a fantastic place to catch a glimpse of the future of women's college basketball as the underclass talent was off the charts. While the Longhorn State consistently produced top tier talent, the depth coming in the younger classes is as good as it has been in many years.
Alexis Morris (Beaumont, Texas), DFW T-Jack -- 2017
Morris is one of those players that when she's dialed in and attacking with confidence, she has the ability to single-handedly change the momentum of a game. She is super quick and has the ability to change speeds quickly to break defenders down. She does leave her feet a little too often but is capable of converting some circus shots in traffic. She saved her best play of the weekend for a blitz of a comeback against Cy-Fair, and though her team fell in the end, her play to fuel her team's rally back was impressive.
Joyner Holmes (Cedar Hill, Texas), Heroes Elite -- 2016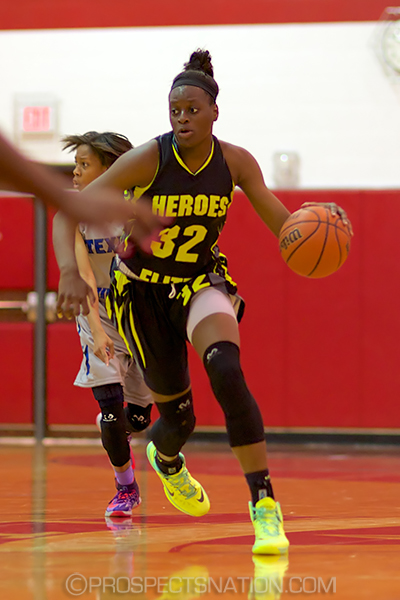 '16 ELITE 25 forward Joyner Holmes.
*Photo by Chris Hansen.
The top of the 2016 rankings will be heavily debated with Holmes firmly placing her game in the conversation with the other players currently in the top three. She is starting to stick the mid-range jumper and is getting more comfortable shooting the three but will blow by any defender who tries to pressure her out on the perimeter. She's really maturing into an inside-outside threat and her improvement since last summer is as impressive as her overall talent. She had three marquee matchups against DFW T-Jack, Texas United Elite and Cy-Fair Shock Team Ogwumike. She is certainly living up to the early hype.
Lauren Cox (Flower Mound, Texas), Texas United Elite -- 2016
Expectations for Cox couldn't be higher coming into the club season as she carries a FIBA gold medal and the No. 1 ranking in the ELITE 25. What was evident this weekend is that she is nearly impossible to guard one-on-one inside of 12 feet. Her poise, strength and touch comprise a special talent. Her ability to score, even against bigger, longer defenders translates to the next level and she has a competitiveness about her that is obvious on the floor.
AROUND THE RIM
♦ Natalie Chou of Plano, Texas, showed some resilience this weekend. The No. 18 prospect in the 2016 class has a rough start on Saturday with making shots and plays and was obviously thinking too much. She came back Sunday and showed why she is ranked in the top 20 playing off of instinct and showcasing her ability to score the ball from the perimeter.
♦ South Texas Hoyas forward Sara Lewis showed well this weekend. Her inside-out ability was impressive given her long 6-3 frame. The rising junior will be one to watch this spring on Theresa Nunn's squad.
♦ Heroes Elite swing player Jada Underwood had a great weekend as well. Her size and explosiveness makes her a tough player to match up with as she can play through contact inside or on the face-up attack. She's a consistent jumper away from being a real problem offensively.
♦ Hannah Hopkins, a 6-2 forward from Cy-Fair Shock-Jolivette was really impressive this weekend. She used her length and athleticism from the high post, was good in ball screen situations and has a go-to move on the block as well. Follow @ChrisHansenPSB

Hansen is managing editor of ProspectsNation.com and a McDonald's All-American selection committee member. He was the national director of scouting for ESPN HoopGurlz from 2005 until 2012. He can be reached at chris@prospectsnation.com.