Recap: CoachHemi.com Showcase
Posted
9 years 8 months ago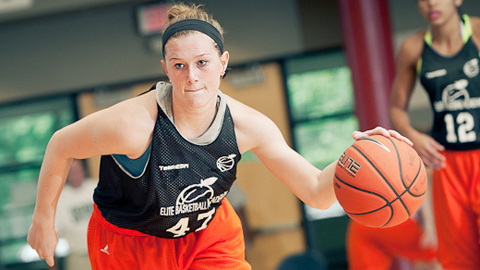 Tennessee signee and McDonald's All-American Alexa Middleton. *Photo by Ty Freeman.
Tweet
MURFREESBORO, Tenn. – The inaugural year of the CoachHemi.com Showcase proved to be an instant success. Seven players that are currently ranked nationally by ProspectsNation.com attended the camp this past weekend. Several others had performances that will instantly put them in the conversation of the nation's elite. Here is a look back at a few of the camp's top players.
Alexa Middleton (Murfreesboro, Tenn.), Riverdale HS – 2014
After being named to the McDonald's All-American team and signing with the University of Tennessee, it would appear that Middleton has little left to prove in her days as high school prospect. Her actions on the second weekend of March told quite the opposite story. She trained and competed with the tenacity of a player who is trying to attain a roster spot instead of player who has accomplished every goal as a prep star. In gameplay, Middleton did the things that have earned her a No. 22 ranking in the class of 2014. She hit open shots, read screens with the ball in her hands and delivered pin-point passes to her teammates. Outside of gameplay, the 5-foot-8 guard put in more work than anyone at the camp. She got up shots before and after every session with lead skills' trainer, Christian Simmons. It is this type of consistency and work ethic that has given Middleton her current reputation and that will inevitably lead to success in Knoxville in the years to come.
Crystal Dangerfield (Murfreesboro, Tenn.), Blackman HS – 2016
Fresh from winning a state championship, Dangerfield arrived as polished in her skill set as we have seen over the past four years. Currently ranked No. 4 in the class of 2016, the 5-6 point guard demonstrated the skills which we believe will make her an impact player for a top 10 program in the nation. Her ability to score the ball with the jump shot while also being able to create off the dribble is special. Dangerfield is also showing the understanding of how to run an offense as a team's lead guard. If Sunday at the CoachHemi.com Showcase is an indicator of potential success, look for Dangerfield to have an outstanding summer.
Alex Johnson (Murfreesboro, Tenn.), Blackman HS – 2015
We wrote about Johnson a year ago as a post player who was on the rise. Fast forward nearly 365 days and the 6-1 power forward has made yet another significant leap in her play. Johnson knocked down multiple 3-pointers at a high percentage in game play which illustrates the diversity in her game. In the past she was known as a blue collar post player who is able to control the glass and body-up on the defensive end. Now the four-star prospect is legitimately able to score the ball with her back to the basket while also being a threat to stretch the floor. Although Johnson is currently being recruited by a number of regional schools, we should see her interest increase dramatically with this type of production on the summer circuit. Follow @JLHemingwayPSB
#ProspectsNationTV Recap of the #CoachHemiShowcase from Jonathan Hemingway:

Hemingway is the Assistant Director of Scouting for the JumpOffPlus.com National Scouting Report. He can be reached at jonathanhemingway@peachstatebasketball.com.