Recap: Chicago Nike NIT Underclass
Posted
9 years 4 months ago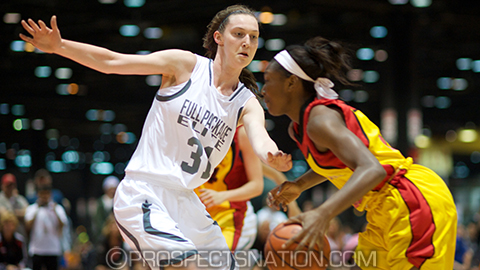 Jennie Boehm was one of many underclass prospects showing out in Chicago in early July. *Photo by Chris Hansen.
CHICAGO – With 46 courts in the McCormick Place Convention Center, there was no shortage of opportunities to find talented players at the Nike Invitational Tournament. The

Jeannie Boehm (Winnetka, Ill.), Full Package Elite – 2016
Boehm is an absolute performer. She had a standout game in front of a packed crowd against A-Game TDOT, showcasing her ability to generate offense and lead her team.
The 6-foot-3 post has a lot of versatility because her skill set is so fine-tuned. As a 2016, in a class loaded with talented prospects, she really belongs in the discussion for the ELITE 60. On the block she can use a right hook to keep the ball away from the defense, she can step back and shoot a short jumper to create space, or she can take you inside and shoot over the top. Her bread and butter is reading the defense and being patient, attacking the weaknesses and looking for the best shot she can get. Her ability to score goes beyond the block as she is able to knock down the mid-range jumper as well. Defensively, she rebounds well, gets solid positioning and is able to start the break up the court off a rebound into transition. She provides a chance for a team to benefit from rebounding, ball handling skills, and running the floor all in one element.
Boehm is dominant on both ends of the court because of her high basketball IQ and toughness. She has a lot to offer any program and it will be great to see her continue to compete for the next two years.
SPOTLIGHT PLAYERS
Robbi Ryan (Sheridan, Wyo.), Colorado Premier Red – 2016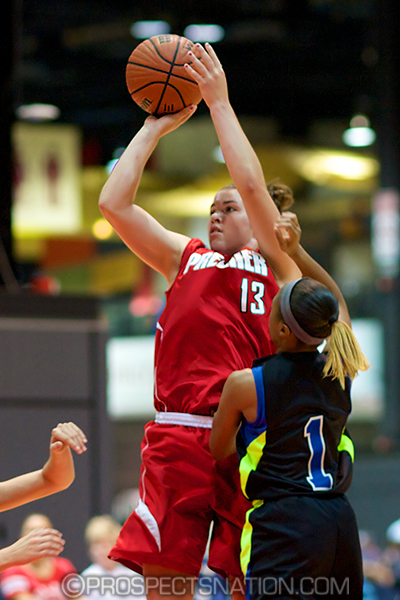 '16 Watch List guard Robbi Ryan.
*Photo by Chris Hansen.
Ryan is a player. The 2016 prospect has an incredible ability to score the basketball in the midrange. She had a constant rain of off the dribble pull-ups all game against the top Peak Performance National team on Saturday morning. She is tough, smooth and a fierce competitor. She has no hesitation making reads, anticipating to get steals and distributes the ball well.
Her mentality to not over dribble and finding open space is an element most players tend to overlook. She uses a spin move as her go-to in order to create space and separation and is able to stay on balance and elevate out of it. She can score on more athletic players because she can use her strength to get her defenders off balance and elevate over them. Her knack to find daylight is similar to Kelsey Plum who the Pac-12 freshman of the year this season at the University of Washington. Although Ryan's 3-point presence wasn't as lethal, having her in the backcourt is a huge threat.
Riley Lupfer (Spokane, Wash.), Tiger Basketball – 2016
Lupfer, a guard out of a town known for basketball, Spokane, is a rising player in the 2016 class. She has a lot to work with out of her toolbox, beginning with her ability to create space. She is strong and balanced enough where she can post up guards on the block or short corner and consistently hit turn around jumpers. She has just enough fade in her body and a high release point that having the ability to hit those shots is her main craft.
She won't be known for her quickness or speed, but for her, short violent breakdowns and quick ball control to get to the shooting pocket works consistently. She has a little more work to do to get the BCS conferences to bite, but her toughness and confident demeanor undoubtedly keeps her on the radar. Her play this week earned her an invite to the Check Me Out Showcase in Seattle, Wash., taking place in mid-August. Ultimately playing with and against elite players will help greatly in projecting her level.
AROUND THE RIM
♦ Megan Walker of Chesterfield, Va., continues to back up her No. 1 ranking in the 2017 ELITE 25. She is explosive off the bench for Boo Williams and as her experience catches up with her physical ability the potential to control games is right around the corner.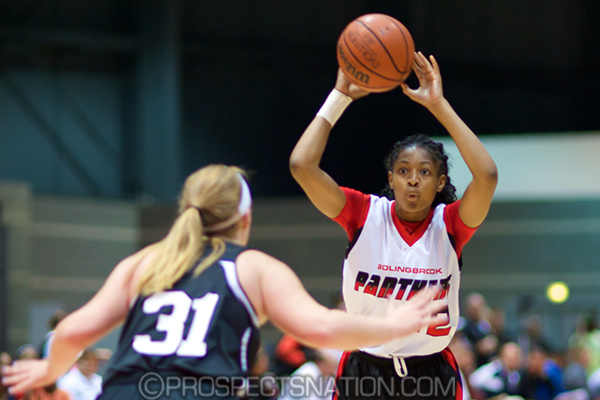 '16 ELITE 60 guard Nicole Ekhomu. *Photo by Chris Hansen.
♦ Bolingbrook Panthers rising junior Nicole Ekhomu had a strong showing at USA U17 trials in May and continued that impressive play in Chicago, showcasing her dynamic athleticism with the basketball. Few in the class can create off the balance like she can.
♦ Cal Swish wing Jayde Woods of Yorba Linda, Calif., was terrific, showcasing her strength off the dribble. She's a match-up problem as she is quicker than most forwards and can overpower most guards.
♦ ECBA Swish wing Mikayla Pivec of Lynnwood, Wash., was a jack of all trades for her team in Chicago. She played just about every position and made plays from each spot. She's put herself in the conversation for the best player in Evergreen State in the 2016 class.
♦ Anaya Peoples of Danville, Ill., was a standout in her age group at EBA Super 64 camp last month. She brought the same confidence and crafty handle at the point to the Best Choice lineup playing up, basically, four years, and showing the future is very bright for her.
♦ Ruthy Hebard of Fairbanks, Alaska, has been a name buzzing around since her play this winter caught our attention. Her athletic potential is incredible and she's working to make an impact both inside and outside. Her offer lists continues to grow.
♦ North Carolina verbal commit Taylor Koenen has that ideal combination of shooting range and length. She's got a good feel for the game to go with that shooting touch for the Minnesota Fury.
♦ Lydia Giomi of West Seattle, Wash., stepped up big for Tree of Hope when her post teammate Deja Strother found herself in foul trouble. She's really improved her touch around the basket and ability to scoring in traffic, which we expect will improve more as she adds strength.
♦ Kat Tudor of Woodbridge, Calif., continues to prove she is one of the best shooters in the class. She has a hair-trigger release plus length at 5-10 that makes even the slightest hesitation closing out a major mistake. Follow @MercedesPSB

Wetmore joined ProspectsNation.com in the summer of 2014 after graduating from the University of Washington with a Communications degree. She left Washington as the all-time leader in games played and also played with the softball team in the College World Series. She was the Gatorade State Player of the Year her senior year in high school capping off a career which included three state titles. She can be reached at mercedes@prospectsnation.com.

Hansen is managing editor of ProspectsNation.com and a McDonald's All-American selection committee member. He was the national director of scouting for ESPN HoopGurlz from 2005 until 2012. He can be reached at chris@prospectsnation.com.