Posted
5 years 4 months ago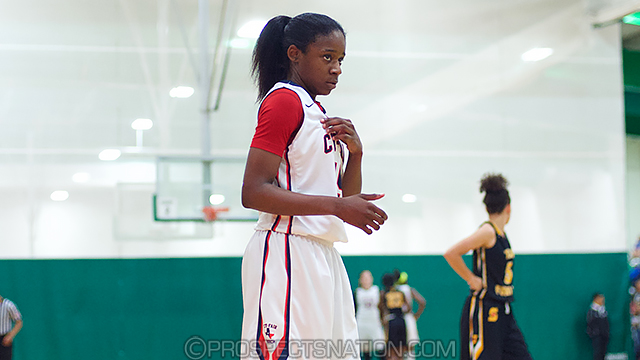 Chasity Patterson is a key cog in the Cy-Fair Shock's 5-0 start in the Nike EYBL this spring. *Photo by Chris Hansen.
Chasity Patterson, the No. 5 ranked player in the class of 2017 heaidng into the spring, is off the board and headed to Texas. After taking an official visit to UCLA and strongly considering Oklahoma and Houston, Patterson decided to end her recruitment and make a verbal pledge to join coach Karen Ashton and her staff in Austin, Texas.
Patterson will bring the Big 12 school a scoring-minded point guard with limitless range on her jumper. From an early age Patterson has seemed to have the scoring gene as she has been able to put up a high volume of points in a short period. As she makes the transition from the prep ranks to college basketball, it will be interesting to see if Patterson has to make an adjustment to become more of a playmaking point guard like current Texas point guard Brooke McCarty or if her natural scoring ability will translate to the next level despite her lack of size like a Ruby Lee Wright (Georgetown) or Tiffany Bias (Oklahoma State).
With the addition of Patterson look for Longhorns to be selective with the rest of their 2017 moves. Texas recently added South Carolina transfer Jatarie White to the roster and if any more moves are made it will most likely be on the wing or a player of significant impact. Perimeter shooting is one option they could look to address.

Keil Moore is the Director of Scouting for the JumpOffPlus.com National Scouting Report and international scouting report. He serves on the Naismith Trophy Board of Selectors and has been a member of the women's basketball community for more than eight years as a trainer and evaluator. He can be reached at keil@prospectsnation.com.