Reax: No. 30 Higgins To USC
Posted
7 years 7 months ago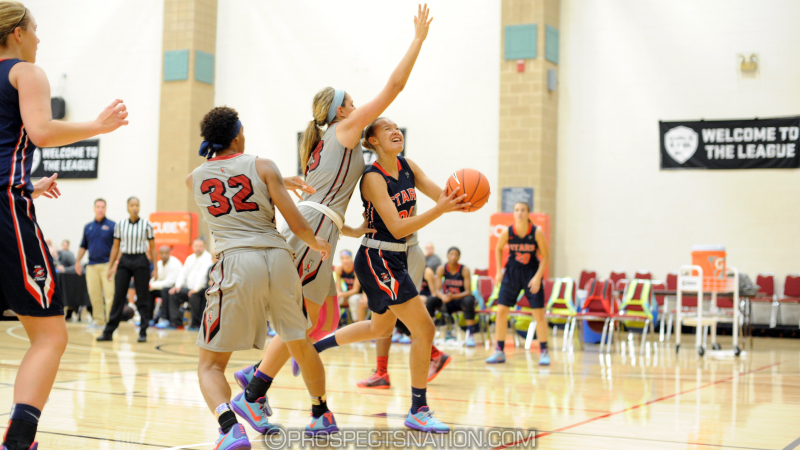 Valerie Higgins of Granada Hills, Calif., was a big part of the Cal Stars run to a Nike Nationals championship this summer. *Photo by Chris Hansen.
Class of 2016 wing Valerie Higgins of Granada Hills, Calif., is off the board and headed to play her college basketball for Cynthia Cooper at Southern California. Higgins is the No. 30 ranked player in the ELITE 100 for the class of 2016 and the No. 10 ranked wing nationally.
Higgins, a 6-foot prospect, will bring playmaking, size, and basketball IQ to Southern Cal as she has a winner's mentality that has followed her all throughout her prep career. This calendar year Higgins won a state championship with her Chaminade High School and then followed with a Nike Nationals Championship this July with the Cal Stars.
For Cynthia Cooper and her staff, the addition of Higgins gives the Women of Troy a 2016 class that includes two players that can best be described as winners. Higgins brings those traits to the roster but joining her will be point guard Minyon Moore of San Pablo, Calif. The additions of Higgins and Moore are strong signs for USC as Cooper continues to build a 2016 recruiting class. Add three-star post Asiah Jones of Piedmont, S.C., and Southern Cal has a three player class that will give them a nice foundation to add to as we approach signing week in November.

Keil Moore is the Director of Scouting for the JumpOffPlus.com National Scouting Report and international scouting report. He serves on the Naismith Trophy Board of Selectors and has been a member of the women's basketball community for more than eight years as a trainer and evaluator. He can be reached at keil@prospectsnation.com.