Reax: No. 24 Hearn Picks UCLA
Posted
9 years 2 weeks ago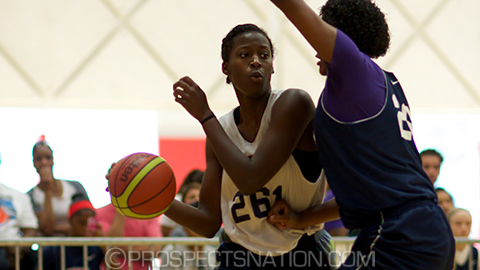 Ashley Hearn is the latest top 25 prospect to commit to the UCLA Bruins. *Photo by Chris Hansen.
Tweet
UCLA landed its second verbal commitment in the 2015 class with the pledge of Ashley Hearn, a 6-foot-4 forward from Rowlett, Texas. The commitment gives the Bruins two players in the top 24 spots of the ELITE 100 rankings released early this week. Hearn, who is ranked 24th in the class and the fifth best forward nationally, joins 6-2 wing Kennedy Burke of Northridge, Calif., who is ranked No. 22 nationally.
The addition of Hearn in the 2015 class is noteworthy on its own but more importantly is what it does for head coach Cori Close's roster when combined with the 2014 class that will hit the Westwood campus this summer.
The Bruins' 2014 class was ranked as the top signing class by ProspectsNation.com, which included five players all ranked in the top 42 of the ELITE 150 – No. 4 Jordin Canada, a point guard from Los Angeles; No. 6 Recee' Caldwell, a combo guard from San Antonio, Texas; No. 10 LaJahna Drummer, a 6-2 forward from Los Angeles; No. 17 Monique Billings, a 6-2 forward from Corona, Calif.; and No. 42 Kelli Hayes, a 6-0 wing-guard from San Jose, Calif.
Hearn brings the athleticism to run the floor as well as many wing players in the class but a player who also has good footwork in the paint as well. She will take a break from her TeamXpress club team next weekend to compete at the USA Basketball U17/U18 national team trials in Colorado Springs, Colo.
When this 2015 class hits campus the roster will have depth at every position. Hearn, who fits interchangeably in the frontcourt with Drummer and Billings, with similar length and agility, plus 6-9 then junior Savanna Trapp and 6-2 then redshirt sophomore forward Paulina Hersler.
In the backcourt Burke joins Canada, Caldwell and Hayes plus then seniors Nirra Fields and Kari Korver, then junior Dominique Williams.
As UCLA moves forward in recruiting it can now be very selective, looking not to fill roster spots, a luxury it hasn't had recently with a rash of injuries, can look to replace upperclassmen like Fields and Korver in the backcourt be it with 2015 or 2016 scholarships.
Follow @ChrisHansenPSB

Hansen is managing editor of ProspectsNation.com and a McDonald's All-American selection committee member. He was the national director of scouting for ESPN HoopGurlz from 2005 until 2012. He can be reached at chris@prospectsnation.com.