Reax: No. 2 Samuelson Decides
Posted
9 years 2 weeks ago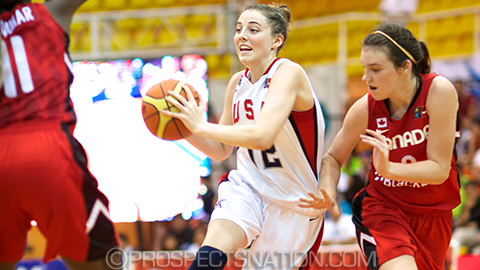 Katie Lou Samuelson, the No. 2 prospect in the 2015 ELITE 100 rankings, helps Connecticut restock it's shelves yet again. *Photo by Haley Weit.
Tweet
There was a brief moment when the majority of women's college basketball outside of Storrs, Conn., saw a light at the end of the tunnel. A glimmering hope that perhaps the one-player signing class of 2013 would be a chance for programs close to catching up with the most dominant program in the sport. If the 2014 signing class didn't shut down that thinking then Monday's commitment of No. 2 ranked Katie Lou Samuleson of Fullerton, Calif., certainly should.
With Samuleson now in the fold, the post Kaleena Mosqueda-Lewis and Breanna Stewart era Connecticut Huskies have a clear outlook and one that UConn fans will be excited about. As ProspectsNation.com Director of Scouting, Keil Moore, said after the news broke, "they could win 98 of 100" once the 2014 and 2015 classes hit campus.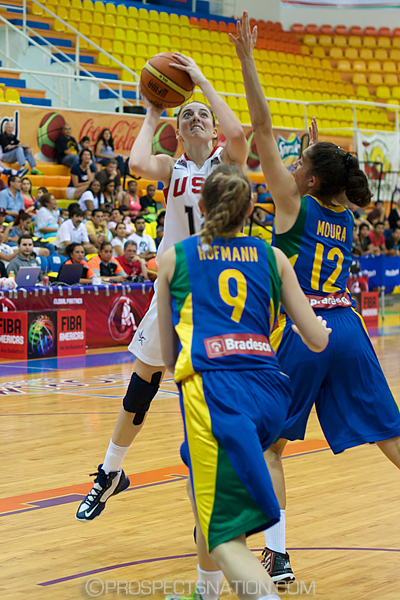 '15 ELITE 100 Katie Lou Samuelson.
*Photo by Haley Weit.
Samuelson is a dynamic perimeter scoring threat but her game is more than just the trademark Samuelson long ball that her older sisters continue to unleash at Stanford. She has length, fluidity and the ability to score inside and out. And as she proved last summer as a starting member of the FIBA Americas U17 gold medal winning USA Basketball team, she can be a dominant player without dominating the basketball. Her game can adapt to other good players.
Samuelson joins fellow 6-foot-2 five-star prospect Napheesa Collier, a forward from O'Fallon, Mo., and four-star forward Dejanae Boykin of Springdale, Md.
The Huskies look to sign these three after a four-player 2014 class loaded with backcourt players. This trio of 3 and 4 players in 2015 has one thing in common with the four guards the Huskies signed in 2014; serious length.
The incoming freshman class includes a pair of five-star point guards -- Kia Nurse of Hamilton, Ontario, and Sadie Edwards of Meriden, Conn. – and a pair of four-star shooting guards -- Gabby Williams of Sparks, Nev., and Courtney Ekmark of Phoenix, Ariz.
Add to that group Natalie Butler, the 6-5 post who transferred to Connecticut from Georgetown, and you have a player that certainly fits the type of post that has succeeded under Geno Auriemma. If there is anything the program could look to add in the future it would be post depth but this is a program that has found a way to win with a six or seven player rotation, thus the collective sigh from the rest of women's basketball to see another cycle of years where has five-star players at multiple positions.
With Sameulson, Connecticut has a player that will have no problems being the high-pressure, go-to player, giving the program plenty of clout whether it wins the Asia Durr sweepstakes or not.
See Connecticut's 2015 Recruiting Class here.
Follow @ChrisHansenPSB

Hansen is managing editor of ProspectsNation.com and a McDonald's All-American selection committee member. He was the national director of scouting for ESPN HoopGurlz from 2005 until 2012. He can be reached at chris@prospectsnation.com.