Reax: Campisano To Oregon
Posted
8 years 3 weeks ago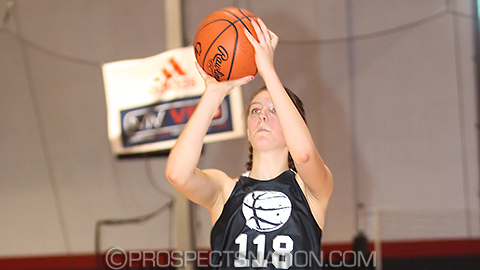 Sierra Campisano is the second player in the 2016 class to pledge to the Ducks. *Photo by Brian MacGregor.
Tweet
Sierra Campisano, the 6-foot-3 junior forward from San Diego, Calif., gave her verbal commitment to Oregon on Tuesday. The four-star 2016 prospect chose the Ducks over Colorado, Nebraska, Oregon State and Stanford.
Campisano, who plays with the San Diego Sol club team, was a standout at the Check Me Out SoCal Showcase last spring. There she showed a lot offensive skills that are reminiscent of another player that was coached by new Ducks head coach Kelly Graves -- Kayla Standish. They both have unique size and at the same age have impressive skill sets facing the basket with the ability to also play in the paint.
Oregon now has two players committed in the 2016 class. Campisano joins fellow four-star prospect Jayde Woods of Yorba Linda, Calif. Woods also draws comparison to a former Graves player at Gonzaga, Vivian Freison who is now an assistant coach at Seattle University. Campisano and Woods are both highly versatile swing players. These two will be a big part in rebuilding the Oregon program in preparation for life after All-Conference forward Jillian Alleyne.
With seven juniors on the roster set to graduate after next season the Ducks have ample space under the 15-scholarship cap. The Ducks have targeted standout juniors Sabrina Ionescu a 5-10 guard from Walnut Creek, Calif., the No. 7 prospect in the ELITE 60; Mallory McGwire, a 6-3 post from Reno, Nevada, the No. 46 ranked junior; and Aislinn Konig, a 5-10 guard from Surrey, B.C., who is a lock for the International ELITE 25 when it is released.
But with Campisano in the mix, Graves and his staff now have a versatile frontcourt player who can score in a variety of ways to look forward to. Follow @ChrisHansenPSB

Hansen is managing editor of ProspectsNation.com and a McDonald's All-American selection committee member. He was the national director of scouting for ESPN HoopGurlz from 2005 until 2012. He can be reached at chris@prospectsnation.com.