Rankings Roundtable Part II
Posted
9 years 6 months ago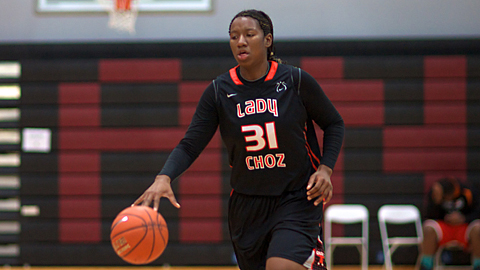 Zaire O'Neil's ability to rebound and defend make her one of our picks for a breakout freshman year of college. *Photo by Chris Hansen.
Tweet
The Rankings Roundtable will cover several topics throughout this week on the recently released PropsectsNation.com ELITE 150 prospect rankings for the Class of 2014.
Read Monday's Roundtable on the exciting trends in the 2014 class.
Who do you expect to have a breakout freshman year in college?
Zaire O'Neil is stepping into a position at Georgia Tech where she can fill an immediate role for coach Machelle Joseph. At 6 feet 1, O'Neal brings a presence to the lane by rebounding the ball on both ends. The Yellow Jackets will have a roster that is filled with athleticism and offensive fire power, highlighted by Kaela Davis and Aaliyah Whiteside on either wing. Joseph will not need to make O'Neal the offensive focal point, but she will be able to earn significant minutes by providing a physical presence on the interior. We can anticipate that defenses will be gearing up to stop the Georgia Tech perimeter attack, which will equate to O'Neal having her share of one-on-one opportunities in the lane. -- Jonathan Hemingway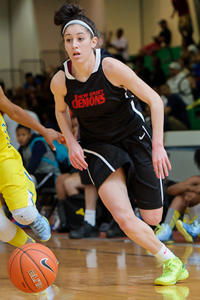 Top 25 point guard Katelynn Flaherty.
*Photo by Ty Freeman.
I thought Michigan really hit a homerun with the addition of Katelynn Flaherty of Point Pleasant, N.J., to the program. She will go into that team with the ability to play very early in her career and has the potential to be a cornerstone for that program at the point guard position. Michigan coach Kim Barnes-Arico coached at St. John's before taking over in Ann Arbor, her feel for a New York/New Jersey kind of kid should allow her and Flaherty to build a solid coach-to-point guard relationship. Look for Flaherty to leave her mark in Maize and Blue. -- Keil Moore
To have a breakout freshman year I really think you need to have a perfect storm of talent and opportunity that is hard even for All-Americans to find. With that in mind I'm looking for Christa Reed of Bay St. Louis, Miss., to make a splash at Vanderbilt. The 5-11 guard has the size to play either wing position and a specialty, with deep range combined with a one or two dribble pull-up, and consistency is always a way on the court. The other part of this perfect storm is that All-SEC guard Christina Foggie is graduating and Reed, the No. 59 player in the ELITE 150, can help fill her shoes. Perhaps it's coincidence but we even ranked Foggie at nearly the same spot coming out of high school, so I look for Commodores' coach Melanie Balcomb to have similar success in developing this four-star prospect into a star.
#ProspectsNationTV Star Watch from July 2013 on Christa Reed:
-- Chris Hansen

Hansen is managing editor of ProspectsNation.com and a McDonald's All-American selection committee member. He was the national director of scouting for ESPN HoopGurlz from 2005 until 2012. He can be reached at chris@prospectsnation.com.
Follow @ChrisHansenPSB

Hemingway is the Assistant Director of Scouting for the JumpOffPlus.com National Scouting Report. He can be reached at jonathanhemingway@peachstatebasketball.com.
Follow @JLHemingwayPSB

Moore is the Director of Scouting for the JumpOffPlus.com National Scouting Report and international scouting report. He has been a member if the women's basketball community for more than six years as a trainer and evaluator. He can be reached at keil@prospectsnation.com.
Follow @KeilMoorePSB