Ranking Release: 2017 ELITE 25
Posted
8 years 6 months ago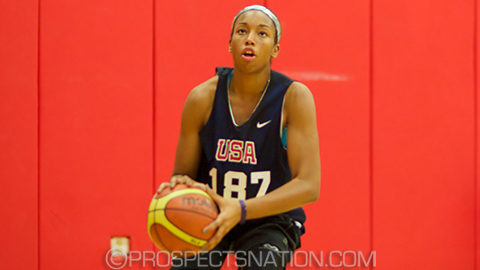 Megan Walker sits atop the ProspectsNation.com ELITE 25 for the 2017 class after a superb spring showing. *Photo by Chris Hansen.
Tweet
ProspectsNation.com has released the 2017 class' initial ELITE 25 rankings, highlighting the players who have established their impact on national scene early in their careers. While we are several years away from this group hitting the college circuit, the number of quality perimeter players is impressive.
SEE THE FULL ELITE 25
Starting with the top three players in the class -- Megan Walker of Chesterfield, Va., Ana Llanusa of Choctaw, Okla., and Taya Robinson of Richmond, Va., -- all play off the ball on the perimeter.
The top ranked player doesn't even start on her club team but with quality minutes against the top competition regardless of age, Walker is rewarding her development by choosing quality over quantity.
There could actually be an argument that the top five players project as wing prospects if No. 4 Ayanna Clark of Long Beach, Calif., continues to develop her ballhandling skills. Clark is followed by Mikayla Boykin of Clinton, N.C., rounding out the top five.
As has come to be expected, the Longhorn State is well represented with two players in the top nine spots and four in the ELITE 25. No. 6 Chasity Patterson of Houston, Texas, and No. 7 Alexis Morris of Beaumont, Texas, bring scoring punch to the point guard position.
Completing the top 10 are Ariyah Copeland, a 6-foot-3 post from Columbus, Ga., Deauzya Richards, a 5-11 wing from Cypress, Texas, and Jaala Henry, a 6-2 forward from Riverdale, Md.
Only two prospects in the ProspectsNation.com ELITE 25 have made verbal commitments to schools with Llanusa choosing Oklahoma and Boykin pledging to Duke. That doesn't mean schools aren't trying to score early, as most of the ELITE 25 boasts multiple offers from power conference schools already.
FULL PROSPECTSNATION.com ELITE 25
Follow @ChrisHansenPSB

Hansen is managing editor of ProspectsNation.com and a McDonald's All-American selection committee member. He was the national director of scouting for ESPN HoopGurlz from 2005 until 2012. He can be reached at chris@prospectsnation.com.