PSB TipOff Classic Day Two
Posted
8 years 1 month ago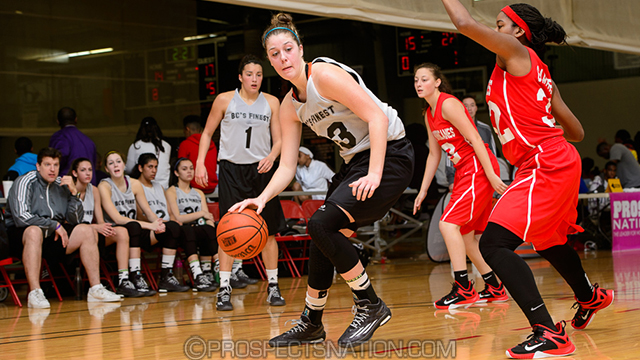 Alicia Roufosse was a presence in the middle for BC Elite. * Photo by Ty Freeman.
SUWANEE, Ga. --Teams broke into bracket play on Saturday and as a result coaches from 100 colleges and universities traveled from all over the nation to catch the action. Day two is when teams can rise to the top of 150 team field and to be in position to play on ProspectsNationTV powered by theSUVtv.com on Championship Sunday. Here is a look at which teams and individuals drew attention on day two.
FEATURE TEAM
BC's Finest Elite
The visitors from north of the border made themselves at home in the Peach State. The Canadian-based team shined on SUVtv on Friday night by defeating Sky Diggs Sullivan. They then battled through the EBAAllAmerican bracket to earn a spot in the championship game on Sunday morning. Their sound play on both ends of the floor combined with elite talent make them the feature team of the day.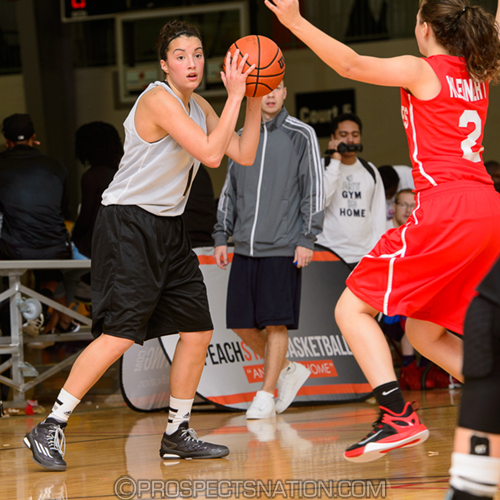 International ELITE prospect Aislinn 'Ace' Konig of Surrey, B.C., fuels this team with her combination of skill and athleticism. She showed her ability to score the ball with the jumper and off of the bounce in front of schools from coast to coast. The 5-foot-11 guard is established as Canada's best available prospect. Adding frontcourt balance to this team are 6-3 twins Alicia and Cierra Roufosse of Abbotsford, B.C. The unsigned seniors' length allows them to alter shots in the lane while they also proved that they could run in transition. Add in the solid contributions of guard Lyric Custodio and forward Savannah Dhaliwal, both of Surrey, B.C., and it is easy to see why BC's Finest ran off four straight victories to start the evaluation period.
#PSBMixTape: BC's Finest Elite
AROUND THE RIM
A number of young players stood out on the second day of the tournament. This included class of 2019 combo guard Torrion Starks of Hartwell, Ga., stood out with a solid overall skill set. The 5-5 guard represented DL Impact very well on Saturday.
Class of 2018 point guard Lauren Gross of Southaven, Miss., proved why she is an up and coming prospect. Her ability to see the floor and deliver the ball makes her a teammate that everyone would like to play alongside.
The Toledo Thunder brought a whole crew of players from Ohio to compete at the three-day tournament. Michigan commit Bre Hampton-Bey leads the way for the 2017 team. She is one of the better scorers off of the bounce in the tourney. Class of 2019 post Kennedy Pratt of Alvada, Ohio, is one of many talented prospects that we will track in years to come.
Class of 2016 point guard Tristan Philpot of Liberty Township, Ohio, is a point guard who you want to run your offense. Her demeanor on the floor brings a calming presence to her teammates.
Another class of 2019 prospect to take note of is Jorrie Allen of Bedford, Ind., as a part of the Indy Lady Gym Rats program. Her diversified skill set helped lead her team to the championship game of the JLHemingwayPSB bracket.
A program that is already drawing a following of college coaches is The Nation from Texas. Class of 2019 guard Nyah Green of Allen, Texas, is already being hailed as one of the best in her class. In addition, class of 2019 teammate Kennedy Tucker of Little Rock, Ark., could shape up to be one of the top point guards of the future as well.
Coach Tim Marshall is known for developing post players in his program. However, do not ignore the talent of his guards this year. Juniors Nyla Perry of Albany, Ga., and Jaylen Snipes of Opelika, Ala., are players that have proven that they can produce in big moments.

Hemingway is the Assistant Director of Scouting for the JumpOffPlus.com National Scouting Report, is on the Naismith Trophy Board of Selectors and owns CoachHemi.com, the go-to source for coaches for X's and O's. He is the floor director of #TeamEBA camps, a site director for #TeamPSB tournaments and can be reached at jonathanhemingway@peachstatebasketball.com.

Peck is the owner of Dream In Motion Athletics and is a national evaluator for the JumpOffPlus.com National Scouting Report. He also serves as a on-floor skills coach at the Elite Basketball Academy events. He can be reached at StephenPeck@peachstatebasketball.com.