PSB TipOff Classic Day One
Posted
6 years 8 months ago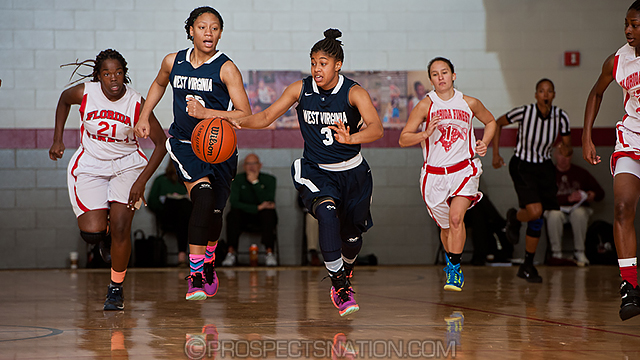 SUWANEE, Ga. – The opening day of the evaluation period started early with games starting at 8:30am at Suwanee Sports Academy for the PSB Tip-Off Classic. When the day finished, most teams competed in exhibition games in front of dozens of college coaches. This year's field of 150 teams yielded many of the nation's premier travel programs outside of the EYBL circuit. Here is a look at the top Day One performers from these teams.
Scott Johnson's Gold team, which consists of 2017 and 2018 prospects, kicked off the weekend with a bang in front of nearly 40 college coaches. Guards Jordyn Dawson of Huntington, W.Va., Aaliyah Dunham of South Charleston, S.C., and Gabby Lupardus of Pinesville, W.Va., all showed their talent in the tourney's opening game. Expect to hear more about this team in months to come.
The entire Sky Diggs program brought prospects who are loaded with skill, IQ and determination. Guards like Ashlyn Huffman of Indianapolis, Ind., Paige Saylor of Martinsville, Ind., and Reilly Olmstead of Brownsberg, Ind., nearly pulled an improbable come from behind win after trailing by nine points with less than two minutes to play versus BC Finest. Their willingness to play hard until the buzzer proved noteworthy.
Class of 2016 Jalisha Terry of Flint, Mich., proved why she is an ELITE 100 watch-list player in a marquee match-up versus the Western PA Bruins. The 5-foot-7 combo guard showed that she could score the ball from anywhere on the floor. Her ability to hit floaters on the move and connect on long-range jumpers lifted her Michigan Storm team to a win all while playing on SUVtv. Terry's point guard skills are not to be overlooked as she can set her teammates up well off the pick and roll action.
Recent Pittsburgh commit Alayna Gribble of Irwin, Penn., showed notable skill in her Friday evening game versus the Michigan Storm. Standing at 6-0 tall with sniper skills from beyond the arc, she proved to be a difficult cover while coming off screens. However, it is the class of 2016 wing forward's ball handling skills and willingness to play physical in the lane that project to future success at the ACC school.
Class of 2018 point guard Gina Marxen of Sammamish, Wash., is one of the most fun players to watch at this weekend's tournament. The left-handed floor general is skilled and never tries to do too much for her Seattle Transition team. However, her headiness and ability to make shots will make her a player that should garner the attention of college coaches from a variety of programs.
Class of 2018 forward Tatum Shipes of Buford, Ga., is establishing herself as one of the premier forwards nationally in her class. Standing at 6-3 with wing ability, she affects the game from the rim to the arc on both ends of the floor. The ultra-skilled helped her North Georgia Magic team to a big opening day victory today.
#PSBMixTape #1

Hemingway is the Assistant Director of Scouting for the JumpOffPlus.com National Scouting Report, is on the Naismith Trophy Board of Selectors and owns CoachHemi.com, the go-to source for coaches for X's and O's. He is the floor director of #TeamEBA camps, a site director for #TeamPSB tournaments and can be reached at jonathanhemingway@peachstatebasketball.com.

Peck is the owner of Dream In Motion Athletics and is a national evaluator for the JumpOffPlus.com National Scouting Report. He also serves as a on-floor skills coach at the Elite Basketball Academy events. He can be reached at StephenPeck@peachstatebasketball.com.