Posted
8 years 10 months ago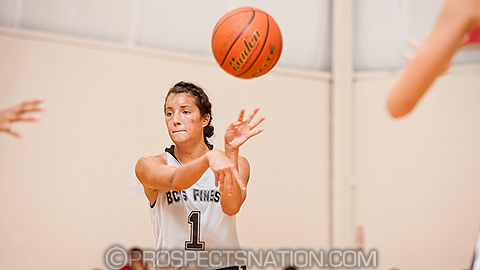 Aislinn Konig came down from Canada to the Power 48 with a purpose, playing at a really high level. *Photo by Ty Freeman.
Tweet
MARIETTA, Ga. – The PSB Power 48 Summer Finale started off with a bang with a line up of quality exhibition games adding to buzz of bracket play beginning. Fans and scouts alike were in for a treat at All Tournament Players Park.

Aislinn Konig (Surrey, B.C), BC's Finest – 2016
Even though there are thousands of miles between Surrey, B.C., and Marrieta, Ga., Aislinn Konig lived up to the "Any Gym Is Home" motto at Peach State Basketball events, putting together a dominating performance against the Mississippi Ballers in an exhibition game at the Power 48 Summer Finale.
One of top guards in her class in Canada and on the West Coast, "Ace" as she is called, lived up to her nickname today. Her competitive nature, scoring ability and instinctual play on the court were hard to match. She was aggressive shooting beyond the arc, knocking down four 3-pointers, and she made several creative passes in the open court to her teammates. She looked determined to make things happen on both ends and found success moving well without the ball to get open looks. A player that is on the International ELITE 25 Watch List, Konig is showing a mature and well-focused rhythm in the second half of the July evaluation period.
FEATURE PROGRAM
Missouri Phenom
The Phenom has been a standout program for some years and here at the Power 48 Summer Finale the team was playing without Connecticut commit Napheesa Collier. Her absence didn't keep the team from scoring two wins over the Boise Hoop Dreams and BC Finest.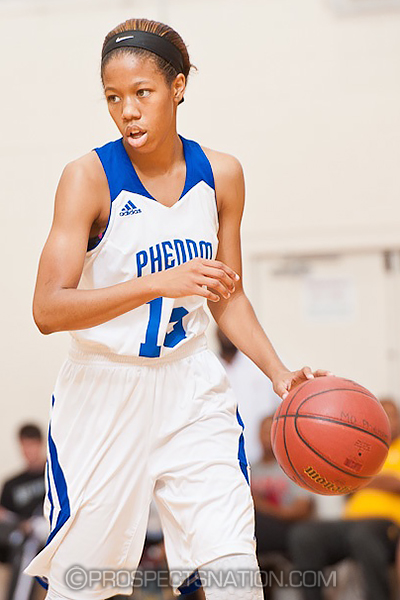 '16 Watch List guard Alecia Sutton.
*Photo by Ty Freeman.
Alecia Sutton of St. Ann, Mo., a point guard with terrific size and athleticism, rose to the occasion, taking on the lead role for much of both games. She did the same when we saw Phenom at the West Coast Premier Spring Invitational in May. She adapts to her team's needs and with her explosiveness with the ball she has all the ability to be the impact player her team needs. The ELITE 60 watch list product seems to be better when her team needs more out of her.
Sutton wasn't alone. Riley Rose of Searcy, Ark., had a solid day on the perimeter as well. Her strong frame and speed in the open floor were impressive and she didn't hesitate to exploit a physical mismatch. Jordan Roundtree of St. Louis, Mo., gave the Phenom quality minutes off the bench. She is a player that surprises on both ends of the floor with her leaping ability, which allows her to rebound effectively from the guard position and get her hands on passes as well. In the paint ELITE 100 post Cierra Porter picked up where she left off in Dallas in the first half when we saw her playing more assertive than earlier in her career. She was joined by 2017 forward Lauren Miller who gives her team a physical presence in the paint.
AROUND THE RIM
♦ Boise Hoop Dreams forward Dominique Williams has really elevated her game. The physical inside player has become a dynamic player on offense with her ability to now step out and knock down the trail or ball reversal three. Her stock is definitely on the rise with the huge crowd of college coaches watching both of her team's games on Saturday.
♦ Several college coaches sat in to watch Morgan Jones of Jonesboro, Ga., last evening with the College Park Rim Rockers. The 5-11 wing-forward in is an ELITE 25 watch list player in the class of 2018.
♦ Coach Kevin Lynum with the Florida Suns is working hard to develop players from the Sunshine State. One player to keep an eye on is Shelby Stokes of Trenton, Fla., who handles the ball and attacks as a lead guard.
♦ Shae Leverette of Rincon, Ga., showed promise as a prospect on Saturday evening. The 6-1 forward has length and athleticism that has attracted the interest of some programs in the region.
♦ One of the better point guards at the PSB Power 48 was Jazzmun Holmes of Gulfport, Miss. She is an athletic slasher who creates space with the dribble. Her talents have already earned her offers from several power conference schools, including Alabama, Mississippi State and Ole Miss. Follow @ChrisHansenPSB

Hansen is managing editor of ProspectsNation.com and a McDonald's All-American selection committee member. He was the national director of scouting for ESPN HoopGurlz from 2005 until 2012. He can be reached at chris@prospectsnation.com.
Follow @JLHemingwayPSB

Hemingway is the Assistant Director of Scouting for the JumpOffPlus.com National Scouting Report. He can be reached at jonathanhemingway@peachstatebasketball.com.
Follow @MercedesPSB

Wetmore joined ProspectsNation.com in the summer of 2014 after graduating from the University of Washington with a Communications degree. She left Washington as the all-time leader in games played and also played with the softball team in the College World Series. She was the Gatorade State Player of the Year her senior year in high school capping off a career which included three state titles. She can be reached at mercedes@prospectsnation.com.