PreSeason Challenge 2018 - First Look
Posted
4 years 6 months ago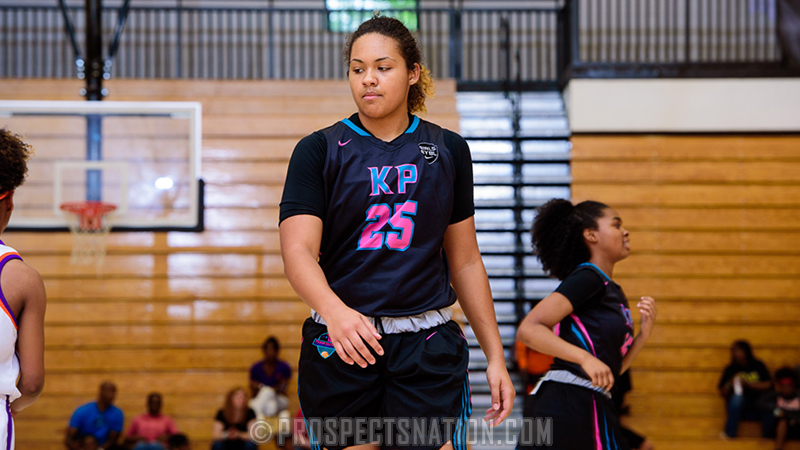 Javyn Nicholson of Team Elite EYBL is a force in the paint and has already committed to Georgia. *Photo by Ty Freeman.
BUFORD, Georgia – Our look at the talent from the #PSBPreSeason Challenge showcases a blend of well-known prospects in new places and new faces who are must see this summer.
A change of scenery seems to have benefitted Class of 2019 prospect Javyn Nicholson of Suwanee, Georgia. She suited up as a key cog for Team Elite Hubbard EYBL roster over the weekend. A future Georgia Bulldog, Nicholson is playing alongside another elite frontcourt option in classmate Jordan Isaacs and is taking full advantage of the single team opportunities that come along with that pairing. Nicholson showed more energy and effort on a consistent basis than we've seen in past evaluations.
#PSBMayDay
May 4-6
ATL#EBASuper64 National Showcase
June 2-3
ATL

My Stock Risers at #PSBPreSeason

Weronika Hipp
Caroline Martin
Javyn Nicholson
Georgia Stockton
Jaleah Storr

JOIN US: https://t.co/Jow0Z53ZU3

INSTAGRAM: https://t.co/jSr8AvCdZB @EOTOCoachK pic.twitter.com/qETbOSEO30

— Brandon Clay (@BrandonClayPSB) April 16, 2018
Class of 2019 guard Georgia Stockton of Tiger, Georgia, is a do-it-all type in the backcourt for EOTO Black. Stockton is a prospect willing to do whatever it takes for her team to come away with the victory. Keep an eye on her during the #PSBSummerKickoff on July 6-7.
Jaleah Storr of McDonough, Georgia, has been a major factor for OMG-TGE's sophomore roster so far this season. A class of 2020 guard, Storr continues to display a smooth blend of skill and size on the perimeter playing all three guard spots for OMG when need be. She'll be on their roster once again for the #PSBSummerKickoff July 6-7.
Caroline Martin of Georgia, is a high-energy guard for Team Elite's sophomore EYBL unit. The Class of 2020 guard does a little of everything reminding me of the aforementioned Stockton in that way. Martin and Team Elite will be on hand for the #PSBElite32 on July 27-29.
Keep an eye on Class of 2021 guard Weronika Hipp of Poland. Her play here put her on the radar as an underclass prospect to track the remainder of the summer. She'll be back at PSB events with the Douglasville Lady Tigers during the July evaluation periods.

Brandon Clay serves as the WNBA Director of Scouting for ProspectsNation.com and owns The JumpOffPlus.com International Report, which is picked up by more than 150 colleges and universities nationwide. He serves as the Executive Camp Director for the Elite Basketball Academy Camps. He serves on the Naismith Trophy Men's / Women's College Player of the Year Academy and is chairman of the HS Boys / Girls Board of Selectors and is on the McDonald's All-American Selection Committee. He also is the publisher of PSBPopCulture.com.