Player Introduction: Jordan Nixon
Posted
6 years 1 month ago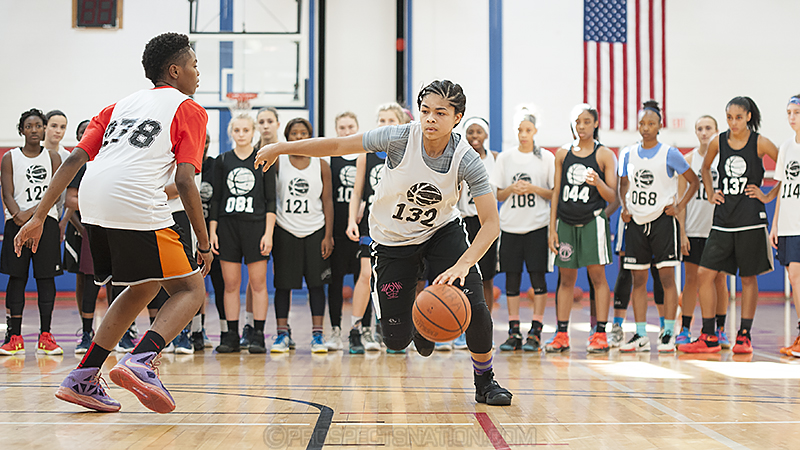 Jordan Nixon battles Ole Miss signee Chyna Nixon at the 2016 Keil Moore Fall Showcase. *Photo by Chris Hansen.
Overview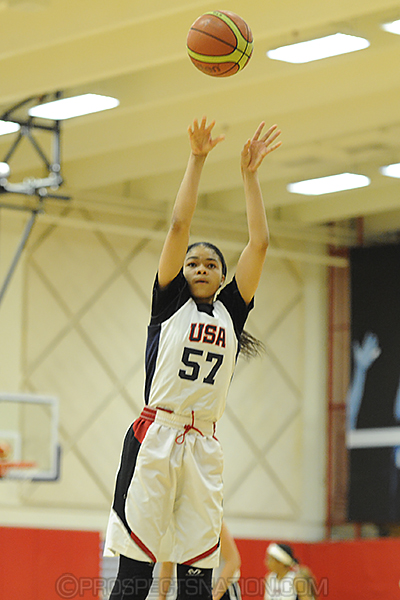 Jordan Nixon at the 2016 USA
Basketball U17 trials. *Photo by
Chris Hansen.With her sneaky smooth ball handling skills and equally effective pull up jumper, 2018 point guard Jordan Nixon has emerged as one of the elite lead guards in her class. Nixon, who matches her honed physical skills with a unique cerebral approach to the game, is as much of a vocal leader as she is a playmaker for others, and as much of a playmaker for others as she is a gifted one-on-one scorer.
Our First Evaluation
Jordan Nixon has the potential to be an impactful offensive player at the next level. She is elusive off the bounce and as tough of a one on one cover as there is in the 2018 class. Her ability off the bounce is aided by her knack for making a variety of shots and forcing defenses to play her honest. Nixon's offensive game is an obvious weapon but she has the size and athleticism to be a dynamic defender as well. Consistency will be the key for this class of 2018 prospect. Her ability will have her among the best players in the class and if she can remain consistent she will continue to ascend. (10-31-15 @Keil Moore Fall Showcase -- Philadelphia)
What They Are Saying
"Jordan Nixon's approach to the game is exactly what you want in a point guard. She's smart, explosive and never gets too high or too low. Her consistency and leadership stand out the most and she's a phenomenally skilled player as well." Chris Hansen, Director of the ELITE is EARNED Report.
"Nixon has good size at the point guard position and is a willing attacker off of the bounce. She got deep into her bag here making shots from all over the floor. "Shake" made multiple passes to teammates in positions to score as well. She showed all the tools to be an effective high level point guard." – Brandon Clay, Director fo the JumpOffPlus.com International Report.
For The Next Level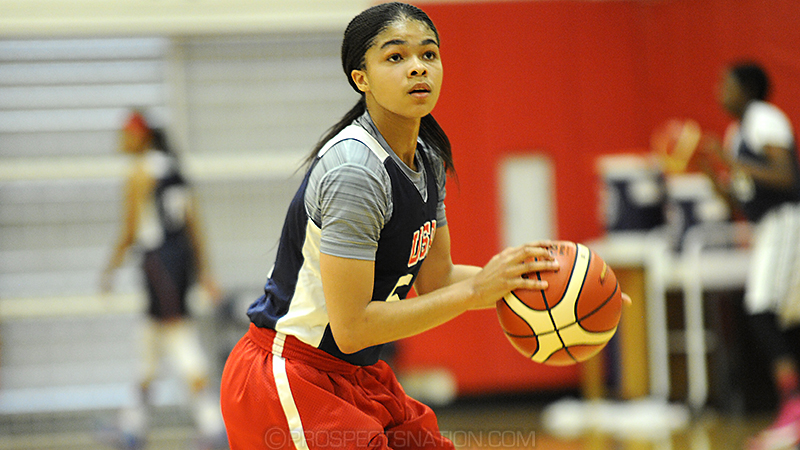 Nixon has a great combination of leadership ability
and on-court skills. *Photo by Chris Hansen.
Recruiting
It is still early in the process for Nixon but she has identified a handful of schools that she is considering, Nixon's list includes Duke, Georgia, Georgia Tech, Louisville, Michigan, Michigan State, North Carolina State, Ohio State, Rutgers, St. Johns, Syracuse, Tennessee, UCLA, Virginia, Virginia Tech, and West Virginia.

Keil Moore is the Director of Scouting for the JumpOffPlus.com National Scouting Report and international scouting report. He serves on the Naismith Trophy Board of Selectors and has been a member of the women's basketball community for more than eight years as a trainer and evaluator. He can be reached at keil@prospectsnation.com.