Player Introduction: Imani Lewis
Posted
5 years 11 months ago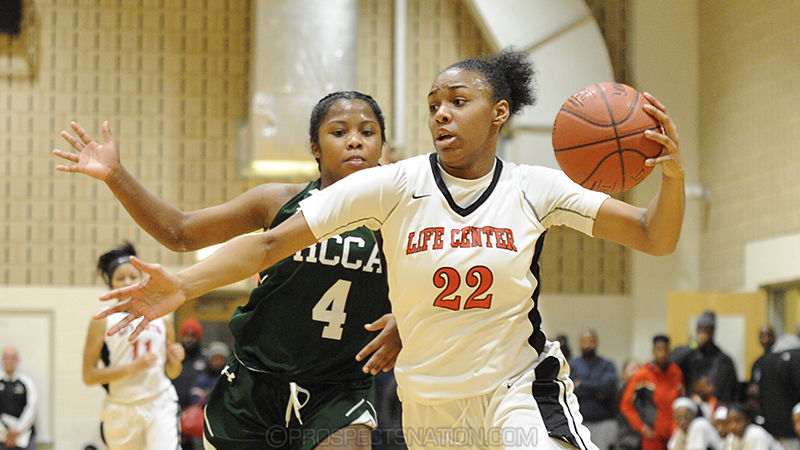 Imani Lewis is a big part of the Life Center attack this season. *Photo by Chris Hansen.
The Junior Introduction brings some of the nation's premier underclassmen into focus from the development of their games to a snapshot of the recruiting process.
Overview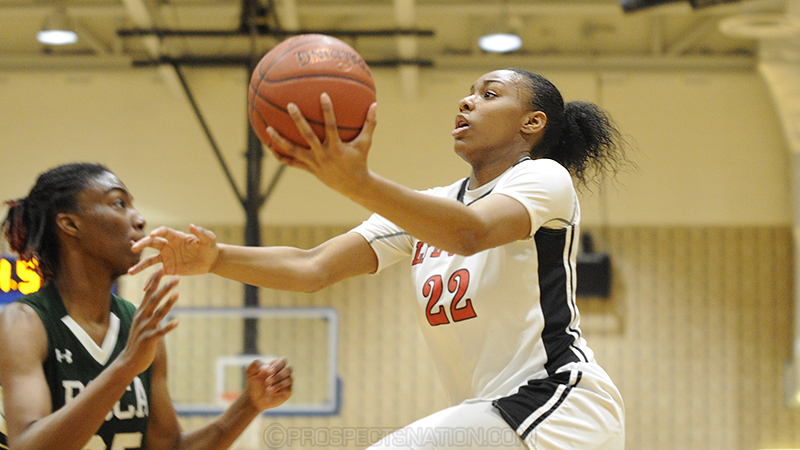 Lewis has developed her game from inside out.
*Photo by Chris Hansen.From the first time we evaluated her as a freshman at Trenton Catholic High School, class of 2018 forward Imani Lewis of Willingboro, New Jersey, has developed into one of the premier prospects in the 2018 class. The 6-foot-1 forward has continued to improve and add to her game during every year of her prep career. Early she was an interior scoring threat with the ability to finish through contact but as she has continued to develop her perimeter game has blossomed and she is turning into the kind of hybrid forward that most programs are looking for. From her freshman year, Lewis has since transferred to Life Center Academy, a program that is sure to be in contention as one of the top 25 programs nationally and Lewis certainly will be a major part of their on-floor success.
What They Are Saying

Lewis is a strong player on the
interior. *Photo by Chris Hansen."Lewis is a forward with good size and a quality skill set. Those attributes lend themselves well to the versatile nature of her game. Based on her play at the Keil Moore Fall Showcase, Lewis appears to be on track as one of the premier forwards in the class, nationally." – Brandon Clay (JumpOffPlus International Report)
"Having evaluated Lewis at both the Keil Moore Fall Showcase and in high school action at the She Got Game in D.C. last weekend, I'm all in on Lewis' game translating to the college level. Her agility, size and diverse skill set will allow coaches to play multiple lineups." – Chris Hansen (ProspectsNation.com)
"Lewis displayed a versatile skill set to go along with elite size and strong athletic frame. It's a difficult task to slow Lewis down offensively because she scores in so many ways, is strong, skilled, athletic and can create her own shot. She's a threat with and without the ball in transition, in space and in the half court." – James Parker (West Coast Girl's Hoops Report)
#SheGotGame - Imani Lewis stepped up and knocked down two big FT's to send the game to OT pic.twitter.com/pYvxSeBNlb

— Keil Moore (@KeilMoorePSB) December 11, 2016
For The Next Level

Lewis is ranked 38th in the ELITE 100 by Prospects
Nation. *Photo by Chris Hansen.As we move to focusing on the 2018 class, Lewis is a player to keep an eye on. She is capable of scoring around the rim and can also step out and shoot it from the perimeter. With her size, this kind of offensive versatility will make her an attractive forward for programs around the country. She plays the game with an energy that is contagious and the development of her skill set completes her package. If she can continue to produce at the level she has while also staying with her skill development, Lewis could be an impact recruit at the next level.
Recruiting
While it is still early in the process for Lewis, she has received scholarship offers from a wide range of schools including, local programs like Rutgers and Seton Hall, as well as out of region programs such as Wisconsin, James Madison and Georgia Tech.

Keil Moore is the Director of Scouting for the JumpOffPlus.com National Scouting Report and international scouting report. He serves on the Naismith Trophy Board of Selectors and has been a member of the women's basketball community for more than eight years as a trainer and evaluator. He can be reached at keil@prospectsnation.com.