Player Introduction: Aquira DeCosta
Posted
4 years 10 months ago

Aquira DeCosta has a five-star rating and is one of the most explosive players in the 2018 class. *Photo courtesy of ELITEisEARNED.com.
The Junior Introduction brings some of the nation's premier underclassmen into focus from the development of their games to a snapshot of the recruiting process.
Overview
Through our live evaluations and her trips to Check Me Out Showcase and ELITE is EARNED events, 2018 forward Aquira DeCosta has left an impression on our ProspectsNation staff. The 6-foot-1 forward is arguably the best athlete in her graduating class and although her perimeter game is still streaky at times, her development in this area permits us to project that upon arriving in college, she could make a major impact for a Division I program.
First Evaluation
12/19/14 - Nike TOC (Phoenix, Ariz.) - Brandon Clay (JumpOffPlus.com International Report)
DeCosta plays with a high energy level in this setting against Long Beach Poly. The power forward has bounce, athleticism and will rebound the basketball. While I didn't see her get a face up look at the goal here, she does have the ability to score the ball at the first two levels
What They Are Saying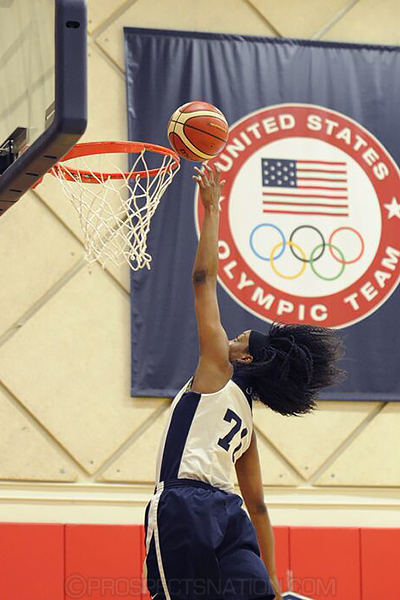 DeCosta at the 2016 USAB U17
National Team Trials in Colorado
Springs. *Photo by Chris Hansen."DeCosta is simply explosive on the court. She has the ability to make incredible plays on the court. She can produce without touches because she has the ability to own the offensive glass. What has been impressive is her progress in scoring from the perimeter. As she continues to evolve as a player the key will be finding easier plays that don't rely on her explosive talent alone." – Chris Hansen (ProspectsNation.com)
"Versatility can be an overused term in basketball circles. However, Aquira DeCosta embodies what a versatile forward should look like in today's game. I watched her drop threes, finish off the move and rebound her position at the Check Me Out Showcase this August. Her performance sold me on her ability to produce at high levels. Her athleticism is still ahead of her skill level at the moment, which means that DeCosta's best days of basketball are still in front of her." – Jonathan Hemingway (JumpOffPlus.com International Report)
For The Next Level
As we mentioned before, the focal point for DeCosta development wise will be continuing to develop her perimeter game and being more consistent as a jump shooter. When she is making shots from the perimeter she can be as tough of a one on one match up as any player in the country. While she can still be effective when her jump shot is erratic and she is forced to attack the rim and play around the basket, she becomes easier to guard with size as she is forced to try to score over length versus exploiting the size on the perimeter.

DeCosta matched up with Cal Stars teammate and '17
Tennessee signee Evina Westbrook at the Check Me Out
Showcase in Seattle, August 2016.
*Photo by Glenn Nelson
Recruiting
DeCosta has been public with her list most of the year and has narrowed it to a final six of Baylor, Louisville, Oklahoma, Tennessee, UCLA and Washington.
Creds to @TiptonEdits_ pic.twitter.com/7CxVcTAoAC

— Aquira DeCosta (@d1_shiftteam) November 1, 2016

Keil Moore is the Director of Scouting for the JumpOffPlus.com National Scouting Report and International Scouting Report. He serves on the Naismith Trophy Board of Selectors and has been a member of the women's basketball community for more than eight years as a trainer and evaluator. He can be reached at keil@prospectsnation.com.