Player History: Te'a Cooper
Posted
7 years 11 months ago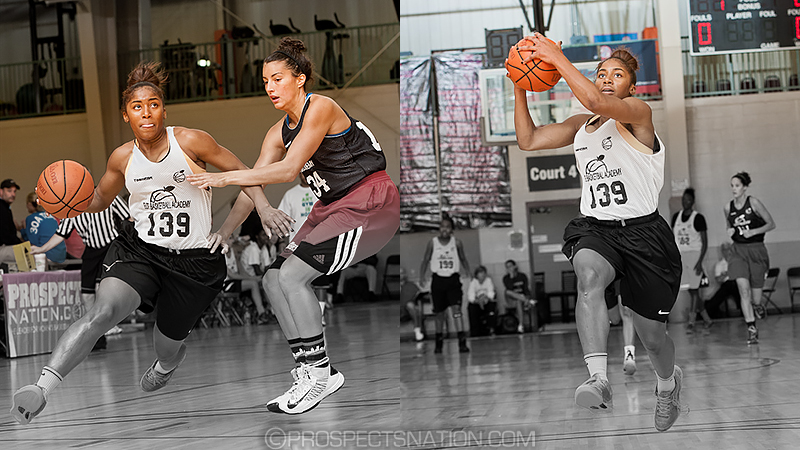 Te'a Cooper's ascendance to the top of the 2015 class started when she was still in middle school.
No. 3 overall Te'a Cooper of Powder Springs, Ga., first caught eyes as a middle school prospect at the Peach State Basketball Best of Summer tournament. Since then Cooper has been a fixture at the top of the 2015 class. As Cooper makes the jump to college this fall here is a second and look at her career through the eye's of the ProspectsNation.com staff.

First Showing
Peach State Basketball Best of Summer – July of 2009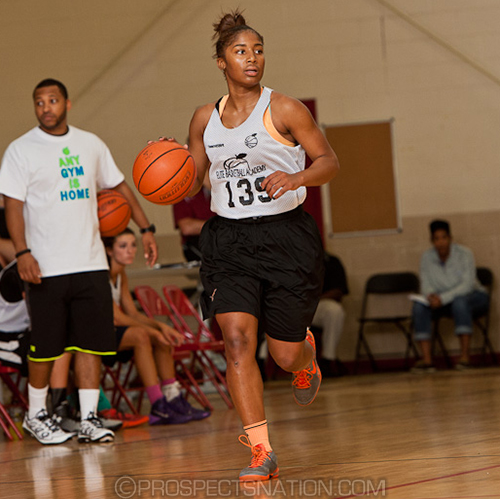 Our first evaluation of Cooper was during the summer between her seventh and eighth grade years. She was at a Peach State Basketball live-period event playing against high school aged prospects. She was an exciting young prospect with a very bright future. It was early to throw out accolades but Cooper's game was one we would be following throughout her prep career.
"Young athletic point guard with a great deal of talent. Excellent with the basketball, can score and set up others. It's hard to find holes in her game considering age and talent level. Almost always playing against players two or three years older."
EBA All-American Camp 2010
A year later, Cooper was getting ready to go to high school and enter her freshman year. Her play that July allowed her to earn an invite to EBA Al-American camp and that weekend's performance solidified her stock among the top prospects in the 2015 class.
EBA All-American Camp (Suwanee, Ga.) - Brandon Clay
Was able to hold her own against some of the top guards in the country (Banks, Davis, Brown, Carter, Burdick) as an eighth grader. Combo kid - Iverson like skill wise to girls. Jumper is two motions, sets it by her chin. If she gets that fixed, she's a problem. Will on-ball defend, still young as far as helpline defense goes. Used to playing off talent. Driver on offense, quick to the rim off the bounce. Right-handed but will go either way.
Freshman Year – High School
JumpOffPlus.com Holiday Invitational – December 2010
If there was book about the legend of Cooper in the Atlanta girls' basketball scene, the first epic battle was her play leading McEachern to the championship of the event, leaving all in attendance as believers in the freshman point guard. After verbally committing to the University of North Carolina, Cooper began her freshman year of high school as the starting point guard on a talented McEachern team. At the Holiday Invitational Cooper was able to make key plays in the fourth quarter's of both the semifinal and the championship game, Including a key steal followed by knocking down a pair of free throws to seal the win against a nationally ranked New Hope High School. This set McEachern up in a position to compete for a high school national championship throughout the season.
USA U16 Trials
Despite not making the U16 team, Cooper had a strong showing at the U16 trials. The fact that she was left off the team left many media members in attendance in shock. Earlier that spring when ProspectsNation.com launched, Cooper earned a five-star rating and was rated as the No. 1 point guard in her class; a spot she would not relinquish.
US Olympic Training Center – May 2013 - Keil Moore
She is a dynamic point guard who can do everything on the floor. She has a WNBA type body in comparison with some of these other players. There is a question as to whether she has "maxed" out physically, but right now she is physically more gifted than her peers. Her basketball IQ and decision making is also something to be admired. She makes basketball plays and has become a better shooter in the last 18 months.
USA U17 Trials
Last summer, Cooper made the U17 team but was unable to compete due to an illness.

US Olympic Training Center – May 2014 – Brandon Clay
Much like the November evaluation, Cooper's growth is impressive. Her jump shot was consistent here again, though still awkward in terms of the delivery. She is the premier point guard in the class right now.
Tennessee Verbal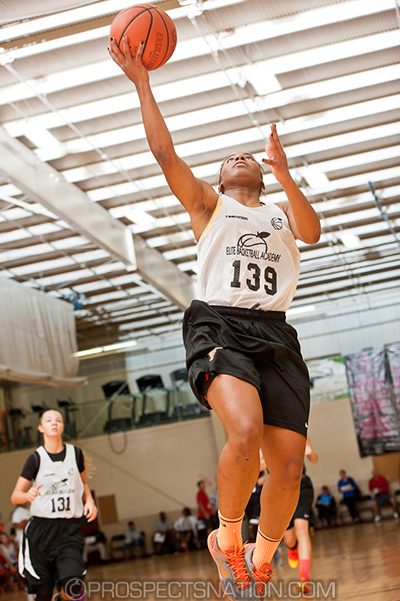 In February of 2014, Cooper made a verbal pledge to Tennessee. Revisit her handling of the process in this story from managing editor, Chris Hansen: Cooper In Control.
Cooper Commits To Tennessee – June 2014
Overview
From very early in her career we knew Cooper had the ability to be a special talent. She is a powerfully built guard with elite athleticism. Her work ethic is unparalleled and it has shown throughout her prep career.
The Future
Cooper is headed to Tennessee and with that comes a new chapter in her story as a player. Tennessee coach Holly Warlick and her staff have put together one of the most impressive collections of talent in the country and Cooper has the potential to be a vital part of that. Playing around that caliber of talent will allow Cooper to thrive as she is accustomed to playing the role of quarterback, setting up teammates and making sure the ball is spread around.
More on Cooper from ProspectsNation.com:
► Cooper Steals The Show At EBA Top 40
► What We Learned: Boo Williams 2013
► Feature Player (with video) -- Te'a Cooper

Keil Moore is the Director of Scouting for the JumpOffPlus.com National Scouting Report and international scouting report. He serves on the Naismith Trophy Board of Selectors and has been a member of the women's basketball community for more than six years as a trainer and evaluator. He can be reached at keil@prospectsnation.com.