Player History: Katie Lou Samuelson
Posted
7 years 3 weeks ago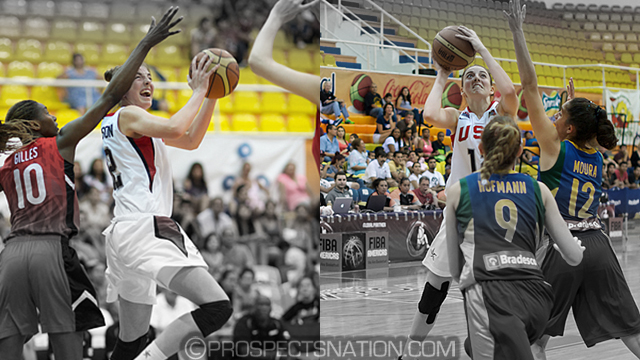 Katie Lou Sameulson's journey to the upper echelon of the girls basketball hierachy includes numerous USA Basketball competitions.
Katie Lou Samuelson recently won the prestigious Naismith Award being honored as the country's best high school player. Our ProspectsNation.com staff has watched Samuelson go from being the younger sister of Bonnie and Karlie into blossoming into one of the best prospects in the US. Here is a look at her journey.

First Showing
Multiple Summer Events – July of 2010.
When we first saw the youngest Samuelson when she was a rising eighth grader playing on the same summer team with her sisters Bonnie and Karlie. We took immediate note of her skill set and her ability to make plays with and without the ball in her hands. She was more of a playmaker than her older sisters but had the ability to shoot it just as well.
Summer of 2012
By the summer of 2012 Samuelson had solidified herself as one of the premier prospects in the class of 2015, so much so that she was in the discussion as the potential No. 1 overall prospect in the class. As the summer of 2012 progressed, Samuelson showed tremendous growth as a prospect. She was starting to do more than just make shots. In that summer she displayed a willingness to play with her back to the basket when the matchup was to her advantage and proved to be an effective rebounder. Add to that a couple of quality performances in key summer matchups and the "shooter" stigma was beginning to become a label that just wouldn't define Samuelson as a player.
2013 Nike Nationals
Of all the great prep performances in Katie Lou Samuelson's career, her three days at Nike Nationals leading an injury plagued Cal Swish team against some of the best summer teams in the country. Sadly, Samuelson's scoring out bursts came at the last Nike Nationals that was played without stats. What our ProspectsNation staff remembers from that event was multiple 30-point games with a 40-point outburst sprinkled in. Samuelson's Cal Swish team was severely overmatched at that event due to numerous injuries but in that moment "Lou" did every thing she could to keep her team competitive.

Junior Year – High School
Nike Extravaganza – January 2014 (Jonathan Hemingway)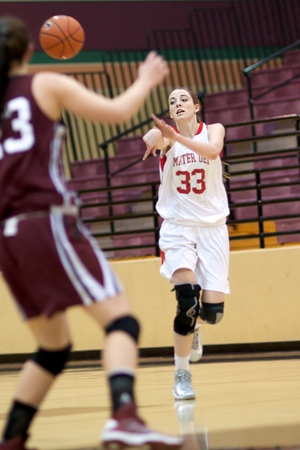 I believe what could ultimately set Samuelson apart from the other elite players in her class is the consistency that she has on her jumper. She will always be a threat to score double digits at the next level simply because of her ability to shoot the ball at multiple levels on the floor, which in fact makes her a multi-dimensional player. Interestingly, she does not shoot the ball fast, but she gets ready to shoot quickly. It is never a rush for her to shoot, because her footwork is compact and efficient. The other parts of her game are equally as efficient as she able to play the role of primary handler, distributor and rebounder at various moments during the game. Her 27 points in a half vs. St. Bernard was as much impressive as it was effortless at times.
Senior Year – High School
Nike Tournament of Champions – December 2014 (Chris Hansen)
A year ago, Samuelson made her mark here on day two of the event. This year, it only took her one game. The 6-foot-3 wing has become of one the country's premier all-around prospects. A Connecticut signee, Samuelson went bananas in the opening round contest against Skyline High School out of Dallas, Texas, finishing with a Mater Dei record 41 points. (Read More)

What They're Saying
The youngest Samuelson is a bona fide star. She is the best shooter in the county but has built her game around it instead of being a singular sensation. She's excelled on every major platform available to youth players, including international play. – Chris Hansen
Samuelson gets labeled as a shooting specialist. I'm not sure that alone is a fair distinction of what she brings to the table long term. The five-star prep is both an intense competitor in drills and gamer when the lights come on. – Brandon Clay
Overview
Samuleson is currently ranked as the No. 2 player in the class of 2015. She is as capable an offensive player as we have seen in several years. Her combination of size and shooting ability make her a major scoring threat. One common knock on Samuelson is that she has struggled to guard on the perimeter. That said, her future college coach Geno Auriemma has a knack for putting players in positions to be successful. Expect Samuelson to play a role similar to recently graudated and now with the WNBA's Seattle Storm, Kaleena Mosqueda-Lewis, giving Connecticut an elite perimeter scoring threat and a capable interior post threat when match ups allow it.

Keil Moore is the Director of Scouting for the JumpOffPlus.com National Scouting Report and international scouting report. He serves on the Naismith Trophy Board of Selectors and has been a member of the women's basketball community for more than six years as a trainer and evaluator. He can be reached at keil@prospectsnation.com.