Pac-12 2020 Recruiting Surge
Posted
4 years 3 months ago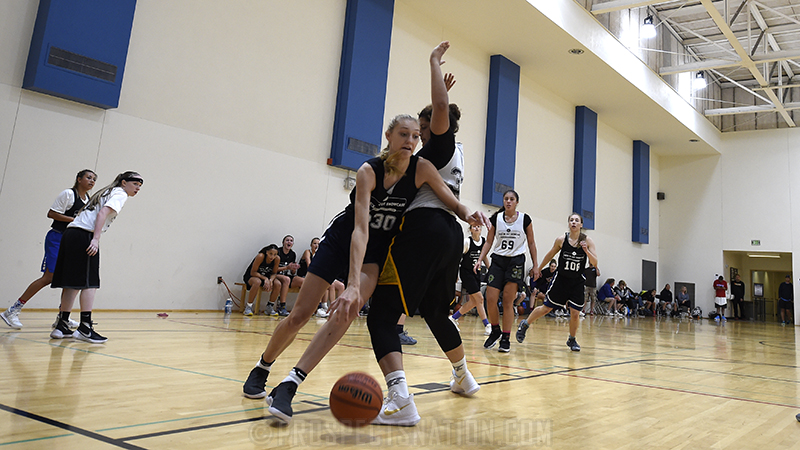 Cameron Brink of Beaverton, Oregon, attacks Arkansas signee Destinee Oberg of Burnsville, Minnesota, at the Check Me Out Showcase in Seattle, Washington * Photo by Glenn Nelson.
Not to be lost in the lead up to and madness of the early signing period for the 2019 class is the commitment news in the 2020 class. Here's a look at the noteable 2020's pulling the trigger this late fall.
It was Cameron Brink's freshman year at Southridge High School in Beaverton, Oregon. After a three-and-a-half hour drive south from Seattle, the excitement to see this freshman everyone was talking about was real.
With expectations high I watched the way this 6-foot-3-inch forward flew around the court. Not three minutes into the game and she logged two blocked shots that were more like volleyball spikes. Two more minutes passed and foul trouble had her on the bench.
Brink played sparingly the rest of the way in a game she wasn't really needed for Southridge to win. But it didn't take long to see her talent lived up to the hype. The recent Stanford commit will draw comparisons to former Cardinal and current WNBA player Kayla Pedersen. Both are long versatile players but Brink has an athleticism that could make her ceiling even higher.
Brink is a huge piece as Stanford has spent the past few year reestablishing itself as a frontrunner in a Pac-12 Conference which has grown considerably from the decades of dominance coach Tara Vanderveer ruled the west.
In the past eight years three other programs – California, Oregon State and Washington – have reached the Final Four. And many are forecasting this could be the year Oregon joins that group. It's that surge of competition that makes Brink's commitment all the more important.
"Brink is a potential star in the frontcourt for the Cardinal," Brandon Clay, owner of the JumpOffPlus.com Report and ProspectsNation.com Publisher, said. "She already has college interior length, runs the floor well and rebounds on both ends. Her strength should improve with her natural physical maturation. Brink is able to change shots with her length. She wasn't comfortable catching on the post, reading the defender and making a play to score or draw the second defender on this day."
Brink is an impact on talent alone. She's as fast as most guards end-to-end, is a force on the offensive glass and is a game-changer as a weakside shot blocker. She's shown considerable growth in her game shooting the basketball, a trademark for most Stanford players.
Brink has also gotten much stronger and though she has a long and lean frame, has embraced playing more physical in the paint. Add to that international experience with the USA Basketball U17 national team that won gold at FIBA Worlds last summer and the makings of a star are all there.
ASU Lands Burton
Post players run a premium and Arizona State landed one of the top options on the west coast in Keeli Burton of Redmond, Washington. The 6-3 back to the basket threat has shown terrific hands and passing skills in the post. As a sophomore she averaged a double-double with 15.7 points per game to go along with 10 boards.
Washington Lands Noble
The Washington Huskies landed in-state four-star prospect Jada Noble of Medical Lake, Washington. The 5-11 wing is a versatile player who can play multiple positions. She's a kid who scores it when needed but can also facilitate offense. Her athleticsm and size should allow her to defend multiple positions as well.
Belmont Scores Bartley
Much like Arizona State, Belmont landing the early commitment of 6-3 forward-center Madison Bartley of Dayton, Ohio, should put the Bruins in great shape this spring. Bartley, a four-star prospect, has all the tools to be a star in the OVC. Her length, strength, size combined with smart physical play should give Bart Brooks a real weapon early in her career.
TCU Gets Morgan
Aaliyah Morgan, a 6-1 forward from Tyler, Texas, will also stay in-state following the junior's commitment to TCU. The physical 4-player is the first commitment for the Horned Frogs in 2020. With Ella Hellessey and Adeola Akomolafe both on track to graduate after next season, the added interior player is perfect timing.
AROUND THE RIM
Kinsley Barrington, a 6-1 wing-forward from Spokane, Washington, has verbally committed to Southern Utah, according to her Northwest Blazers club team director, Steve Klees.
Kendall Renard of Green Bay, Wisconsin, chose to commit early and stay home. The 6-3 junior post will play for the Green Bay Phoenix after her prep career. She held offers from Illinois State, IUPUI, Miami (OH), and Northern Illinois.
Bowling Green picked up a 2019 commitment after the signing period expired in Kallie Hall of Stoney Creek, Ontario, Canada. The 5-9 guard plays at Lincoln Prep in Hamilton.

Chris Hansen is managing editor of ProspectsNation.com and serves on the McDonald's All-American and Naismith Trophy selection committees. He was a co-founder of and the national director of scouting for ESPN HoopGurlz from 2005 until 2012 and is the director of the Check Me Out Showcase and ELITE is EARNED events. He can be reached at chris@prospectsnation.com.