Posted
4 years 7 months ago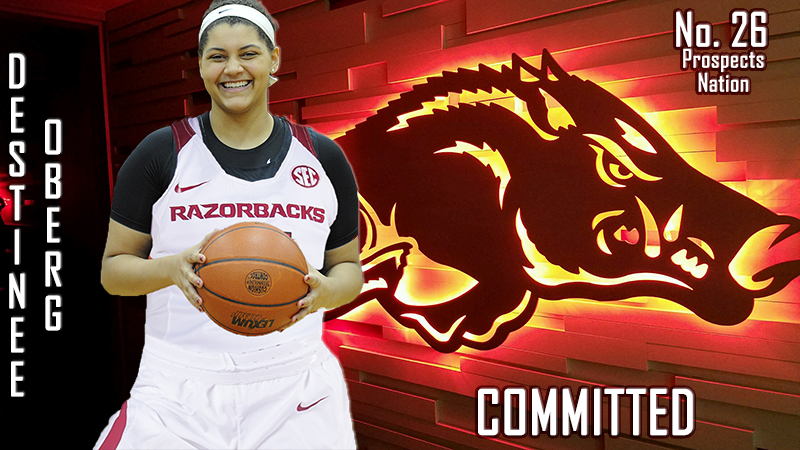 Destinee Oberg of Burnsville, Minnesota, is a 6-2 interior player with finishing and passing ability.
Destinee Oberg, the 6-foot-2 junior forward from Burnsville, Minnesota, has verbally committed to Mike Neighbors and the Arkansas Razorbacks. Oberg, who is ranked No. 26 in the 2019 class by ProspectsNation.com, chose the SEC program over Florida State, Kansas State, Louisville, Maryland, Michigan State, Minnesota, North Dakota, Purdue, Rutgers, Vanderbilt and Wisconsin among others.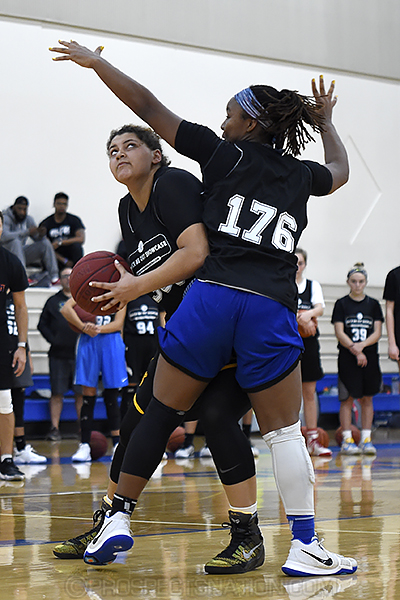 Oberg is physical around the basket.
*Photo by Chris Hansen.Oberg's choice was several years in the making, dating back to meeting first-year Razorback head coach Mike Neighbors while he was the head coach at Washington.
"When I first met him I knew just by his personality and coaching style that I wanted to play for him," Oberg said. "And I would catch myself imagining what it would be like there for classes and practices."
The bond Neighbors built with his players in Seattle led to the Huskies' first-ever Final Four appearance. While Oberg can't expect to be Kelsey Plum, the size and versatility she possesses could easily be projected to have the impact Chantel Osahor had under Neighbors. Both are strong framed interior players who can score but also have a knack for passing.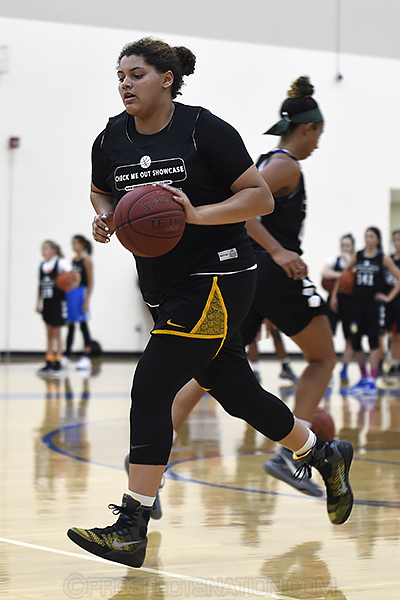 Oberg's versatility in the post will
help Arkansas in the SEC. *Photo by
Rob Kinslow."Oberg is a classic post player. A throwback of sorts to a time when posts had great hands, great footwork, and the ability to turn over either shoulder," Keil Moore, director of scouting for the JumpOffPlus.com International Report, said. "I think she's going to benefit a great deal in college because of rule changes and the emphasis on cleaning up physicality in the post. If defenders aren't allowed to be physical and displace her before the catch she is going to be tough to stop once she has the ball."
With her commitment behind her, Oberg is keenly focused on having a strong junior season at the Academy of Holy Angles and a final club ball season. She missed last spring and summer while recovering from a shoulder injury. As a sophomore, she led her team to the AAA semifinal round after winning a state title her freshman year.
With Oberg on board, Arkansas has two committed players ranked in the ELITE 100 for the 2019 class. Oberg joins 5-11 wing Ginger Reece of Lawton, Oklahoma. Add to the mix 2018 signee Rokia Doumbia of Chattanooga, Tennessee, and Oklahoma transfer Chelsea Dungee and the mix of explosive perimeter play and interior strength headed to Fayetteville over the next two years should have the program headed swiftly up the SEC standings.

Chris Hansen is managing editor of ProspectsNation.com and serves on the McDonald's All-American and Naismith Trophy selection committees. He was a co-founder of and the national director of scouting for ESPN HoopGurlz from 2005 until 2012 and is the director of the Check Me Out Showcase and ELITE is EARNED events. He can be reached at chris@prospectsnation.com.