No Ifs, Ands, Or Butts About It
Posted
10 years 7 months ago
Tweet
SUWANEE, Ga. – The 2013 edition of the Peach State Basketball Tip-Off Classic provided a number of individuals from over 130 teams to showcase their talents during the NCAA-certified evaluation period. Teams from up and down the eastern seaboard made their way to Suwanee Sports Academy to compete in front of coaches from over 100 colleges and universities. Here is the first look at which players elevated their stock the most at the TeamPSB event.

Alliya Butts (Edgewater Park, N.J.) – Philly Freedom Stars – 2014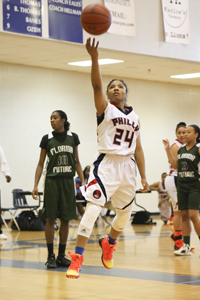 '14 ELITE 100 Watch guard Alliyah Butts.
*Photo by DJ Galbiati .
Few players at the Tip-Off Classic had more to prove than the Butts this weekend. The 5-foot-4 point guard has attracted interest from a number of schools, including having offers from Penn State, Wake Forest amongst others. However, Butts needed to prove on a big stage that she belonged as an ELITE 100 Watch List player in the 2014 class. Any doubt that may have lingered going into Championship Sunday was erased in the Philly Freedom Stars victory over the West Virginia Thunder. Butts catapulted her team to the championship by scoring 25 points on five 3-pointers on Sunday afternoon. The signature moment of her weekend came when she drained a three on a step-back move with a hand in her face and less than a minute to go. Butts put an exclamation mark on an awesome weekend for her and her Philly teammates.
Observers have never doubted the heart or the skill of Butts. She has always been a vocal leader and a pesky defender. As a result, she has always found ways to be competitive even with her opponents towering over her. However, what Butts proved this weekend was that she could be a go-to player in the big-time moment. The proven point guard and floor general showed that she could be a winner with the game on the line.
AROUND THE RIM
♦ Expect Rachel Camp, the slashing wing out of North Carolina, to have a number of scholarship offers after this weekend. College coaches followed her every movement all tournament long. East Carolina assistant Ollin Dunford and Charlotte assistant Sabrina Gregory stayed until the very last game on Saturday night to watch the 5-10 wing.
♦ Although this tournament was played in Georgia, the State of Louisiana made a case for domination during the NCAA-certified weekend. The Kenner Angels, Lady Blues and the Louisiana Lady Heat all made the championship games on Sunday afternoon. University of Southern Mississippi commit Megan Brown lead the Lady Blues to a championship in the PlatinumNation bracket. While the Lady Heat took home the TeamPSB Championship behind the efforts of point guard Maya Trench.
♦ Nora Berry from Chattanooga was impressive this weekend. The 5-11 forward has done a terrific job of improving her skills in the past 12 months. She hit threes from all over the court without regard of where the 3-point line was. She had multiple games with five or more treys.
♦ What is it about kids from Tennessee and their ability to shoot? Kaley Leyhue from The Basketball Academy, like Berry, had a great weekend shooting the ball from the arc. In her exhibition game she knocked down five triples. Leyhue's balanced game of shooting, handling and rebounding have college coaches watching intently.
♦ Another stock riser from the weekend has to Yaktavia Hickson from Stone Mountain, Ga. The smooth point guard had Auburn assistant Adrian Walters sitting on her game Friday night. Her ability to create plays for herself and her teammates makes her an exciting prospect. Follow @JLHemingwayPSB
Hemingway is the Assistant Director of Scouting for the JumpOffPlus.com National Scouting Report. He can be reached at jonathanhemingway@peachstatebasketball.com.