No. 8 Sadie Edwards Commits
Posted
10 years 2 months ago
In spite of being a native of Meriden, Conn., just a 45-minute drive from Storrs, the road for Sadie Edwards and her decision to commit to the University of Connecticut was not a short one. Nevertheless it was the road less travelled that ultimately led her led to the No. 8 ranking in the 2014 ProspectsNation.com ELITE 60 and now her scholarship with the Huskies.
Following Edwards' freshman year of high school, she decided to take a risk, moved away from home and enrolled at Nazareth High School in Brooklyn, N.Y., and now a junior she is at Blair Academy, a boarding school in Blairstown, N.J. That is a path typically reserved for Canadian or overseas players looking to burst on to the recruiting scene.
Edwards, a 5-foot-10 point guard, needed to get into a more competitive environment to reach her goals and it has paid off in spades. She chose UConn over finalists DePaul, Georgia Tech, Kentucky, Louisville and Penn State.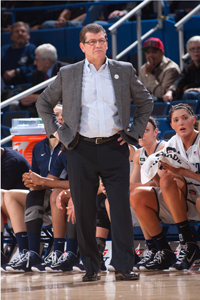 Connecticut coach Geno Auriemma.
*Photo by Steve Slade.
"You could say because it's home," Edwards said of her decision to become a Husky. "My family will be able to see me play, which is really important. My dad is sick so it means a lot for me to be close to home."
Edwards' father, Erskine, is fighting colon cancer, a battle that has spanned more than two years. But his optimistic spirit has rubbed off on his daughter, and it is clear that she isn't afraid of taking risks. But family wasn't the only deciding factor.
"I think it will be a great fit basketball-wise, but also open doors for me later on in life," Edwards said.
Edwards joins Courtney Ekmark of Phoenix, Ariz., the No. 13 prospect in the ELITE 60, in head coach Geno Auriemma's 2014 recruiting haul to date. The pair gives the Huskies ample length in the backcourt as the sharpshooting Ekmark stands 6 feet tall.
"I know that they'll help me get better and maximize my potential," Edwards added. "The program is rich in tradition and to be a part of that, being from Connecticut, is really special. I know I'll be challenged every day but I've always embraced the challenge."
Edwards has been pursuing this particular challenge since she left Meriden. She didn't feel like this opportunity would exist if she didn't take this journey and she's now earned her return ticket home.
Keil Moore contributed to this report.
Follow @ChrisHansenPSB
Hansen is managing editor of ProspectsNation.com and a McDonald's All-American selection committee member. He was the national director of scouting for ESPN HoopGurlz from 2005 until 2012. He can be reached at chris@prospectsnation.com.
Moore is the National Director of Scouting for the JumpOffPlus.com National Scouting Report. He can be reached at keil@prospectsnation.com.