Posted
8 years 5 months ago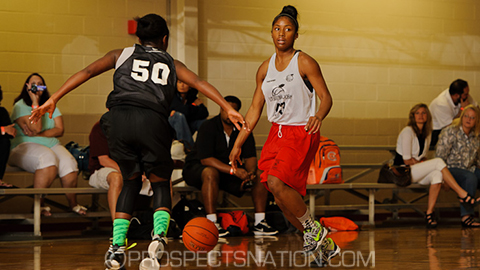 Te'a Cooper is the No. 3 junior in the country and is in control of her game and her recruiting process. *Photo by Ty Freeman.
It was early October 2011 when I sat in a room adjacent to the court at Bogan Park Parks and Rec Center in Buford, Ga., at the second Elite Basketball Academy All-American Camp. With the help of Andraya Carter, now at Tennessee but at the time a rising senior recovering from an knee injury, we were shooting video interviews with many of the players when Te'a Cooper came into the room.
Cooper''s talent was already established even though she was more than a month away from her first high school basketball game at McEachern High School (Powder Springs, Ga.). But she wasn't ready for the spotlight just yet. Cooper was ultra shy and even with a trusted peer like Carter in the room coaching her on talking in front of the camera, it was simply not her time yet. And it's understandable as she picked up basketball just two years earlier really just because her older sister, Mia, played.
Not even three months later, after a big holiday tournament in which McEachern came out on top, Cooper had a completely different demeanor about her and even an eagerness for a post game interview.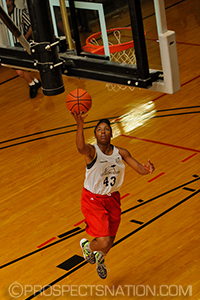 *Photo by Ty Freeman.
The light switch had flipped on and everything about being a star player was being embraced.
Cooper, the No. 3 prospect in the 2015 ProspectsNation.com ELITE 60, got off to an early start in her recruitment, visiting both Duke and North Carolina, unofficially, as an eighth grader. She would commit to the Tar Heels the same year, before ever playing a high school game.
But after much change at North Carolina, Cooper decided to reopen her recruitment in August, just before the beginning of her junior year.
""I feel I didn't give anybody really a chance"," Cooper said of her recruiting process. ""I just thought that's where I wanted to go. I felt as though there was no purpose in seeing people because that's where I wanted to go, all UNC. But now that I''ve decommitted and opened my eyes and I get to see everyone else and what they have to offer, I am doing it the right way.""
Recruiting can be a paradox when it comes to a team sport. It is the one time a player has to be completely singular in focus to find the best fit individually. So even for a player at the point guard position, like Cooper, where making teammates better is backbone of the position, the selfishness of process is a bit of a conundrum.
""Yeah the hardest part was saying I was going to be there playing with all those players and I didn''t keep my word,"" Cooper said. ""That hurt the most. But other than that it's just a lesson learned.""
Cooper doesn''t believe she was too young to commit, but with so much time passing since her verbal commitment, things on the ground changed. And while she is not committed to North Carolina, the Tar Heels are still in the mix, and she is actively in the process.
To date Cooper, a 5-foot-8 powerfully built lead guard, has been on six college campuses -- Duke, Georgia, Louisville, North Carolina, Pitt and Tennessee.
Her most recent trips were to Knoxville for the Lady Vols' three-point loss to LSU on January 2, to Chapel Hill to see UNC play Maryland and to Duke on January 12 for the Blue Devils win over Boston College. She also visited Georgia several times this season and has a keen eye on what is important to her this time through the process.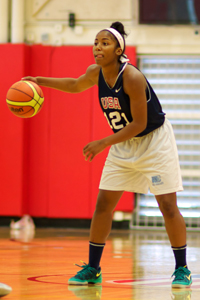 Tea Cooper at the USA U16 team
trials. *Photo by Chris Hansen.
""I think that happiness is very important; the players all being happy and that they play as a team,"" Cooper said. ""(It''s) really the little stuff because everybody says No. 1 in something. Every school I go to they're number one in everything so somebody has to be lying. I know all of them have good education and they have the tutors and all that stuff but a lot of the schools I've see since I decommitted, half the players aren't even happy."
Cooper is relying on friendships she's forged over years of playing club basketball with A.O.T. to get a pulse for different programs.
""They tell me why,"" Cooper said. ""'I'm close with a lot of players, because I''ve played against them and played with them. Everybody (who's) not happy says it''s because when they went there they didn''t do the things they said they were going to do for that player or it''s not what they made it seem like when they go there (on a visit). So I don''t want that to happen to me so I''m trying to find a place where the coaches love what they''re doing and the players love being there and it''s fun like it's supposed to be.""
So while Cooper is focused on finding a place she can be happy for her college playing days, she''s also focused on honing her craft as a point guard. She's used her gift at getting to the rim to build her game around.
In her team''s Friday win over North Cobb (Kennesaw, Ga.), Cooper finished with 39 points, seven assists and she hit eight 3-pointers in the process. For a player that has been typecast as a scorer who is going hard right to the rim, the development of her long distance jumper and ability to get her teammates the ball in a position to score are critical. She wants to play with other good players at the next level, not have to flirt with 30 or 40 points each night to be in the game.
Cooper is also anxious to get another chance at making a USA Basketball team this spring when she will more than likely try out for the U17 national team. She tried out for the U16 team last spring but wasn''t selected for the 12-player roster.
""It was eye-opening but at the same time I think I played hard while I was down there so it wasn''t really that (disappointing),"" Cooper said. ""If I would have went up there and not played as well as I planned to, I think it would have hurt more.""
Cooper has come a long way from the reserved freshman who avoided the bright lights. The growth in her game and demeanor have been impressive to say the least. And it's that maturity that has allowed her to firmly take hold of her recruiting process. She''s got a top 10 and she's looking at trimming that list after watching the teams play this season.

Hansen is managing editor of ProspectsNation.com and a McDonald's All-American selection committee member. He was the national director of scouting for ESPN HoopGurlz from 2005 until 2012. He can be reached at chris@prospectsnation.com.