No. 27 Dominique Toussaint To Virginia
Posted
7 years 6 months ago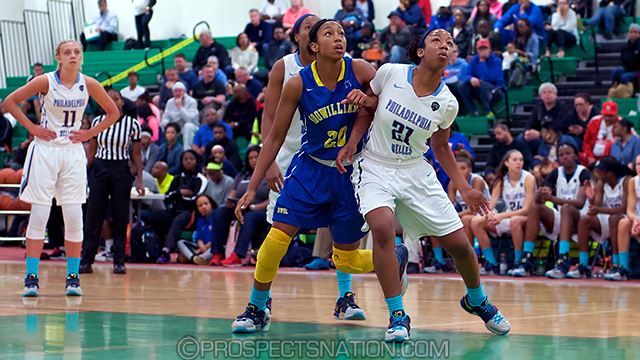 Dominique Toussaint (21) is a versatile guard that should press for minutes early at Virginia. *Photo by Chris Hansen.
Virginia coach Joanne Boyle and her staff received great news Monday when the No. 27 prospect in the ELITE 100, Dominique Toussaint of Staten Island, N.Y., made a verbal pledge. The 5-foot-9 shooting guard picked the ACC school over Georgia Tech, Kentucky, Northwestern, Ohio State, and South Carolina.
In adding Toussaint, Virginia is getting one of the premier perimeter scoring threats in the class of 2016. Toussaint has the ability to consistently create her own shot and is capable playing in one-on-one situations while also having the basketball IQ to be able to fit into an offensive structure.
Toussaint becomes coach Boyle and her staff's first verbal commitment in the class of 2016. Over the past couple of years the Cavaliers have had one of the strongest backcourts in the ACC and adding Toussaint will help them continue this trend. Look for Virginia to look to add a couple more pieces to this class with players such as Lexie Barrier of Ironton, Ohio, and Jocelyn Willoughby of East Orange, N.J., still in the mix.

Keil Moore is the Director of Scouting for the JumpOffPlus.com National Scouting Report and international scouting report. He serves on the Naismith Trophy Board of Selectors and has been a member of the women's basketball community for more than eight years as a trainer and evaluator. He can be reached at keil@prospectsnation.com.