No. 2 Davis Blazes New Trail
Posted
11 years 1 month ago
Like many young girls growing up in a basketball-centric world, Kaela Davis grew up dreaming of playing for Tennessee.  The 6-foot-2 wing player was born in 1995, just in time for the Lady Vols' National Championship three-peat of 1996-98.  Those childhood dreams have shaped Davis' life and what she wants her college basketball career to mean.  But on Thursday she announced she wants to build those dreams for the next generation at Georgia Tech.
"I want to make it where little girls grow up wanting to go to Tech," Davis said.
Davis, a senior at Buford High School (Ga.), committed to Tennessee June 1, 2010, but reopened her recruitment this February.  She made unofficial visits to Duke, Georgia and UCLA as well as making official visits to Georgia Tech and Tennessee.
"That was one difference this time," Davis added.  "I said coming out of February that I wanted to go somewhere and make a difference."
Davis got some reassurance from her peers along the way as well.
"I remember in Spain having a talk, sitting down with Diamond (DeShields) and she said she took a lot of crap for committing to North Carolina," Davis said.  "I told her I hope you go there and make it that program."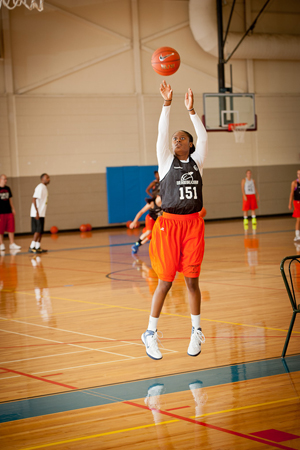 Kaela Davis of Buford, Ga.
*Photo by Ty Freeman.
But Davis looked to the advice of her family and actually a legendary Tennessee alum, Candace Parker, for advice in seeing through pressure and hype and filtering out what were her real factors.
"She was great the whole time," Davis said of her godsister Parker's influence.  "Obviously she had her opinion but she said at the end of the day (I) need to go with what is best for (me).  She wanted what was best for me."
What Davis found in Georgia Tech was a balance of academics, a rising basketball program she could make an impact in and a supportive environment within the team that ultimately made this decision easy enough to call off her prior intention to wait until the spring to commit.
"I think it was just the visit alone," Davis said.  "Everyone is so great and so accepting and so fun.  It's a sisterhood up there."
But it wasn't easy to reengage in a recruiting process she never really started having committed in 2010.
"I had to do a lot more than I thought I would," Davis said.
But perhaps Davis is a product of a recruiting class that is willing to blaze a new trail.  The past two recruiting classes Connecticut, Duke, Notre Dame and Tennessee have claimed all but one of the 10 players drawing a top five ranking.  The sole player deviating from the elite trend was Krystal Forthan who chose LSU and has since transferred.
Even with the nation's top prospect, Mercedes Russell of Springfield, Ore., choosing Tennessee this week, the diversity of where the 2013 class' truly elite players are choosing is making for a suspenseful recruiting race to signing week.
In addition to Davis becoming a Yellow Jacket, the No. 3 player in the class, DeShields of Norcross, Ga., bucked recent trends by committing to North Carolina and No. 5 Linnae Harper of Chicago, Ill., recently committed to Kentucky.
All these up-and-coming programs are hoping this 2013 class is the catalyst for big things much the way Baylor surged in recruiting in 2009.  By landing the game-changing Brittney Griner, the top ranked player, the Bears set themselves up for greatness when the program's encore was signing the top point guard in the 2010 class, Odyssey Sims, who was ranked No. 3 overall.
"If you take a step back and see what coach (MaChelle) Joseph has done with this program, it's amazing," Davis said.  "If they didn't play Baylor (in the 2012 NCAA Tournament) who knows what would have happened."
Joseph and her staff have been recruiting well for some time.  The Jackets signed the No. 9 overall class in the 2012 class; the 21st ranked class in 2011; 28th in 2010 and 43rd in 2009.  The trend has nearly been in stride with the team's winning, starting in her first season, 2003-04, when the team went 14-15, to last season's 26- season where the team made it to the Sweet Sixteen and finished tied for third in the ultra competitive Atlantic Coast Conference.
Davis hopes she can be a part of the next step and maybe the next generation will dream of following in her footsteps.
#Prospects Nation TV Extra: Brandon Clay and Keil Moore sit down with Marques Burnett talk about Davis' impact at Georgia Tech: