Posted
10 years 11 months ago
It's doubtful that Xavier Moncrief, the older brother of five-star 2013 prospect Raigyne Moncrief, knew what he was helping to create when he was treating his sister as the younger brother he always wanted.  And with the No. 18 prospect in the 2013 class committing to LSU on Sunday night, perhaps Nikki Caldwell should send Xavier a thank you card.
"My older brother," Raigyne Moncrief said, "he always wanted a little brother so he just made me a tomboy."
The 5-foot-10 guard from Lauderhill, Fla., grew up playing football and street ball with her brother and other boys in the neighborhood on a regular basis.
"We were the only ones in our neighborhood with a basketball goal," Moncrief said.
That tough brotherly love has helped forge a humble superstar who said one of the main reasons she chose LSU was her believe that the coaching staff will push her to reach her potential and not sugarcoat things.
"It all came down to the support from the people there," Moncrief said.  "It came down to the feeling.  Don't treat me like a superstar."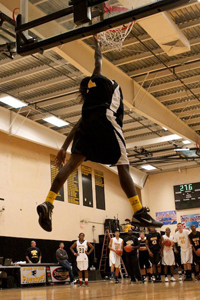 '13 ELITE 100 wing Raigyne Moncrief.
*Courtesy of Moncrief family.
But Moncrief, who made official visits to finalists Miami, Oklahoma and South Carolina before deciding on the Tigers, is an elite athlete.  She looks to give the LSU backcourt of the future a dynamic tandem when paired with the team's 2012 recruiting headliner, Danielle Ballard, who was ranked 25th.
Moncrief is just the type of player that the Tigers need, not just because of her physical ability, but also because of her mentality.  Given her talent, she could very easily have been recruited to a number of AAU programs in the Sunshine State or neighboring Georgia.  But she started at a young age with the Miami Suns program when it was just a single team.
"After a good summer it was crazy," Moncrief said.
Moncrief takes pride in building a program that her sister now plays for one of their junior teams which didn't exist when she started.
Now LSU isn't exactly a start up, but the SEC program has yet to reach the championship game and Caldwell, who has won a nation title as both a player and assistant coach at Tennessee, is a step closer by landing a top-20 player.
Moncrief joins Jasmine Rhodes of Mobile, Ala., a 5-9 wing player who is rated as a four-star prospect.  She made the call to Caldwell while driving 13 hours home from her official campus visit.  The commitment leaves just five players ranked in the top 20 of the 2013 class left to decide.
Follow @ChrisHansenPSB