No. 18 Harris Picks Gamecocks
Posted
6 years 7 months ago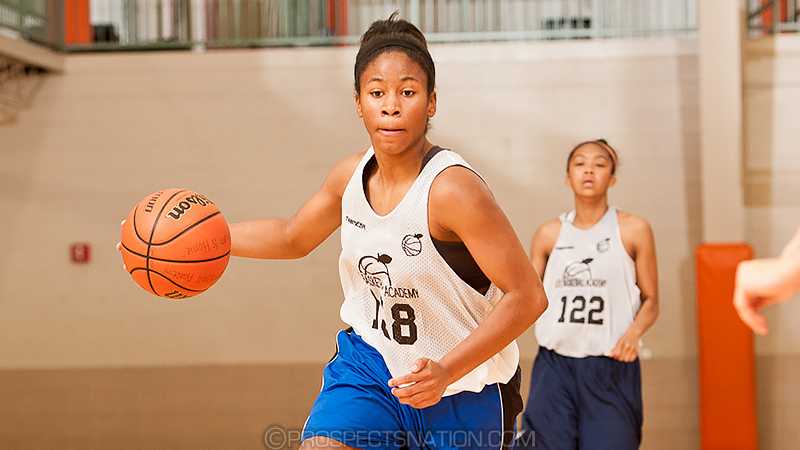 Tyasha Harris of Indianapolis, Ind., at the Elite Basketball Academy Super 64 Camp. *Photo by Ty Freeman.
Tyasha Harris of Indianapolis, Ind., took her time during the recruiting process. After taking her official visits in the fall, the nation's No. 18 ranked player in the class of 2016 decided to play through her high school season before choosing South Carolina today. In the process of waiting to make a college decision Harris led Heritage Christian to a state title, being selected as a Naismith Trophy Third Team All-American in the process.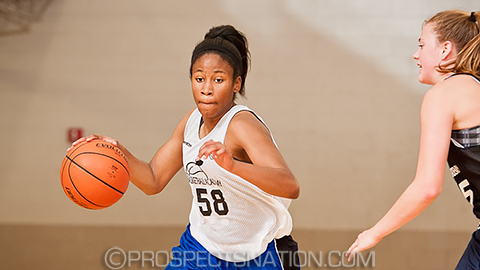 Harris excels at both guard positions at the high school
level. *Photo by Ty Freeman. In choosing the Gamecocks, Harris gives the emerging national power a dynamic option at the guard position. She has the size to play on or off the ball, though she's accustomed to playing the point position at the high school level. She is a multi-tooled playmaker capable of getting teammates involved or scoring herself when need be.
Our evaluation of Harris from the Chicagoland Showland in January:
Harris was really good in the first half during this evaluation in a matchup with Kat Doyle (Nebraska signee). She shot it well, handles with the best guards in the class and is a more than capable defender.
During the 2016-17 season, Harris will help try and ease the loss of All-SEC player Tiffany Mitchell by teaming up with talented perimeter options in Kaela Davis and Allisha Gray. Both Davis and Gray were All-ACC selections in 2014-15 before transferring to Columbia last summer. Add in the frontcourt tandem of A'Ja Wilson coupled with Alaina Coates and Dawn Staley's crew should be a Final Four frontrunner once again.
Brandon Clay serves as the WNBA Director of Scouting for ProspectsNation.com and owns The JumpOffPlus.com International Report, which is picked up by more than 150 colleges and universities nationwide. He serves as the Executive Camp Director for the Elite Basketball Academy Camps. He serves on the Naismith Trophy Men's / Women's College Player of the Year Academy and is chairman of the HS Boys / Girls Board of Selectors and is on the McDonald's All-American Selection Committee. He also is the publisher of PSBPopCulture.com.