No. 14 Aaliyah Wilson To Arkansas
Posted
5 years 11 months ago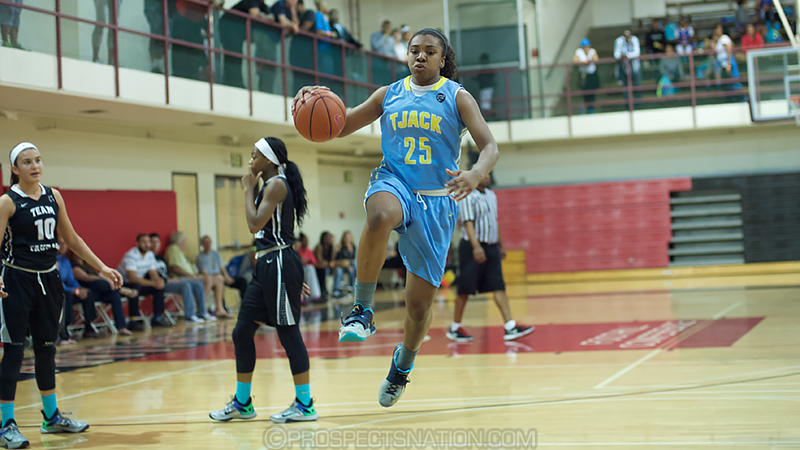 Aaliyah Wilson of Muskogee, Okla., gives Arkansas a breakout class in 2016. *Photo by Chris Hansen.
Aaliyah Wilson of Muskogee, Okla., is off the board and headed to Arkansas. Wilson, the No. 14 ranked player in the class of 2016, picked Arkansas over Baylor, Kansas and Rutgers.
Wilson's addition gives coach Jimmy Dykes and his staff one of the most dynamic wings in the class of 2016. She is a talented perimeter scorer who uses her size and athleticism to her advantage. Off the bounce, Wilson is a more than capable one-on-one player. She is a strong ball handler and knows how to attack defenders in efforts to get to scoring spots. At 5 feet 11 inches, Wilson also has the size to post smaller defenders and be effective making plays around the rim. Her aggression on the offensive end has the potential to allow her to be an impactful offensive player during her time at the SEC school.
Wilson is the third player to pledge to the 2016 class at Arkansas. Joining her will be 6-1 forward Kiara Williams of Alexander, Ark., and 5-9 guard Jailyn Mason of Mason, Ohio. Wilson, who will most likely be in the running for the post-season All-American game honors, has the potential to give coach Dykes and his staff a pair of high school All-American's next season as she will team up with 2013 All-American, Jessica Jackson.

Keil Moore is the Director of Scouting for the JumpOffPlus.com National Scouting Report and international scouting report. He serves on the Naismith Trophy Board of Selectors and has been a member of the women's basketball community for more than eight years as a trainer and evaluator. He can be reached at keil@prospectsnation.com.