No. 13 Caldwell Chooses USC
Posted
5 years 2 months ago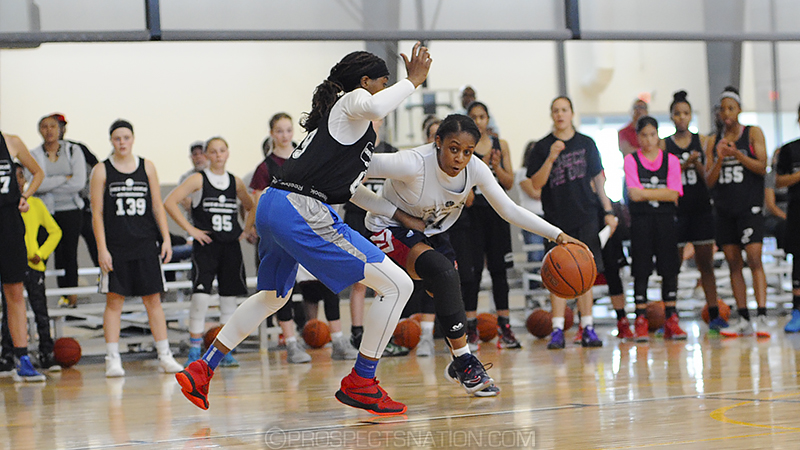 Desiree Caldwell battles 2019 Louisville commit Nyah Green, fellow SA Finest teammate, at the Check Me Out Texas Showcase in San Antonio. *Photo by Chris Hansen.
It was a busy weekend in Los Angeles with the USC Trojans hosting several players ranked in the ProspectsNation.com ELITE 150 for the 2018 class. And the Women of Troy got great news before the weekend ended with the verbal commitment of Desiree Caldwell of San Antonio, Texas.
"I really enjoyed the many relationships I formed through this process, but at this time I'd like to announce my commitment to Coach (Mark) Trakh and the University of Southern California," Caldwell said in a statement.
Congrats to Desiree Caldwell for her commitment to @CoachTrakh and @USCWBB pic.twitter.com/mtfIXYoGec

— SA Finest Basketball (@SAFinestbball) September 13, 2017
Caldwell, a 5-foot-7 point guard, is the first commitment in the 2018 class for head coach Mark Trakh and his staff. Ranked No. 13 in the country, Caldwell gives the program a classic point guard to run the dribble drive motion offense at USC.
#CommitmentCentral

Elite 25 '18 Desi Caldwell (TX) to USC.

No. 5 PG nationally. Dynamic ball handler, playmaker.#BrandonClayScouting pic.twitter.com/eAlL1vPRcD

— Brandon Clay (@BrandonClayPSB) September 13, 2017
For USC, getting a big piece this early in official visit season could help build momentum. In addition to Caldwell, USC hosted seniors No. 2 Aquira Decosta of Sacramento, California, a 6-1 forward, Neenah Young of Stockton, California, a 5-10 combo guard, and junior Nicole Young of Stockton, California, a 5-9 guard.
Prior to this weekend USC hosted No. 53 Taylor Chavez of Surprise, Arizona, a 5-9 combo guard. Up next weekend are ELITE 150 watch list prospects Jillian Archer of Santa Monica, California, a 6-2 forward, and Karisma Ortiz of San Jose, California, a 6-0 guard.
Caldwell ultimately chose USC over finalist Cal, strengthening and already loaded Pac-12 Conference. She brings multiple years of international playing experience having made the USA Basketball U16 national team. In addition to her basketball talent she brings the leadership that coaches covet.

Chris Hansen is managing editor of ProspectsNation.com and serves on the McDonald's All-American and Naismith Trophy selection committees. He was a co-founder of and the national director of scouting for ESPN HoopGurlz from 2005 until 2012 and is the director of the Check Me Out Showcase. He can be reached at chris@prospectsnation.com.