No. 10 Richards To Baylor
Posted
6 years 8 months ago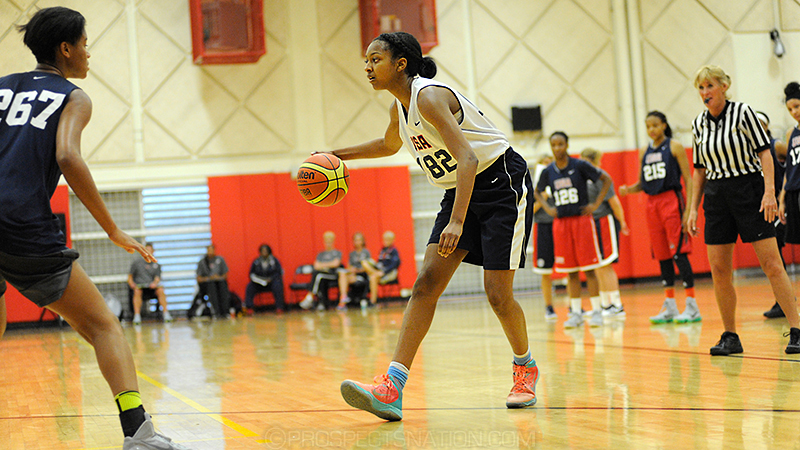 Didi Ricahrds of Cypress, Texas, has designs on making USA Basketball with her commitment behind her. *Photo by Chris Hansen.
Four-star-plus wing Deauzya "DiDi" Richards of Cypress, Texas, has committed to Baylor and head coach Kim Mulkey. The No. 10 ranked prospect in the class of 2017 picked the Big 12 school over a final list of six schools that included Kansas, Michigan, South Carolina, Tennessee, and Texas. Richards at one point was committed to Texas but decided to evaluate her commitment in 2015.
"Having coach Mulkey as a coach is an honor with all of the success she has had," Richards said.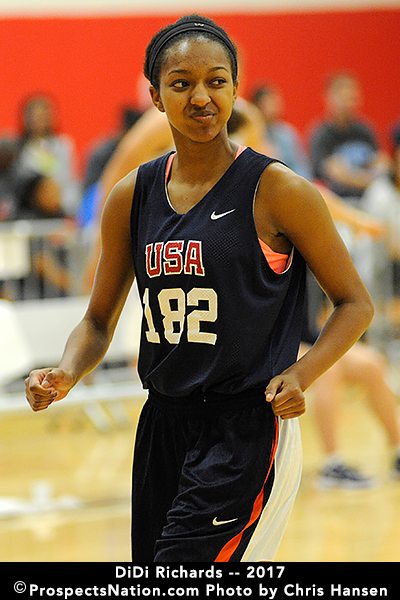 For Baylor, the addition of Richards gives them one of the premier players in the country for the class of 2017. At 6-foot-2, Richards will be able to play as a full time wing for coach Kim Mulkey and her staff. With her size and length Richards has the potential to develop into one of the better defenders in the country. She is long enough to guard interior players but has the quickness to guard on the perimeter as well. Offensively, Richards has the ability to contribute as well. She has a strong pull-up jumper and is comfortable attacking the rim to convert plays or make a pass.
What might be most impressive about Richards's game right now is her maturity. She shows a great deal of poise when she plays and one thing she does on a consistent basis is compete. Long term there is still a lot of room for Richards to grow. She has the ability to impact the game in a variety of ways. Figuring out how and when to use all of her tools will allow her to be a complete player.
In addition their success on the basketball court, Baylor had other factors that helped them land the No. 2 wing in the country.
"Before, when it came to the recruiting process I was really looking for friendships," Richards said. "The second time around different factors came into play."
With her commitment behind her, Richards plans to continue to improve and develop as well as deal with the bad taste that was left in her mouth following the USA Basketball U16 national team trials.
"During the summer I'm really looking forward to the USA tryouts," Richards added. "Last year, with me not making it, still kind of lingers around and I don't like the way it feels. So I'm trying to go out this yearand hopefully make it. This summer, and really all this junior season, I've been really working on improving my three point range."
Richards is the first member of the class of 2017 to give a verbal commitment to Baylor. With Baylor's 2015 and 2016 classes giving them great depth across the frontline, look for Mulkey and her staff to address needs in the backcourt with remaining space in 2017. Texas point guard Alexis Morris is a target while another Texan, Chennedy Carter, also is in that mix.

Keil Moore is the Director of Scouting for the JumpOffPlus.com National Scouting Report and international scouting report. He serves on the Naismith Trophy Board of Selectors and has been a member of the women's basketball community for more than eight years as a trainer and evaluator. He can be reached at keil@prospectsnation.com.