Posted
6 years 5 months ago
Thursday's Championship Game Scores
Joe Smith Division
Clovis West 67
Miami Country Day 45
John Anderson Division
Mesquite 60
Incarnate Word 50
Player of the Day
Virginia Tech signee Aisha Sheppard of St. John's College (D.C.) had a great showing on Thursday. The 5-foot-10 wing was accurate on her jumpers from the perimeter while also being effective using her athleticism to attack the rim and find success. Look for Sheppard to make an immediate impact at Virginia Tech next year as she is a dynamic athlete who has learned how to score the ball at all three levels.
Thursday Impact Performers
Bre'yanna Sanders (Clovis West)
Aisha Sheppard (St. John's College)
LeeAnne Wirth (Seton Catholic)
Jennifer Wirth (Seton Catholic)
Kelsey Marshall (Miami Country Day)
Taylor Chavez (Valley Vista)
Tyiona Watkins (Brea Olinda)
Taycee Wedin (LaSalle Prep)
Jayda Adams (Mater Dei)

Championship Preview
Joe Smith Division: Miami Country Day vs Clovis West
Look For
Miami Country Day's guard play is dynamic and they will need to be in order to attack Clovis West's full court pressure. The story of the game will be can Miami Country Day attack the press to score or will Clovis West be able to turn them over and create easy baskets.
John Anderson: Mesquite vs Incarnate Word
Look For
Both of these teams play well together, share the ball and play from tip to buzzer with maximum effort. The host team Mesquite has been a bit of a hometown darling, making big plays down the stretch of each game to reach the championship. Containing Shaylee Gonzalez and Lindsey VanAllen is IWA's path to victory.
More from Wednesday
Semifinal Results
Clovis West over St. Mary's Stockton, 63-58
Miami Country Day over Grandview, 66-60 (OT)
Standout Performers
Kelsey Marshall, Miami Country Day: Marshall had her pull-up jumper working in the semifinal match-up against Grandview. The Miami signee is a dynamic athlete who elevates to shoot over the top of defenders.
Neenah Young, St. Mary's Stockton: Young caught our eye with her versatility and ability to play out of position and help handle backup point guard responsibilities for St. Mary's with San Diego State signee Naje Murray out due to injury and Ariel Johnson missing time as well. She has been the glue player for St. Mary's this week.
Oregon Duo Shines Again
If you haven't seen the duo of Aleah Goodman and Taycee Wedin play together you are missing out. The two Oregon-based prospects have a tremendous feel for how to play the game, how to play with each other, and how to win. Goodman, an Oregon State signee, is the point guard for LaSalle Prep. She brings a tremendous amount of savvy and playmaking ability while Wedin could possibly be the best perimeter shooter in the 2018 class.
**LaSalle Prep will play Mater Dei on Thursday, December 22nd.
Photo of the Day: Wednesday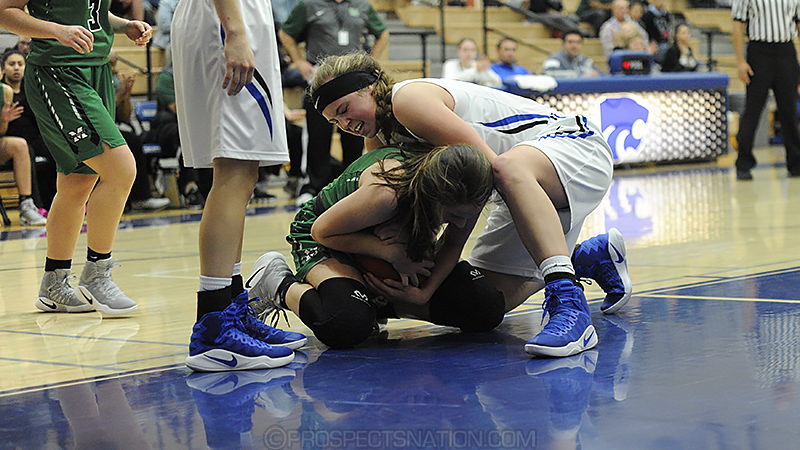 Miramonte's Emily Huston (green) battles Highland's Ranch's Kasey Neubert for a loose ball in the semifinals of bracket play.
Day Two Action
Brea Olinda Standouts
Brea Olinda (CA) forward Tyiona Watkins was impressive with her play this morning. The 6-foot prospect, who is a member of the class of 2018, was effective playing in the post and making plays for her teammates with the pass. Watkins is a live athlete who should be able to make the transition to the perimeter by the time she arrives in college. As a prep prospect, her ability to guard multiple positions and play-make from the post and the elbow make her a difficult match-up for most high school teams. If Watkins can evolve and develop her perimeter skills, she could be one of the true stock risers this summer.
Another member of Brea Olinda, Iyree Jarrett caught our eye with her play. Jarrett is a 5-foot-6 point guard who likes to attack the basket. The left handed prospect made an impact as her aggressive nature allowed her to convert lay ups and get to the free throw line. Based on today, Jarrett looks to be a scoring-minded point guard but her upside as a playmaker or combo guard makes her worth tracking.
UT-Chattanooga Signee Provides Versatility
Brentwood Academy (TN) forward, Bria Dial, had a solid outing today. The class of 2017 prospect is headed to Tennessee Chattanooga next year and will give her school of choice a solid option in the frontcourt as Dial is capable of making a play in the high post, as well as on the block.
2018 Stock Riser
While class of 2019 forward Rickie Woltman is the main attraction for Incarnate Word (MO), the play of 2018 guard Sonya Morris caught the eye of our ProspectsNation staff. Morris is a 5-foot-9 guard who is comfortable playing on and off the ball. In her game today, she excelled in transition as she was able to push the tempo and convert easy baskets while also showing that she can make plays for others with the pass. Morris should be a recruiting focus for programs throughout the Midwest for the next calendar year.
Photo of Day: Tuesday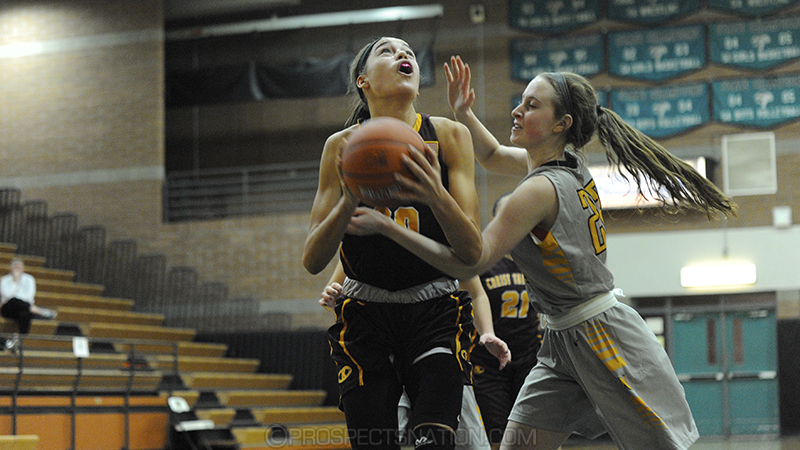 Natalija Marshall of Christ the King takes a foul from Erin Morgan and goes up for and-one against Archbishop Wood. *Photo by Chris Hansen.
Grandview vs Seton Catholic
The match-up between Grandview (CO) and Seton Catholic (AZ) may have been the game of the day. Even with UCLA commit Michaela Onyenwere battling early foul trouble, Grandview found ways to run their half court offense and get consistent scoring opportunities. Seton Catholic, who was led by the Wirth twins, has the ability to pick you apart in their offensive sets and do a good job of defending the dribble-drive as they rely on the size of their 6-foot-4 twin sisters to challenge shots at the rim. In the end, Alisha Davis, a 2019 forward for Grandview, grabbed an offensive rebound in traffic and hit the game-winning basket. Grandview will move on to play in tomorrow's semifinals.
Impact Players
While 2018 point guard Taylor Chavez came through with another strong performance, her backcourt teammate, 2018 point guard Terrysha Banner, made a loud impact of her own today. Banner, a 5-foot-7 prospect for Valley Vista High School (AZ), was effective playing off the ball screen and attacking the rim looking to score and make plays for others. In a system that will allow her the freedom to play off the bounce and play through some mistakes, Banner could develop into a quality option at the point guard position. Judging from previous evaluations of her game and her performance today, Banner should be a priority for a large portion of non-Pac-12 programs on the West Coast.
Eboni Walker of Centennial (NV) is a prospect that people will be tracking for the next two years. The 2019 forward is a good athlete with solid size and length. Walker will need to continue to polish her offensive game as she progresses. If she can become a more reliable ball handler while also working on being a more consistent perimeter shooter, she could be a BCS level prospect.
Despite her team losing today, Long Beach Poly (CA) forward Ayanna Clark, had a strong showing. The 6-foot-2 Southern California signee was active on the offensive and defensive glass and proved to be a match-up problem for a talented Miami Country Day (FL) team.
Lewis Shines
Speaking of Miami Country Day, the point guard play of Channise Lewis shouldn't go unnoticed. Illinois will be happy upon her arrival to campus as the 2017 lead guard continues to show why she is one of the most electric lead guards in the country. Her play today helped Miami Country Day advance to the Semi-final of the Nike Tournament of Champions.
Thriller In Anderson Quarters

Mater Dei's Sarah Rahon finds more space on the wing than Mesquite coach Candice Gonzales likes. *Photo by Chris Hansen
Mater Dei and host school Mesquite faced off in an epic guard-heavy showdown in the John Anderson bracket semifinals. The seesaw battle went down to the wire with a 23 foot bomb from Mesquite junior Lindsey VanAllen, which helped overcome the late run from Mater Dei's Duke-bound guard Jayda Adams in the fourth quarter. Mesquite made the plays late and advanced the the semifinals in Anderson.
Photo of the Day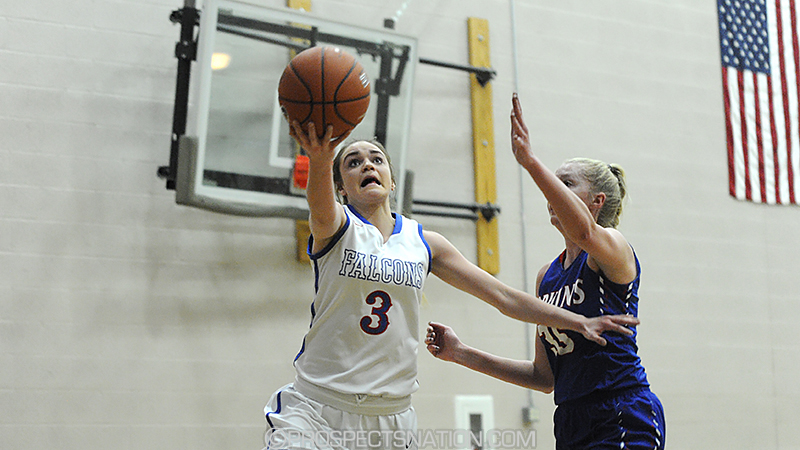 Taycee Wedin protects the ball for a score in a first round win over Cherry Creek. *Photo by Chris Hansen.
UPSET ALERT: No. 3 Mitty Falls To Grandview
Monday morning shows why you play the games as No. 3 Archbishop Mitty (CA) fell to Grandview (CO) in the opening round of the Nike Tournament of Champions. After closing 54-53 with 25 seconds to play, Grandview made up for missed free throws with a series of offensive rebounds, but even that alone did not slam the door for Mitty who broke the press, and got Karisma Ortiz a look from seven feet at the buzzer that hit off the glass just a bit hard and missed. If the rest of the the games are this good we're in for a great week.
Player of the Day: Aleah Goodman

Aleah Goodman runs the point for La Salle Prep but broke the game open with her scoring on Monday. *Photo by Chris Hansen.
Class of 2017 lead guard Aleah Goodman of Happy Valley, Oregon, brought her A-Game on the opening day on this year's tournament. She signed with Oregon State in the fall and is one of the premier senior class guards on the West Coast. After shining bright on the big stage here last December, Goodman seemed intent on making her presence felt once again. In a close game against Cherry Creek, the four-star guard took over in the third quarter draining three 3-pointers with an emphatic fist pump at the end of the third one. LaSalle Prep never looked back taking a day one victory.
The Event
Since 1997 the Nike Tournament of Champions has set the bar for holiday high school basketball tournaments. With teams from across the country, the competition and matchups are a gift during the holiday season.
Social Media
Follow the PN Team in Arizona
Schedule
Note some changes due to travel issues for some teams.

2016 Bracket/Schedule/Results