New York Training Academy Standouts
Posted
1 year 10 months ago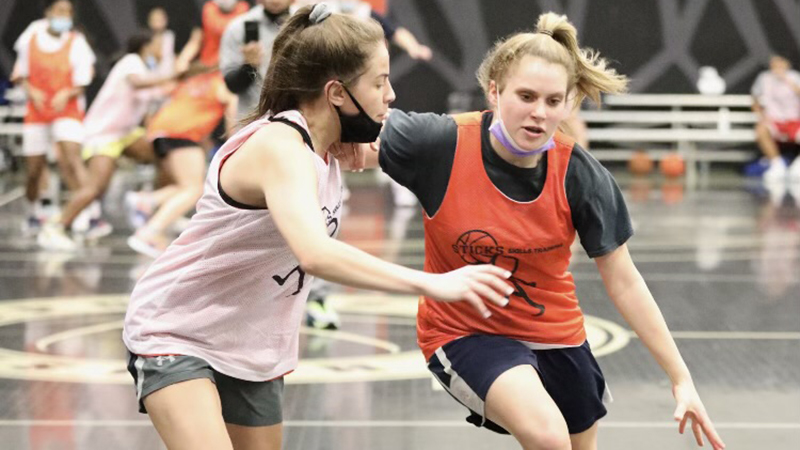 Nicole Melious of Staten Island, New York, competes at the NY Training Academy. *Photo by @tnoly2/#tnoly.
NEW YORK, New York – More than 40 players from around the Northeast lined up to take part in the inaugural #NYTrainingAcademy. Sean 'Sticks' Smith led the academy with detailed instruction on how to play the game at a high level. Here is a look at a few of the players in the high school session who stood out during the workout in the Empire State.
Iris Azcona – Trenton Catholic Academy (Bordentown, New Jersey) – 2022
Azcona is the ideal complementary player in any system. She is a 5-foot-10 wing that can defend point guards or forwards on most any night. She gets into a stance and defends as well as any wing we have seen lately in her class. Her defensive versatility should give her a chance to get early playing time at the next level. Combine that with her spot-up jump shooting and there is reason for optimism for her at the collegiate level. Butler extended an offer and Azcona accepted last year.
Daniello Dakota – The Masters School, (Cortlandt Manor, New York) – 2023
Dakota is armed with an accurate jump shot and a savvy feel for the game. The 5-4 guard has a lanky frame and arms so long that they betray her actual height. She excelled in picking up the footwork concepts thrown at her during the skill sessions. She committed to Florida Southern last year.
Natalie Fox – Millbrook High School, (Lagrangeville, New York) – 2024
Fox appears to have many of the tools that frontline players need in the modern game. She is a threat to stretch the floor on the pick and pop action. While she uses her mobility to run downhill to finish at the rim as a diver in the high screen action as well. On the defensive end, she uses her length to alter shots and rebound in her area. She came to the academy with a black eye as well, which proves she is more than tough enough to take the battles on the interior.
Nicole Melious – Susan Wagner High School (Staten Island, New York) – 2023
Melious is on track to become one of the more accomplished players to come out of the New York area. Her freshman year in high school provided laundry list of accolades and scoring accomplishments. This season has been wiped out due to worldwide Covid-19 pandemic. That has not prevented Melious from staying in the gym and improving her craft. Her ability to score the basketball is unquestioned at this point. She can score it from beyond the arc or she can put it on the deck to create in the lane. She is exceptionally comfortable using either hand to score around the bucket. Her play-making ability for others is what we believe gives Melious a chance to be a special player at the collegiate level. Her willingness to make the easy play rather than force her shot every time is notable. The list of schools that are recruiting her actively are Georgia Tech, Iowa, Ohio State, Oklahoma, Rutgers, Syracuse and UCLA.
Aliya McIver – White Plains High School (Stony Point, New York) – 2023
McIver is a gifted point guard who is blessed with play-making skills and athleticism. At 5-8 she can power past smaller defenders and have the vision to hit the open player. She thrives in the pick and roll action where she can use the screen to brush off her defender and put pressure on her opponents. Her shifty crossover moves set up the rest of her game. She was one of the top performers during the 3-on-3 portion of camp.
Mackenzie Nelson – St. Lukes High School, (Greenwich, Connecticut) – 2023
In a gym littered with talented guards, Nelson stood out as one of the best. She gains immediate attention with her energy and willingness to hustle. However, she won this evaluation with her ability to score the basketball. Her dribble moves blend hesitation moves and jab steps which get the defense off balance. And she is equally capable of knocking down 3-pointers if defenders close with their hands down. She is already locked in several offers from schools in the Northeast. With the trajectory that she is on, we expect her recruitment to expand out of the region.
Simone Pelish – Our Lady of Lourdes, (Poughkeepsie, New York) – 2024
Pelish unofficially won the That kid is good! And she is only going to get better award. The 6-foot guard has a sweet jump shot to go along with an all-around skill set. She passes the ball confidently with her weak hand. Her game is so well rounded that it is hard to pick out what she does best. She slides past defenders with drives and finishes seamlessly on the interior. Perhaps the quality that best describes Pelish's game is her poise. She does not get sped up and will make the simple play consistently. Those attributes already have schools from across the country checking in regularly.
Jada Robinson – Mt. Vernon High School, (New York, New York) – 2022
Robinson is a point guard who can stir the drink for her team. Her quick footwork and ambidextrous handle allow her to create plays consistently. Although she is on the smaller end of the height spectrum, she makes up for that with body control and euro-steps in traffic. Her jump shot gives her game needed balance that keeps defenders honest.
Nicole Sanfilippo – Ardsley High School, (White Plains, New York) – 2022
Sanfilippo can strike an onlooker as too nice to be a winner in the warmup line. The 5-9 combo guard has an easy smile and a kind demeanor. However, that assumption melts quickly once she begins to play. Her jumper is the strength of her game. She gets the ball up with ideal arc and holds a consistent follow through. She impressed us with her play-making skill during the 3-on-3 portion of camp. She mixed ball fakes and slashes to the basket to create space for her teammates and to get her own shot. Sanfilippo's recruitment already has a national feel to it as she recently picked up an offer from Texas-Arlington.
Dagny Slomack – Newark Academy (South Orange, New Jersey) – 2024
We are going to note Slomack right here because we see something that could be special. At the moment, the 5-3 point guard is smaller and diminutive. It could be easy to look past her and lump her in with the crowd. However, close attention to how she plays the game will show that she is fundamental and has instincts beyond her years. She has all the fundamentals in her bag and she is showing flashes that if they continue to grow could turn into something real big in the future. We will be paying attention.

Jonathan Hemingway is the Assistant Director of Scouting for the JumpOffPlus.com National Scouting Report, is on the Naismith Trophy Board of Selectors and owns CoachHemi.com, the go-to source for coaches for X's and O's. He is the floor director of #TeamEBA camps, a site director for #TeamPSB tournaments and can be reached at jonathanhemingway@peachstatebasketball.com.