New Year's Resolution Recap
Posted
6 years 8 months ago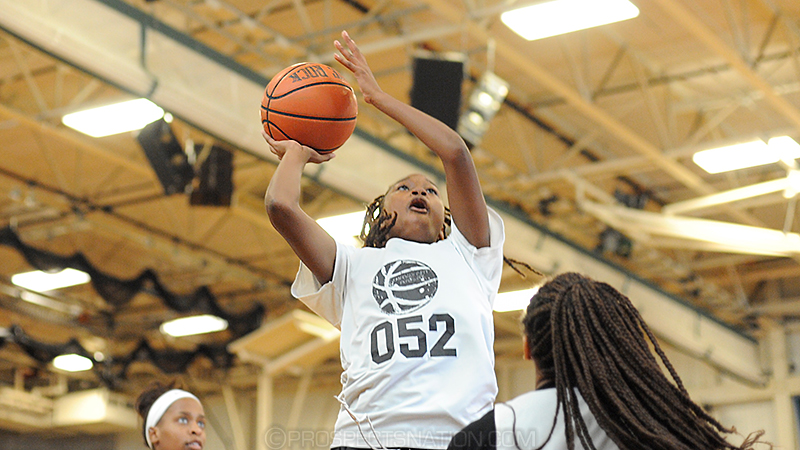 Quadasha Hoppie rises up for a jumper at the Keil Moore Fall Showcase *Photo by Chris Hansen
Last week we showcased some of the early standouts from the New Jersey Sparks, New Year's Resolution Showcase. Here is a more comprehensive look at the weekend of basketball in New Jersey.
Middle School Standouts
Innovation was the name of the game for the New Jersey Sparks organization this year as they stayed in front of the curve and held a Middle School tournament concurrent with the high school event. As a result, we were able to see some of the elite players of tomorrow.
New Years Resolution Middle School Showcase All Tournament team & MVP @NYGHoops @KeilMoorePSB pic.twitter.com/rkYCisIwLj

— Keith Gilchrist (@Coachkgnjsparks) January 9, 2017
On the Lookout for Shooters
The state of New Jersey is becoming a hotbed for quality perimeter shooters. A handful of the best perimeter shooters in the country reside in the Garden State. This weekend at New Year's Resolution some of those prospects were on display as guards such as Michelle Sidor, a 2019 prospect was among the top scorers in the state of New Jersey as a freshman took the floor. As the weekend progressed, it was the class of 2018 shooter Erica Martinsen who took the floor with her Blair Academy team. Joining Martinsen at Blair is another 2018 prospect with a reputation of making shots from deep, Katie Douglas. While 2018 guard Madison Lowery of TPLS Christian Academy isn't from New Jersey, the Virginia-based prospect is a shot maker of her right. Not to be outdone, The Peddie School has a shooter worth tracking in the 2018 class, Natalie Stralkus.
Point Guard Play
Throughout the weekend there was a revolving door of quality point guard play. Some of the top committed point guards in the 2017 class in St. John's signee Quadasha Hoppie and Ole Miss signee Milicia Reid showing off their dynamic playmaking skills, while 2018 point guard Jordan McLemore caught our eye due to her improved perimeter shooting ability. If you want a cerebral playmaker at the point guard position, Rutgers Prep guard Jahsyni Knight fit the mold. Knight, who is a 2018 prospect does a great job of moving the ball and getting her teammates involved. Similar to Knight, class of 2019 point guard Emily LaPointe is a skilled guard who can pass and shoot it at a high level. There might not have been a quicker guard in the building this weekend than Amani Boston of Cathedral High School in Massachusetts. Boston, who caught our eye with her athleticism, plays with energy and effort on both sides of the ball.
Standout Performers
While some quality college prospects were playing throughout the weekend, a few of the players who took the floor managed marquee performances with their play and their effect on the results of their games. One of those players is 2017 forward Bre Bellerand. Bellerand, a James Madison signee, is one of the elite defenders in the country. Her defensive package as a prospect who can guard the ball, perform as a help defender, and find ways to make impactful defensive plays during key possessions might not be found in another prospect in the country. Rutgers Prep has a special prospect in 2019 wing Leilani Correa. Correa's game is in the mold of former Syracuse star Brianna Butler. She is an efficient perimeter scorer who utilizes the pull-up jumper and the midrange game as well as any wing in her class.

Keil Moore is the Director of Scouting for the JumpOffPlus.com National Scouting Report and international scouting report. He serves on the Naismith Trophy Board of Selectors and has been a member of the women's basketball community for more than eight years as a trainer and evaluator. He can be reached at keil@prospectsnation.com.
#NYR17 - I was impressed with the poise and skill of @FDU_WBB commit Madison Stanley from Rutgers Prep.

— Keil Moore (@KeilMoorePSB) January 8, 2017
#NYR17 - 2019 G Leilani Corres impressed @BrandonClayPSB at #KMFallShowcase. She's had another impressive showing tonight. https://t.co/y3Q6jiB7l1

— Keil Moore (@KeilMoorePSB) January 8, 2017
#NYR17 - Madison Lowry is emerging as one of the better shooters in her class. Smooth stroke.

— Keil Moore (@KeilMoorePSB) January 8, 2017
#NYR17 - Bre Bellerand's ability to make defensive plays in crunch time is uncanny. Huge charge drawn tonight by the @JMUWBasketball commit

— Keil Moore (@KeilMoorePSB) January 8, 2017
#NYR17 - Jordan McLemore thrives in transition. Getting a chance to watch her and Immaculate Conception to cap off the night. pic.twitter.com/OKTB4q1rJ2

— Keil Moore (@KeilMoorePSB) January 8, 2017
#NYR17 - Amani Boston a point guard prospect worth keeping an eye on. The young guard has made impacts on both sides of the ball.

— Keil Moore (@KeilMoorePSB) January 8, 2017
#NYR17 - Watching 2018 G Abbey Lawrence and 2019 post Mariah Perez. Loved working with both at #KMFallShowcase pic.twitter.com/4M3GP5CYIZ

— Keil Moore (@KeilMoorePSB) January 7, 2017