New Faces In 2020 Elite 60
Posted
3 years 11 months ago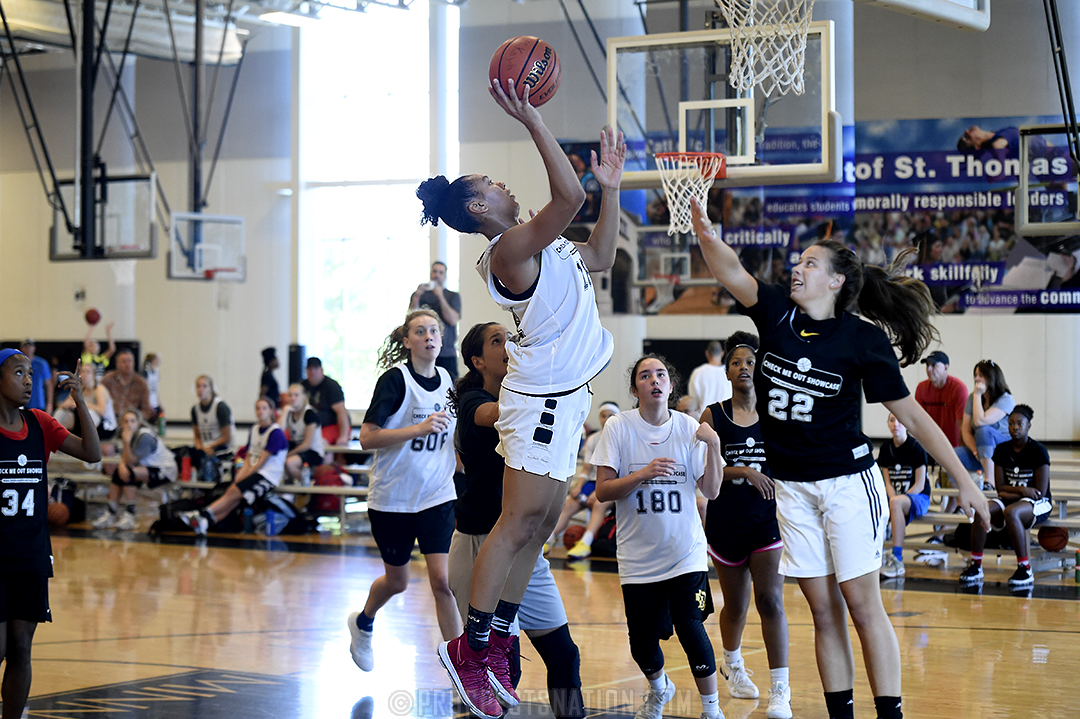 Leilani Kapinus elevates in traffic in the 2018 Check Me Out Showcase in Minneapolis, Minnesota. *Photo by Chris Hansen.
The 2020 class is taking shape and after a long summer and several important fall events over, it's time to update the ProspectsNation.com ELITE 60. The top of the list will look familiar as the top 10 is largely unchanged, with Angel Reese moving up one spot to No. 5.
Reese put together a dominant summer with Team Takeover EYBL as the team was arguably the best team in July, regardless of circuit.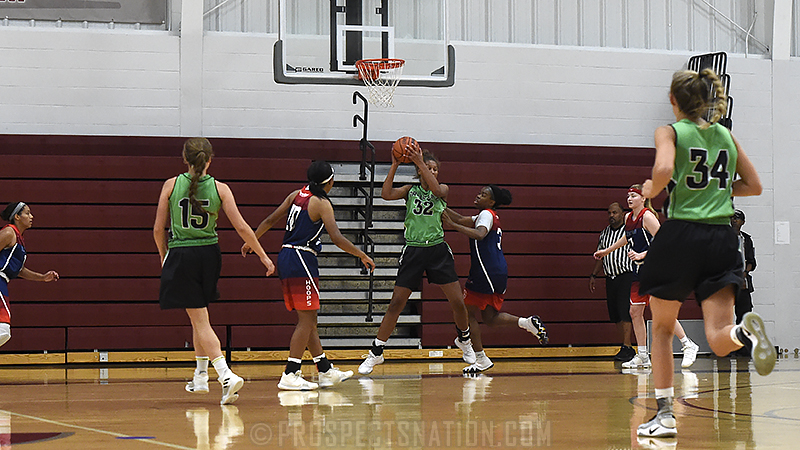 Lauren Ware competes at the 2018 EIE Chicagoland
Shootout, July 9, 2018. *Photo by Chris Hansen.There are six new players making their debut in the 2020 rankings. The highest ranked of the newcomers is No. 13 Lauren Ware of Bismark, North Dakota. The 6-foot-3 post from the Dakota Drillers program was one of the names buzzing the loudest in the summer.
Leilani Kapinus of Fitchburg, Wisconsin, also makes her first appearance in the national rankings. The 5-10 guard capped off a strong summer with the Wisconsin Flight Elite, including impressive play at the PSB Power 48 event, by showing out at the Check Me Out Showcase in Minneapolis this summer.
Elle Sutphin of Pilot Mountain, North Carolina, was a stalwart for the Winston-Salem Stealers. The NC State commit hooped in front of her future college coaches at the Summer Kickoff. The 6-3 forward cracked the ELITE 60 at No. 59.
Gabrielle Elliott and Emily Ryan also joined the fray. Elliott, who debuts at No. 20, is a 5-11 wing that helped lead the Michigan Storm this summer. She was really impressive at the PSB Elite 32 tournament at the end of July. Ryan, a 5-9 point guard from Clafin, Kansas, closes out the rankings at No. 60.
After a relatively weak showing for the Lone Star State in 2019, its Texas leading the way in 2020 with 11 ranked players. Maryland is second with six players while Tennessee and Washington check in with four, each.
There isn't a shortage of height amont the elites of the 2020 class. In total there are 19 players ranked in the ELITE 60 standing at least 6-2.

Chris Hansen is managing editor of ProspectsNation.com and serves on the McDonald's All-American and Naismith Trophy selection committees. He was a co-founder of and the national director of scouting for ESPN HoopGurlz from 2005 until 2012 and is the director of the Check Me Out Showcase and ELITE is EARNEDevents. He can be reached at chris@prospectsnation.com.