Posted
6 years 3 weeks ago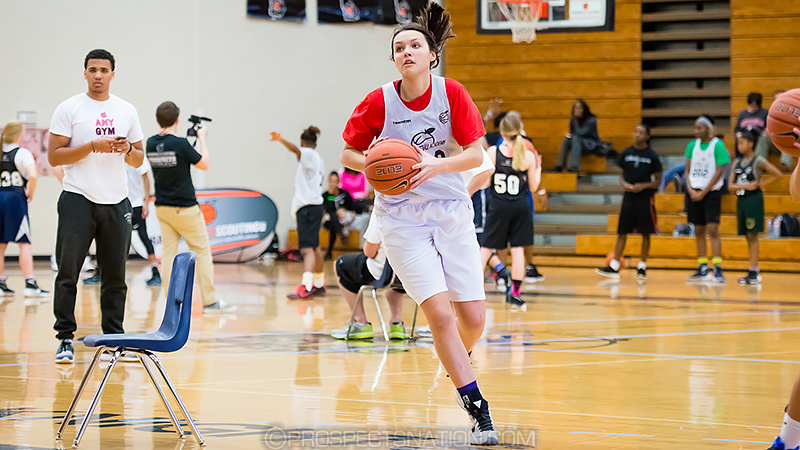 Taylor Kissinger of Minden, Neb., has travelled across the country seeking out competition and working on her game, leading her to a four-star rating and ultimately a scholarship from Nebraska. *Photo by Ty Freeman.
First-year Nebraska coach Amy Williams and her staff received their first verbal commitment of the 2017 class yesterday when four-star forward Taylor Kissinger of Minden, Neb., made a pledge to the Big Ten school. In January Kissinger narrowed her college choices to five schools, Creighton, Iowa, Iowa State, Nebraska and Oklahoma State.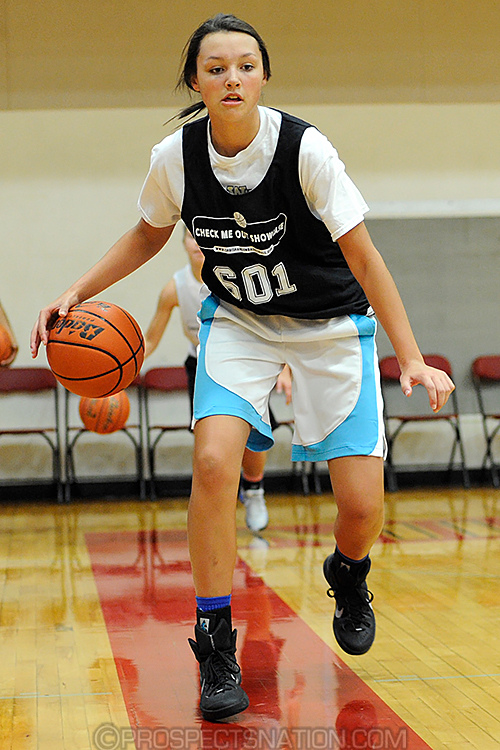 Taylor Kissinger works at the Check
Me Out Showcase in Oct. 2015.
*Photo by Chris Hansen.The addition of Kissinger means Nebraska has one of the best perimeter shooters in the country headed to Lincoln next year. With her size and ability to make shots from beyond the 3-point line, Kissinger has become a bit of a match-up problem on the summer circuit. As a result, over the past calendar year, her game has expanded and she has become a more diverse scorer using her ball handling skills to create shots from the perimeter and even going to the post at times to attack smaller defenders.
"Kissinger is a kid that doesn't talk much on the floor, but her game makes a lot of noise," Chris Hansen, ProspectsNation.com managing editor and McDonald's All-American Selection committee member, said. "She has built a solid offensive game around her jumper, using it to set up defenders and get to the rim, or to the free-throw line."
She has earned the No. 52 ranking in the class coming into the summer. She has established her range, which extends several feet behind the 3-point line, and her ability to score against elite defenses in a variety of settings. She has showcased her ability on the circuit, this spring and summer with All Iowa Attack on the EYBL circuit, but she was also a standout at the Check Me Out Showcase in Minneapolis in October and this spring she was terrific at the USA Basketball U17 national team trials and the EBA Super 64 Camp in Lawrenceville, Ga.
With Kissinger in hand, Nebraska has a solid jump on its 2017 recruiting. Look for Nebraska to be very strategic with this class as it is their first full recruiting cycle on campus. 2018 will be a big recruiting year for the Cornhuskers.

Keil Moore is the Director of Scouting for the JumpOffPlus.com National Scouting Report and international scouting report. He serves on the Naismith Trophy Board of Selectors and has been a member of the women's basketball community for more than eight years as a trainer and evaluator. He can be reached at keil@prospectsnation.com.