Nation News: California Moves
Posted
7 years 7 months ago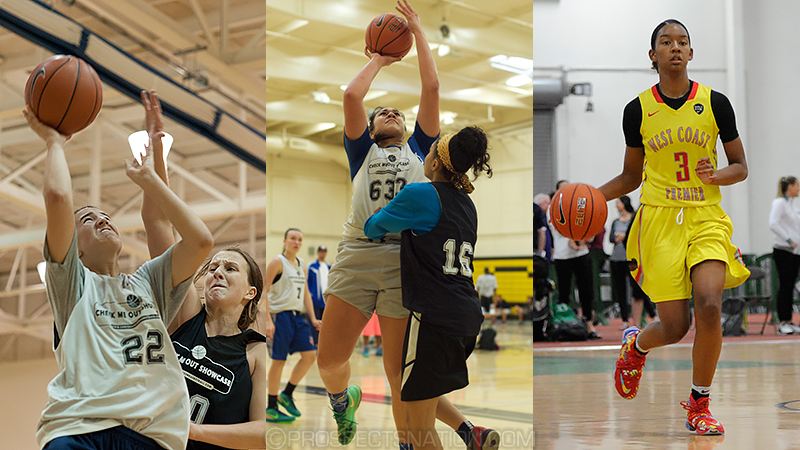 (l to r) Sabrina Ionescu, Loretta Kakala and Kianna Smith have all made headlines this week. *Photos by Chris Hansen.
Spring is in the air and the Golden State has a bunch of things blooming on the recruiting front. Here's a look at three California prospects that have made headlines recently.

No. 21 Kakala To Louisville

Loretta Kakala, a 6-foot-3 post from Manteca, Calif., verbally committed to Louisville while on an official visit last weekend. She made the announcement on social media.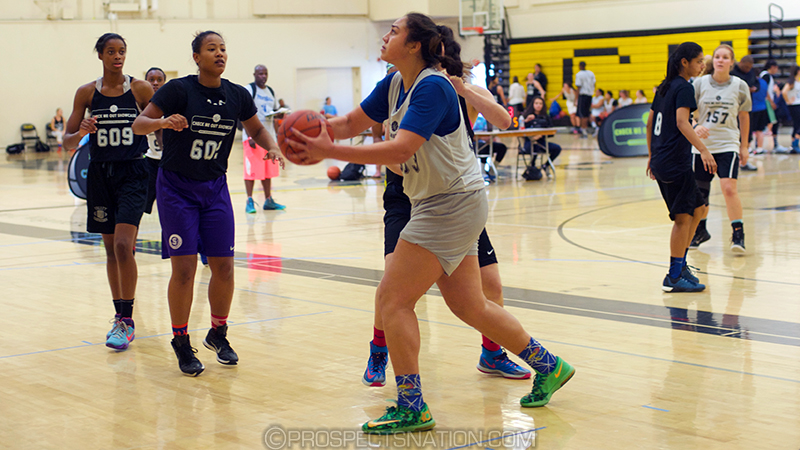 Loretta Kakala at the 2015 Check Me Out NorCal
Showcase. *Photo by Chris Hansen.Kakala, who is a true center, has the size to impose her will and good hands to finish around the rim, is one of the few impact post prospects on the west coast in the 2017 class. She had previously visited Arizona State in early April.
The commitment gives the Cardinals ample depth in the frontcourt. When Kakala gets to campus 6-4 post Erin Degrate will be a junior and 2016 signees Kylee Shook, a 6-5 post, and Ciera Johnson, a 6-4 post, will have a full season under their belts. This quartet will have a backcourt led by Mariya Moore and Asia Durr.
No. 99 Smith To Cal
Kianna Smith of Moreno Valley, Calif., has given Cal the point guard depth they've coveted since the loss of Mercedes Jefflo at the beginning of last season. The 5-9 Smith is a silky smooth guard who excels at the point but can also score it from either guard position.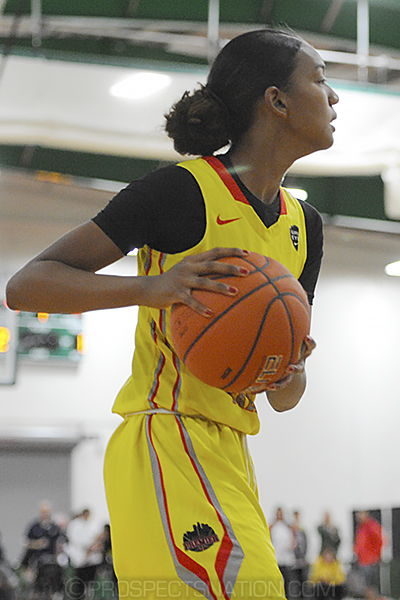 Kianna Smith at the 2016 Nike EYBL
Hampton. *Photo by Chris Hansen.
Smith will join Asha Thomas in the backcourt for the 2017-18 season and will join a team that will be senior laden when she arrives. Swing players Mikayla Cowling, Penina Davidson and Gabby Green will all be seniors.
"Smith came to camp and was locked in early. She mixed in well with her teammates, showcased her ability to get people the ball but really impressed by shooting the ball more consistently than we've seen in club season evaluations. She is smooth off the dribble and transition from drive to pull-up with ease. Her length also allows her to impact the defensive end of the court as well."
~ April 2016: Check Me Out SoCal, Chris Hansen
Look for the Golden Bears to continue to look for backcourt players in 2017 to add depth as well as adding a shooting specialist as well.
No. 3 Ionescu Has Final Two
Sabrina Ionescu, the highest ranked unsigned player in the 2016 class, has updated her recruitment status. The No. 3 prospects in the country issued a statement on Wednesday:
"I have notified both Cal and OSU and let them know I have removed them from my final list, which now includes Oregon and (the) University of Washington. I hope to have a final decision by the month."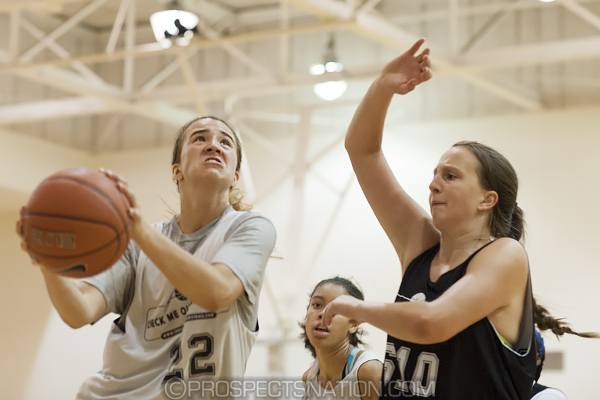 Sabrina Ionescu at the 2015 Check Me Out Showcase in
Seattle. *Photo by Glenn Nelson.The 6-0 guard from Walnut Creek, Calif., has one official visit left. She has been on Washington's campus unofficially but has not been to Seattle on an official visit.
She is a five-star guard and will make an immediate impact at either school.
"Ionescu knows how to get to her spots on the floor. She is a master of changing speeds while changing directions. Even if you know her euro-step is coming she is so deceptive and uses her length so well to find scoring angles. If you need to find a problem with her game it's her 3-point percentage. Her shot pocket is under her chin and her release is a bit low but ultimately she shoots the three to get defenders to close out tight so she can drive. She goes left more than right, despite being a righty."
~ April 2015: EYBL Hampton, Chris Hansen
While the National Letter of Intent period for basketball closes on May 18, it is not required to attend a school. Should she decide after that day she would sign an aid agreement.

Chris Hansen is managing editor of ProspectsNation.com and serves on the McDonald's All-American and Naismith Trophy selection committees. He was the national director of scouting for ESPN HoopGurlz from 2005 until 2012 and is the director of the Check Me Out Showcase. He can be reached at chris@prospectsnation.com.