More Stars From The Nike TOC
Posted
7 years 5 months ago

Kaila Charles has been on a tear in December and it continued in the Arizona desert. *Photo by Chris Hansen.
GILBERT, Ariz. – A lot of things came into focus on the second day of the Nike Tournament of Champions. From Joe Smith Bracket standouts to players putting up 40-plus, the second day lights shined as bright as ever.
Clay's Keepers
A class of 2016 prospect, Charles has been dominant this year, putting herself firmly in the McDonald's All-American Game discussion in the process. This setting has been no different as the nation's No. 12 rated prospect as her team staring at a Joe Smith Division semifinal matchup on Monday. Charles, who has signed with Maryland, set the pace for the week with her inspired play in the game on Saturday after her future coach Brenda Frese watched her live on Friday night.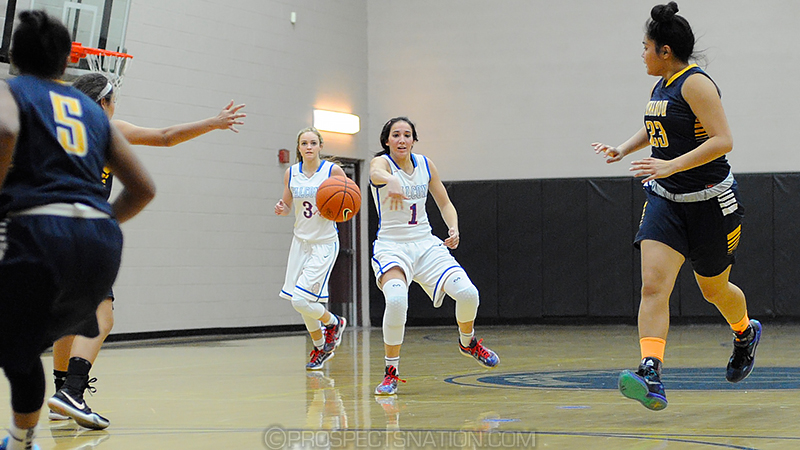 Goodman, a class of 2017 guard, was on her game yesterday. Like our earlier evaluations this year at the PSB Summer Invitational and Check Me Out Showcase, she showed both the skill and IQ needed to be effective against top shelf talent. With legit size at 5 feet 10, Goodman projects as a potential combo who can play primarily as an off guard but also serve as a secondary ball handling option. Boise State, BYU, LMU, Louisville, Oregon State, UCLA and Washington were amongst the schools on hand to watch her.
Moore From Moore
This Riverdale Baptist wing is headed to Georgetown next year. Until then, she will be helping Riverdale Baptist navigate through one of the toughest schedules in all of high school basketball. Smith, a 6-0 wing, is an elite athlete with the ability to impact the game on either side of the ball. Offensively she is as good an offensive rebounder from the wing as any player in the country. Her quickness and leaping ability allow her to challenge for a high volume of rebounds and when she is active and engaged she can be a major factor on the boards. Defensively, Smith can guard all five positions in high school basketball. She is quick enough to stay in front of people on the perimeter but athletic and tall enough to guard in the post.
On day two, the 2018 guard had a breakout game as she scored 41 points and 12 assists in an overtime loss. As a combo guard, Chavez is one of the more potent scorers in all of high school basketball. She has a knack for creating her own shot off the bounce but is also a more than capable playmaker for her teammates. As she continues to get stronger and mature physically, Chavez will only see her stock rise as a recruit.
Brandon Clay serves as the WNBA Director of Scouting for ProspectsNation.com and owns The JumpOffPlus.com International Report, which is picked up by more than 150 colleges and universities nationwide. He serves as the Executive Camp Director for the Elite Basketball Academy Camps. He serves on the Naismith Trophy Men's / Women's College Player of the Year Academy and is chairman of the HS Boys / Girls Board of Selectors.
Keil Moore is the Director of Scouting for the JumpOffPlus.com National Scouting Report and international scouting report. He serves on the Naismith Trophy Board of Selectors and has been a member of the women's basketball community for more than eight years as a trainer and evaluator. He can be reached at keil@prospectsnation.com.