Mitty Up Next In The Pressure Cooker
Posted
7 years 1 month ago
GILBERT, Ariz. – The 2015 Nike Tournament of Champions advanced to the quarterfinal round on Saturday with winners and losers in each bracket squaring off. Players and teams use this platform to showcase their place in the game on a regional and national level.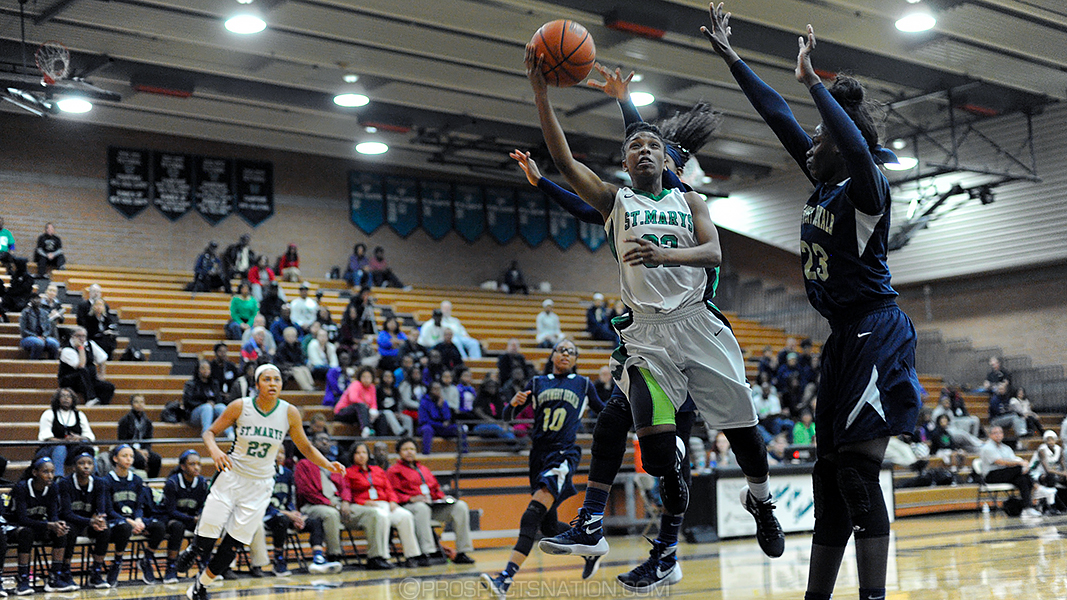 Ariel Johnson and a talented St. Mary's roster is back in familiar space, the semifinals of the Nike Tournament of Champions. *Photo by Chris Hansen.
Stockton Pressure Cooker
The St. Mary's Stockton system is one of constant pressure on both ends of the court. Some teams can withstand it for a time but like a pipe under constant pressure, it is bound to burst. Two days in and that has been the recipe for success for Tom Gonsalves, a recipe he's been deploying for years. After dispatching New Trier the Rams cruised to an 83-42 win over Southwest DeKalb.
Most teams need to score to set up their full court press but St. Mary's, when they get rolling, can jump right into it off the miss, trapping the outlet and creating even more pressure.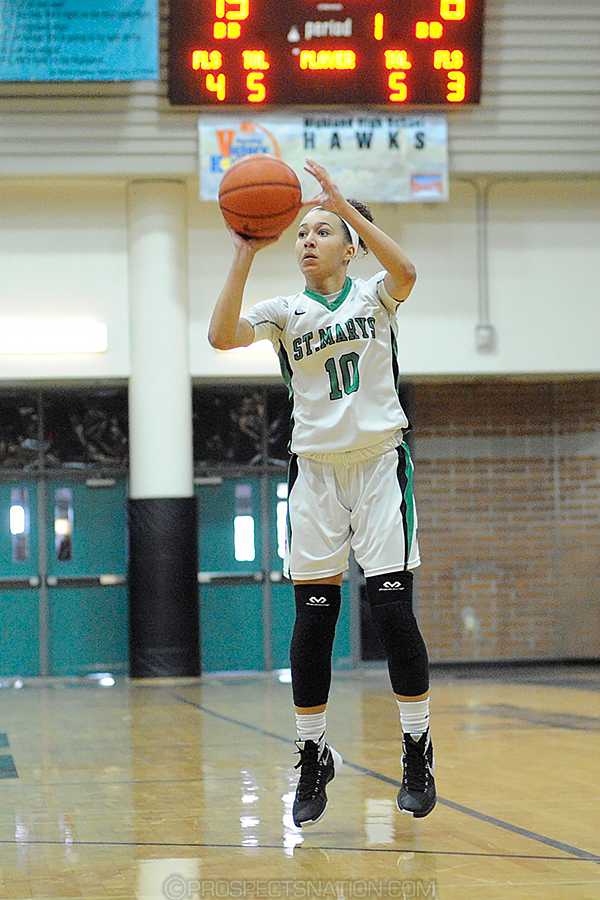 It's one thing to be a pressing team but St. Mary's has college bound players buying into its system. Players like Micole Cayton (Nebraska), Kat Tudor (Oregon State) and underclass standouts like Sierra Smith, Naje Murray (pictured right), Ariel Johnson and Aquira DeCosta, just to name a few of the impact kids in the program.
This group keeps the pressure on you offensively as well as all five players on the court have the green light to shoot the three or put it on the floor and get to the rim. It's the constant of their collective pressure that wears teams down as few teams can play the depth required to maintain the pace.
We saw last winter the team isn't invincible as Crystal Dangerfield and Blackman dissected the press consistently with long, up-court passes but there is a confidence with this team and a good chance this could be their year to win in the desert and be in the driver's seat for the No. 1overall ranking at season's end.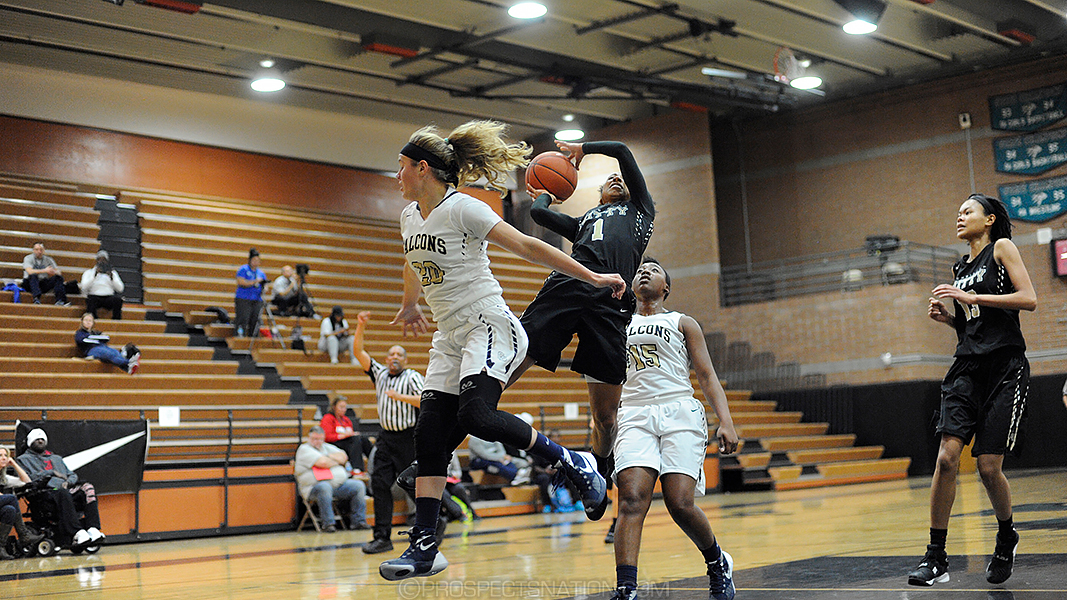 Heleyna Hill and her Monarch teammates get a chance to play spoiler against rival St. Mary's in the TOC semifinal round. *Photo by Chris Hansen.
Can Mitty Play Spoiler?
At a national tournament, one in which Riverdale Baptist from Upper Marlboro, Md., is cruising on the other half of the bracket, could a team less than 90 miles from St. Mary's campus be up for the challenge?
Sue Phillips' Archbishop Mitty team from San Jose, Calif., outlasted two east coast teams, Miami Country Day (Fla.) 50-49 in the opening round, and Our Lady Of Good Counsel (Olney, Md.) 58-56.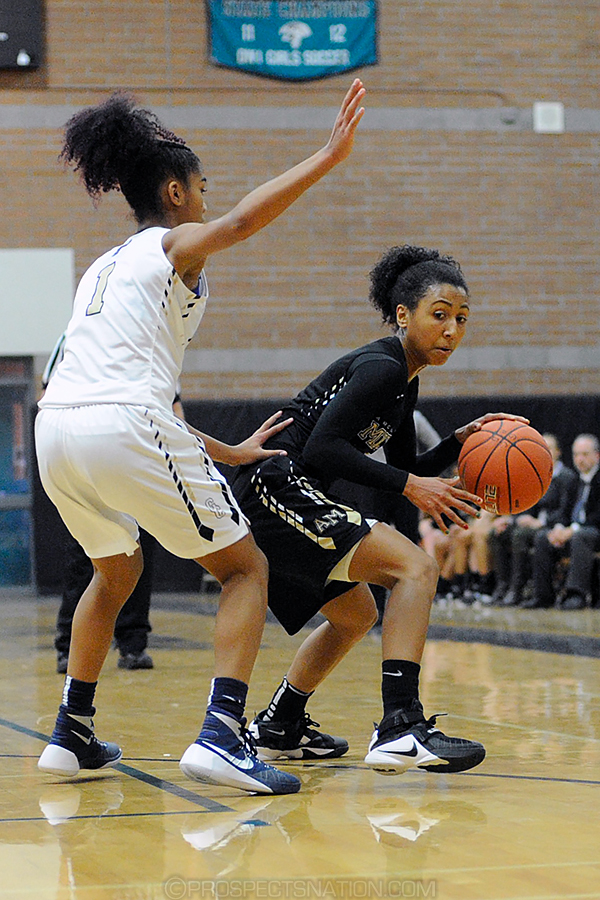 The semifinal matchup between St. Mary's and Mitty could be as explosive and entertaining as any game in the event. The programs have had a few showdowns historically, including a 2006 game where Jacki Gemelos broke through the 3,000-point plateau with St. Mary's in a game they would drop to Danielle Robinson and Mitty. The Monarchs came away victorious in the 2012 NorCal Finals against a heavily favored Rams team.
But Mitty playing the underdog in this matchup, with a team loaded with underclassmen, nine of 10 players to exact, will hit the court with nothing to lose. Playing the No. 1 team in the country with a chance to reach Tuesday's championship game seems like a daunting task, but the team has more than youth going for it.
Going up against a team that brings full court pressure for entire games, being able to see over the defense is vital and Phillips' roster has ample length. The teams that have had success against St. Mary's are able to through the long pass up the sideline against the single safety in its 2-2-1 zone. Saying it and doing it are obviously two different things.
Mitty is poised to be one of the favorites, nationally, next year, but tonight's game will be a chance to arrive a year earlier than expected.

Chris Hansen is managing editor of ProspectsNation.com and serves on the McDonald's All-American and Naismith Trophy selection committees. He was the national director of scouting for ESPN HoopGurlz from 2005 until 2012 and is the director of the Check Me Out Showcase. He can be reached at chris@prospectsnation.com.