Midwest Upperclassmen Standing Tall
Posted
4 years 2 months ago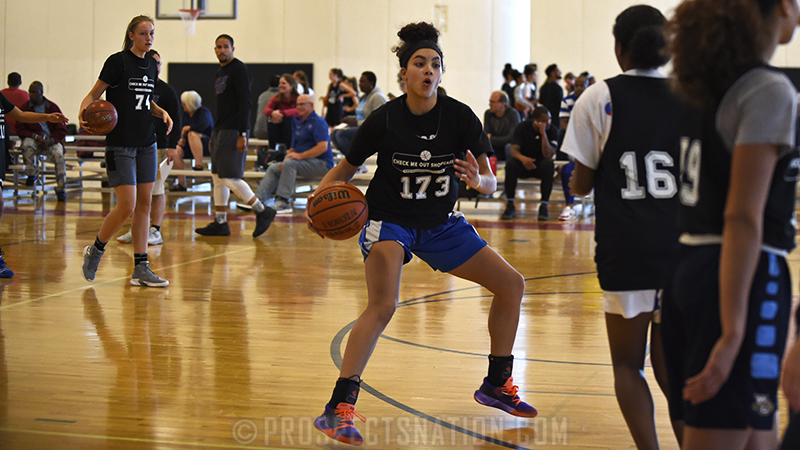 Brylee Glenn of Raymore, Missouri, competes in the 2019 Check Me Out Showcase in Minneapolis.
MINNEAPOLIS – In its sixth year in the Twin Cities, the Check Me Out Minnesota Showcase drew in players from across the Midwest region. Players made the trek from South Dakota, Iowa, Wisconsin, Arkansas, Illinois, Kansas and Missouri were in the gym competing.
After nine hours in the gym, here's a look at upperclassmen making waves.
Paige Bueckers resume in grassroots basketball is legendary. She's been the top ranked player in her class for years and has the accolades. Having been in the gym at all six #CheckMeOutNATION events in Minneapolis she was inducted into the first class of Check Me Out Legends as well.
On the court her handle, highlighted by the one of the sickest behind the back wrap dribbles in the game, was on full display. The vision, the passing and her touch around the basket were all impressive. Despite having a long lean frame, one of the most impressive possessions she had was in the 3 on 3 championship game where she was being guarded tight, she attacked straight to the rim, lowered her hips, delivered the bump to her defender and finished strong. Adding power to finesse is a scary proposition
Kayle Van Eps has been in the gym with us five of the last six years and the growth in her game has been noticeable each year. For a multi-sport athlete, once she focused on just basketball look for her game to take off even more. She has a great mix of length, toughness and skill on the wing.
One of the biggest breakout performacnes of the weekend came courtesy of Gianna Kneepkens on Sunday. In-state she's a well-known player by virtue of her scoring prowess during the high school season, leading the Minnesota last year with an average of nearly 32 points per game. At the Showcase she showed she could score in a multitude of ways and what was most impressive was how she created scoring opportunities without the ball. Her effort level and intensity was turned up the entire day and she set the tone for game play.
This was our second year working with Shannon Clarke. This athletic wing picked up right where she left off a year ago. Her energy, strength and bounce led to a lot of players being made. This slasher rebounds the ball really well and gets out and runs hard in transition as well.
Jaelyn Glenn is also a two-time Showcase competitor. When she kicks her game into full speed she's impactful in a lot of areas. Her length, speed and ability to create in the mid-range stand out most for this Kansas State commit.
Brylee Glenn was on point again here in Minneapolis. She's a player that brings intensity from the jump. She is a tough player to defend because she is decisive and strong on the drive. Her aggressive play on both sides of the ball stood out and her willingness to communicate in this environment bodes well for her leadership ability at the next level.
Kendall Jo Coley showed all the physical tools to be a real matchup problem on the wing. She's every bit of 6-2 on the perimeter but the length is complimented well with her quickness. She's starting to find her way into the lane to overpower smaller defenders when the opportunity is there. She's extending her range as well.
Haleigh Timmer made the trip from South Dakota to the Twin Cities and seemed locked in all weekend. She's a big perimeter option who plays fearless. She plays through hand help like it's not there and doesn't shy away from contact to finish. She passed the ball well and moved without the ball as well. The combination of her and Kneepkens was one of the most impressive duos of live 5 on 5 play.
When you step into the gym with incredible energy, focus and tenacity, it rubs off on those around you. Chloe Dallas did all of that. Add to this her physical tools as a player and you understand why so many schools are high on this 6-2 small forward. She's a problem to defend with a forward because she can face up and blow buy.
The number of quality post options seems to dwindle year by year. So when you have a talent like Sophia Hart who is 6-5, has great hands, and knows how to use her body on either block, you get why she has garnered offers from DePaul, Iowa, Marquette, Minnesota, North Carolina State, Utah and Wisconsin, among others, already. She forced teams to double her and handled that extra pressure without showing any panic. The direct comparison is to Megan Gustafson who just finished an amazing senior season at Iowa.

Chris Hansen is managing editor of ProspectsNation.com and serves on the McDonald's All-American and Naismith Trophy selection committees. He was a co-founder of and the national director of scouting for ESPN HoopGurlz from 2005 until 2012 and is the director of the Check Me Out Showcase and ELITE is EARNEDevents. He can be reached at chris@prospectsnation.com.