Midwest Showdown's Opening Salvo
Posted
5 years 4 months ago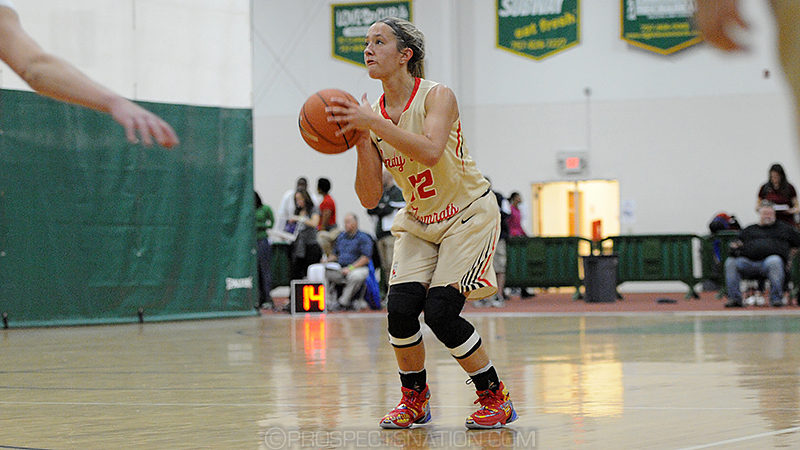 Karissa McLaughlin has added to her game beyond her sweet shooting touch. Photo by Chris Hansen.
CINCINNATI – The Midwest Showdown has long been the nation's premier event over Memorial Day Weekend. With teams from as far away Alabama, Texas and Toronto, this year was no different. Here's a look at five prospects who earned words on Day One:
Today's Midwest Showdown Stock ⬆️:

Maori Davenport
Blair Green
Tayah Irvin
Karissa McLaughlin
Rachel McLimore pic.twitter.com/Haay6NaL6k

— Brandon Clay (@BrandonClayPSB) May 28, 2016
Maori Davenport | Troy, AL
A class of 2019 option, Davenport is emerging as one of the country's more talented prospects. After her play at the Peach State Basketball Summer Kickoff last July, Davenport has continued to grow her game playing with All Alabama. She is a willing rebounder and shot changer on the inside.
Green is arguably the premier forward inside the State of Kentucky for the next two school seasons. She has scholarship offers ranging from in-state programs to Pac 12 suitors. Green possesses a skill set as diverse as her offer list. She posted up, handled the ball in transition and rebounded on both ends for Kentucky Premier.
Tayah Irvin | Fishers, IN
Irvin is a talented prospect in the class of 2019. Playing for Indy Lady Gym Rats, Irvin showed a unique blend of length and on-floor ability. She shined on a couple of open floor possessions that allowed her to showcase that combination. Her best days are still years ahead but the future appears bright based on her play here.
Well known as being a premier sharpshooter, McLaughlin is in the process of becoming a true playmaker. With teammate Dana Evans in Colorado with USA Basketball, McLaughlin got to work making plays on both ends of the hardwood. She attacked the defense off of the drive, mixed it up in the lane around the rim in addition to shooting the ball at an elite level from beyond the arc.
After committing to IUPUI, it would have been easy for McLimore to rest on her laurels the remainder of the summer. Instead, the four-star prospect is working on growing her game by leading PSB Family member Indy Magic against the nation's elite.

Brandon Clay serves as the WNBA Director of Scouting for ProspectsNation.com and owns The JumpOffPlus.com International Report, which is picked up by more than 150 colleges and universities nationwide. He serves as the Executive Camp Director for the Elite Basketball Academy Camps. He serves on the Naismith Trophy Men's / Women's College Player of the Year Academy and is chairman of the HS Boys / Girls Board of Selectors and is on the McDonald's All-American Selection Committee. He also is the publisher of PSBPopCulture.com.