Mid-February Southeast Report
Posted
1 year 1 month ago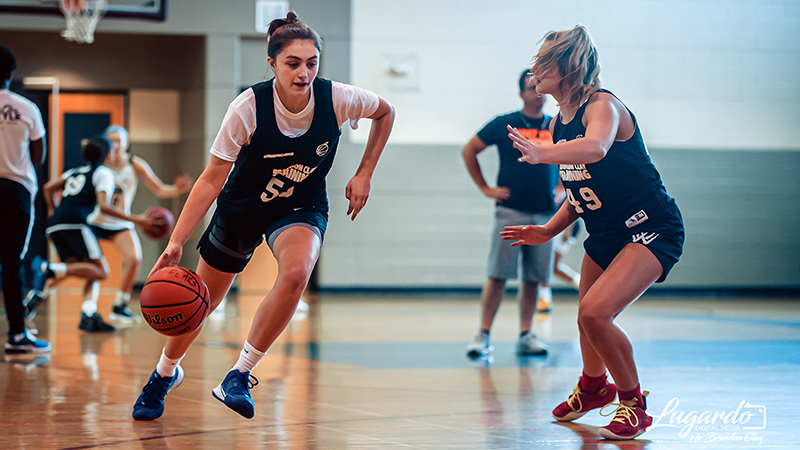 Allison Hoffman of the Galloway School works at a Brandon Clay Training stop in Greater Atlanta. *Photo by Anthony Lugardo.
Galloway School has become one of the Atlanta area's most competitive programs. Coach Kiesha Brown is a former Ms. Georgia Basketball winner who understands the landscape of the city. She has done an elite level job of creating a program that most in the Atlanta area would have considered to be a potential sleeping giant the day Brown arrived on campus to start the challenge of rebuilding. It starts with her Class of 2023 prospects which include both Kyla Cain and Allison Hoffmann. Both players already have offers going into the spring / summer season where they will suit up for the Southeast All Stars. Here's a quick look at their play so far:
Cain has been a pleasant surprise as a very capable scoring option for the state playoff bound Scots. In arguably in the state's most competitive region, Cain has been a major factor earning First Team All Region honors in the process. She's already locked in to adding range to her catch and shoot jumper this offseason.
In the case of Hoffmann, she entered the season with the shooter label. That said, the Second Team All Region selection is a shot maker in the high school game for sure. Surprisingly, the most impressive piece to Hoffmann's game this season has been her backside defensive rotations. She makes a real impact on post cover down rotations getting a steal a game on those.
In the Class of 2024, Tianna Thompson was another First Team selection and put up numbers that warranted Player of the Year consideration. She has been able to score at will all year long putting up double digits in every contest with multiple 30 plus point performances along the way. As Thompson's handle keeps getting tighter, her production will continue to increase.
Next season, Tianna's sister Taryn is slated to join the group as she moves into the ninth grade. Taryn has had a spectacular season on JV with multiple 30+ outbursts as well. She is both a shot creator off the bounce and a shot maker off of the catch.

Brandon Clay serves as the Director of Scouting for ProspectsNation.com and owns The BrandonClayScouting.com Evaluation Report, which is read by more than 200 colleges and universities nationwide. He also serves as the Executive Skills Director for the Brandon Clay Scouting Academy Series.