Posted
8 years 6 months ago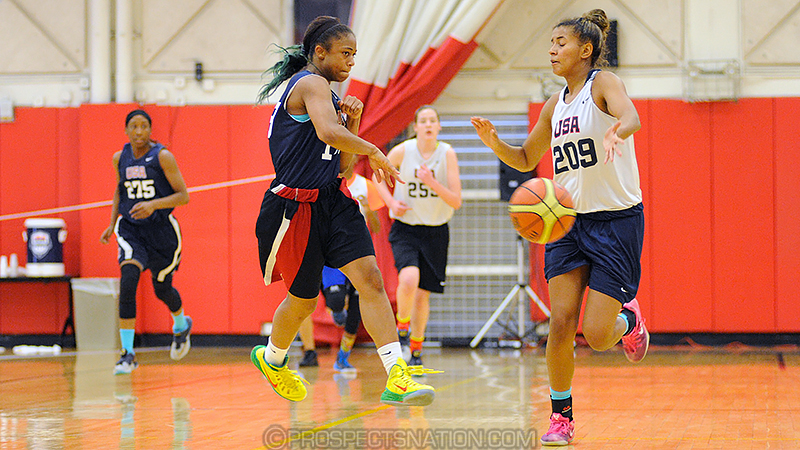 Alexis Morris of Beaumont, Texas, is an explosive lead guard who will power the USA U16 backcourt in Merida, Mexico in June. *Photo by Chris Hansen.
COLORADO SPRINGS, Colo. – Memorial Day is the day each year that USA Basketball announces its Under-16 national team that will compete at the FIBA Americas this summer to qualify for next summer's Under-17 World Championships.
Here is a look at the 12-player team that USA Basketball's selection committee selected.
All head shot photos courtesy of Garrett Ellwood/USA Basketball.
| USA U16 TEAM | HOMETOWN | YEAR | POS | HT |
| --- | --- | --- | --- | --- |
| JAYDA ADAMS | Santa Ana, CA | 2017 | W | 5-11 |
| DESIREE CALDWELL | San Antonio, TX | 2018 | PG | 5-6 |
| AQUIRA DECOSTA | Stockton, CA | 2018 | F | 6-2 |
| ANDRA ESPINOZA-HUNTER | Ossining, NY | 2017 | F | 5-11 |
| DESTINY LITTLETON | San Diego, CA | 2017 | W | 5-9 |
| LAURYN MILLER | Kirkwood, MO | 2017 | F | 6-2 |
| ALEXIS MORRIS | Beaumont, TX | 2017 | PG | 5-6 |
| VALENCIA MYERS | Solon, OH | 2018 | P | 6-3 |
| SEDONA PRINCE | Liberty, TX | 2018 | P | 6-7 |
| HONESTY SCOTT-GRAYSON | Brick, NJ | 2018 | G | 5-10 |
| BEXLEY WALLACE | Pickerington, OH | 2018 | F | 6-3 |
| JADE WILLIAMS | The Colony, TX | 2017 | F | 6-3 |
The Backcourt
With the duo of floor general Desiree Caldwell and the ever-explosive Alexis Morris, the point guard position is in great hands. Add to that the ability of Honesty Scott-Grayson to contribute as a primary ballhandler and as a scorer and this team shouldn't struggle to handle ball pressure if any teams dare to try that strategy.
The Wings
The wing depth on this team should give head coach Dori Oldaker plenty of options and weapons to deploy. Aquira DeCosta may be listed as a forward on the roster but her ability to handle the ball and shoot from range can't be overlooked, which allows from some bigger lineups. The sharpshooting of Jayda Adams and Destiny Littleton will keep teams from playing too much zone and the aforementioned Scott-Grayson and Andra Espinoza-Hunter have the ability to slash and score, giving this roster flexibility.
The Frontcourt
Sedona Prince, Jada Wiliams and Valencia Myers give the team three players capbale of doing real damage in the low post as well as change shots on the defensive end. Lauryn Miller is unique in that she has proven she can impact the game in the low post or up high facing up while Bexley Wallace is similar in her versatility and mobility from the forward spot.


Photos courtesy of Garrett Ellwood/USA Basketball
USA BASKETBALL SELECTION COMMITTEE
Chaired in a non-voting position by Carol Callan, USA Basketball women's national team director and chair of the USA Basketball Women's Developmental National Team Committee, the Committee also includes AAU representatives Bill Larson and Sherri Pegues, National Federation of High Schools representatives Jody Patrick and Jill Rankin Schneider and athlete representative Yolanda Griffith, a 2000 and 2004 Olympic gold medalist who has played on five USA Basketball teams.

Hansen is managing editor of ProspectsNation.com and serves on the McDonald's All-American and Naismith Trophy selection committees. He was the national director of scouting for ESPN HoopGurlz from 2005 until 2012. He can be reached at chris@prospectsnation.com.