Meet USA Basketball's U16 Team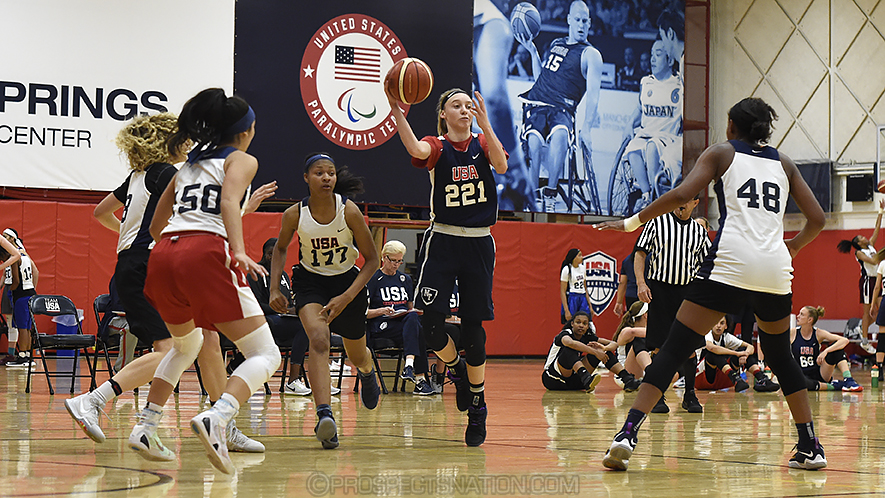 Paige Bueckers brings a flare to the point guard and off guard positions for the 2017 USAB U16 national team. *Photo by Chris Hansen.
COLORADO SPRINGS, Colorado – The 2017 USA Basketball Under-16 national team has been selected. The USA Basketball committee, headed by director Carol Callan, whittled the field of 133 players down through several days of camp sessions and game trials.
With so many talented players to choose from, you could draft an equally competitive team from those who did not make the team. The 12-member team will compete in the FIBA Americas Championships. The team will need to medal, finishing in the top three, to qualify for the 2018 FIBA U17 World Championships.
After several days of watching the players compete, here is a quick look at the team selected and what they bring to the team.
FRONTCOURT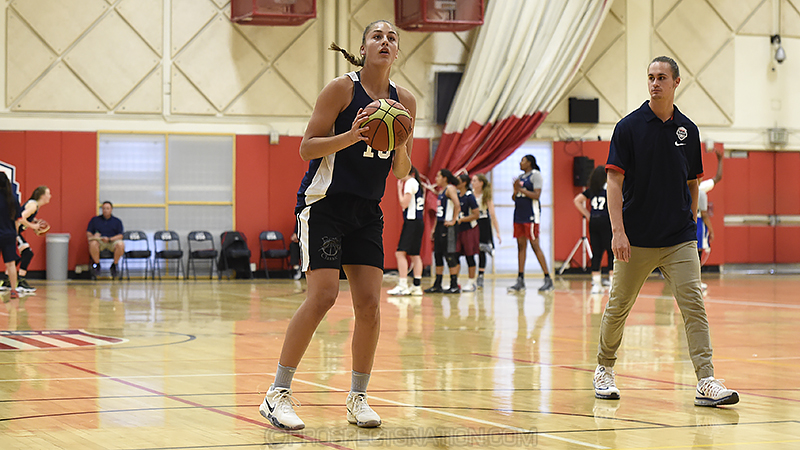 Kylee Watson gives the American squad a versatile and long frontcourt player who will be tough to match up with. *Photo by Chris Hansen.
Fran Belibi (Centennial, Colo.), Regis Jesuit – 2019
Belibi is a social media and sports app sensation with her dunking ability but she showed real promise in other areas. The 6-2 forward bothers shots, runs the floor well and is showing signs of some counter moves on the blocks to be built upon in the future.
COMPARISON: Ruthy Hebard (Oregon)
Aliyah Boston (Worcester, Mass.), Worcester Academy – 2019
Boston was phenomenal and embodied the power, low post player. She defended well, finished power drop steps and showed patience on the floor to set up counters. She has improved exponentially from a year ago.
COMPARISON: Elizabeth Williams (Duke/WNBA)
Samantha Brunelle (Ruckersville, Va.), William Monroe – 2019
The 6-3 swing player has interior size but her best attribute is her ability to make mid-range and perimeter shots. She is a scorer plain and simple. She runs the floor to find open spots to get easy shots and just has a knack for finding angles to score.
COMPARISON: Katie Douglas (Purdue/WNBA)
Kylee Watson (Linwood, N.J.), Mainland Regional – 2020
Watson has all the size to play in the paint but also the ability to get up and down in transition. She matches the European mold of a mobile post as well as anyone on the roster. She has all the tools to be a major contributor.
COMPARISON: Natalie Achonwa (Notre Dame/WNBA)
BACKCOURT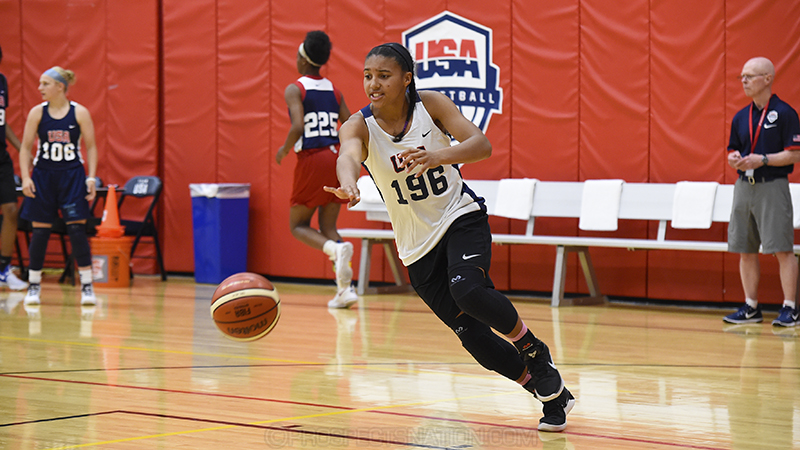 Azzi Fudd is the youngest player to be selected for the USA U16 national team. *Photo by Chris Hansen.
Paige Bueckers (Eden Prairie, Minn.), Hopkins – 2020
To have a 5-11 guard that can play the point or slide off the ball and still be effective is huge. Bueckers has all the shift and vision to create for her teammates but she has the killer instinct to score it when she has to.
COMPARISON: Lexie Brown (Duke)
Caitlin Clark (West Des Moines, IA), Dowling Catholic – 2020
Clark, like Bueckers, is a player you see playing with the ball in her hands most weekends, but here she excelled playing off the ball. Her length and range were impactful throughout the weekend and that combination makes it impossible to go under on ball screens.
COMPARISON: Sydney Wiese (Oregon State/WNBA)
Zia Cooke (Toledo, Ohio), Rogers – 2019
The 5-9 Cooke was electric on the perimeter. Her ability to create and consistently put pressure on the defense, both in the halfcourt and in transition was impressive. She has the wiggle to put defenders on their heels.
COMPARISON: Teniya Page (Penn State)
Azzi Fudd (Falls Church, Va.), Potomac School – 2021
For such a young guard there are few as physically ready as Fudd. Her frame and smooth athleticism are impressive on the offensive end. She has the ability to create and it is scary to think she is a full cycle ahead in getting international experience now.
COMPARISON: Asia Durr (Lousivlle)
Jordan Horston (Columbus, Ohio), Africentric – 2019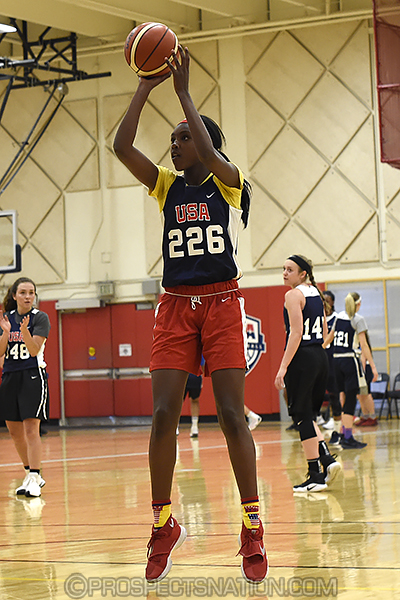 Jordan Horston is explosive for Team
USA. *Photo by Chris Hansen.Horston was explosive and impactful on both ends of the court. She got to the rim with ease, jumped passing lanes to create easy transition and she bothered and blocked shots. Her length and elite athleticism will allow her to play countless spots for this team.
COMPARISON: Ariel Atkins (Texas)
Diamond Miller (Somerset, N.J.), Franklin – 2019
Miller is a dynamic athlete who can play multiple positions for this team and be really disruptive defensively. As a slasher on the perimeter she has the quickness and first step to get into the lane and put a lot of pressure on the help side.
COMPARISON: Iesha Small (Maryland/Baylor)
Jordyn Oliver (Prosper, Texas), Prosper – 2019
Oliver showed off her length, quickness and versatility throughout the trials. She has quick change of direction moves and has the length to finish in traffic. She can also be very disruptive on the defensive end.
COMPARISON: Chassity Carter (Vanderbilt)
Celeste Taylor (Valley Stream, N.Y.), Long Island Lutheran – 2019
Taylor is a smoother operator with the ball. It was clear throughout the trials she was looking to make the right play with the ball and not try and score it every time. She also made countless plays on the defensive end.
COMPARISON: Bria Smith (Louisville)
Up Next
For this team, Canada poses the biggest challenge for USA to return to the gold medal standard it had held until 2015's loss to Brazil and 2016's loss to Australia.
"Due primarily to the basketball renaissance in the Toronto area, Canadian basketball is in the rise," Keil Moore, ProspectsNation.com's director of scouting said. "Where in the past they would field a team of skilled players with athletic inefficiencies, the Canadian basketball player is starting to resemble her American counterpart more and more."
This team will have to come together quickly as it leaves for Argentina and the FIBA Americas U16 Championships on Sunday. When looking forward to the showdown probably showdown with Canada, Team USA will be favored considering the best player in Canada at that age group. Laeticia Amihere, will be playing up with the senior national team.

Chris Hansen is managing editor of ProspectsNation.com and serves on the McDonald's All-American and Naismith Trophy selection committees. He was a co-founder of and the national director of scouting for ESPN HoopGurlz from 2005 until 2012 and is the director of the Check Me Out Showcase. He can be reached at chris@prospectsnation.com.