McDonald's Next Level East
Posted
10 years 2 months ago
CHICAGO, Ill., -- The McDonald's All-American game is in the books and as a majority of the players from this game get ready for their last high school basketball game of their careers, the WBCA All-American game in New Orleans on Saturday. We wanted to take a look at what will happen next for this talented bunch. Here is a look at how each All-American is projected to fit at their school of choice and a player comparison for what they could be if the maximize their potential in college.
Lindsay Allen (Bowie, Md.) PG 5-8 St. John's College DC -- Notre Dame
Allen has big shoe's to fill in the next couple of years as she will replace Notre Dame's, and arguably one of the NCAA's best ever, point guard's in Skylar Diggins. While Allen isn't the same kind of point guard as Diggins, she is a true point who is comfortable running a team and making plays for herself and others. Allen will get the ball to people where they can be effective and should be able to find ways to score the ball herself.
Player Comparison: Alex Bentley
Lexie Brown (Suwanee, Ga.) CG 5-9 North Gwinnett – Maryland
First and foremost Brown is a very good perimeter shooter who can make shots on the catch or off the bounce. When she is shooting the ball well, her confidence can become contagious to the rest of her game. For most of Brown's career she has played off the ball and been allowed to focus on scoring. In the last year she has concentrated on becoming a point guard and being the quarterback of an offense. While at this point in Brown's career she is comfortable playing on and off the ball, she may still be at her best when focusing on scoring and creating her own offense.?
Player Comparison: Candice Wiggins
Alaina Coates (Irmo, S.C.) C 6-4 Dutch Fork -- South Carolina
Coates has imposing size and after her time this weekend looks to be in some of the best shape of her career so far. Her ability to rebound and anchor a team defensively will come in handy at South Carolina on day one. If she can learn how to use her size and score the ball consistently on the blocks she will really make an impact in Columbia, S.C.?
Player Comparison: Monique Oliver
Nia Coffey (Minneapolis, MN) G/F 6-1 Hopkins High -- Northwestern
Coffey is an elite athlete with elite length. Over the past year-and-a-half she has really made the move from an athletic power forward prospect to a true combo forward with the ability to play on the wing or around the rim, depending on match ups. If Coffey continues to improve and develop at Northwestern her ultimate ceiling could be very high. She will give her future coach Joe McKeown a ton of options and versatility the next four years as Coffey will be able to impact the game athletically on both sides of the ball.
Player Comparison: Anne Marie Armstrong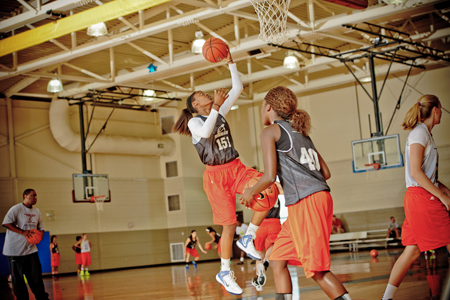 '13 ELITE 100 guard Kaela Davis.
*Photo by Ty Freeman.
Kaela Davis (Suwanee, Ga.) G 6-2 Buford High School -- Georgia Tech?
Davis is a versatile scorer that should be able to create match-up problems for opponents over the next four years. Georgia Tech coach Machelle Joseph will use her in a variety of ways to keep people off balance and Davis, with her combo of skill and athleticism, should thrive as a result. Davis will certainly draw a lot of attention on the offensive side of the floor. She is a high-IQ player who should be able to make the game easier for those around her when she is seeing a barrage of junk defenses and double teams.
Player Comparison: Tamika Catchings
Diamond DeShields (Norcross, Ga.) G/F 6-2 Norcross -- North Carolina?
DeShields is a great fit for the style of play at North Carolina. She will thrive in their up-tempo style of play as she is the kind of player who wants to get out and run. If the game is fast, DeShields will be tough for defenses to contain. She is one of the best athletes to come through women's basketball in a long time and the best way to slow her down is to slow the game down.
Player Comparison: Angel McCoughtry
Makayla Epps (Lebanon, Ky.) G 5-10 Marion County -- Kentucky
Mathew Mitchell landed a true point guard when he scored Epps. She can get into the lane and put pressure on a defense or come down the floor and run her team's set offense. Her ability to lock up on the defensive side of the ball will factor in to how quickly she gets on the floor but when she gets there look for her to add an extra something to Kentucky's offense.
Player Comparison: Adrianne Pratcher
Kai James (West Palm Beach, Fla.) C 6-4 William T. Dwyer -- Florida State?
When James is at her best she is probably the second best back the basket post scorer in the class behind Mercedes Russell. James' size allows her to be an imposing presence on the floor and she also has a nice foundation of hands and footwork to get the job done on offense. Florida State coach Sue Samrau has a proven track record in developing post players. James will be her next project.
Player Comparison: Karla Gilbert
Stephanie Mavunga (Indianapolis, Ind.) F 6-2 Brownsburg -- North Carolina?
Mavunga is skilled forward who can step out and shoot the basketball. Her arrival in Chapel Hill will give Sylvia Hatchell and her staff a piece that they haven't had in the last couple of seasons, a true four player with a versatile skill set. It will be interesting to see how Mavunga fits in with North Carolina's uptempo style of play and if she can find ways to create mismatches on the offensive end as a four player playing the five for stretches. With the class that Carolina is bringing in Mavunga will have to work to find her fit.
Player Comparison: Samarie Walker
'13 ELITE 100 forward Taya Reimer.
*Photo by Ty Freeman.
Taya Reimer (Fishers, Ind.) F 6-3 Hamilton Southeastern -- Notre Dame
Notre Dame will have a period of adjustment with the departure of Skylar Diggins to the WNBA, but adding a versatile offensive talent like Reimer will certainly help. Reimer is a talented and skilled player blessed with the ability to play with her back to the basket and on the perimeter. She has really improved her strength and conditioning as of late and if she can continue to work in this area it will greatly help her ability to make an impact early on in her career.
Player Comparison: Kayla Pederson
Ieshia Small (Tallahassee, Fla.) G 6-0 Florida HS -- Baylor
Baylor fans should be excited about Small's decision to go to Baylor. She is a true wing with the athleticism and size to play the position well. She can attack the rim off the bounce and get to the basket but has done a good job improving her pull-up jumper as of late. Baylor has a number of wings coming in for the class of 2013, but Small has the potential to be the best.
Player Comparison: Laurin Mincy
Ronni Williams (Port Orange, Fla.) F 6-2 Atlantic High School -- Florida?
Florida coach Amanda Butler and her staff have to be excited about the addition of Williams to their roster next season. Williams is a long, athletic and skilled forward who can make shots and grab rebounds. When she is being active around the basket and playing with energy, Williams can be a very effective offensive weapon. Williams is headed to Gainesville with the potential to break out and be a better college player than she was a prep prospect.
Player Comparison: LaSondra Barrett Follow @KeilMoorePSB
Moore is the National Director of Scouting for the JumpOffPlus.com National Scouting Report. He can be reached at keil@prospectsnation.com.